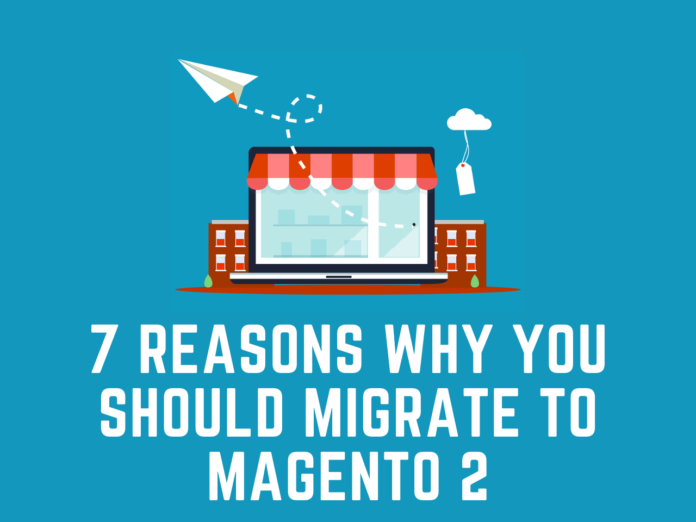 Starting from June 2020, the popular Magento 1 platform is no longer officially supported. This information has alarmed hundreds of online store owners. First of all, the very fact that the end of M1's official support could endanger your business already makes you think about a quick and irrevocable migration to Magento 2. Yet M2 has practically nothing in common with the first platform, implying a technically difficult, costly, and time-consuming migration process. Thus, not everyone was quick to take this decisive step.
Nevertheless, by keeping your online store on Magento 1, you deprive yourself of all the benefits that Magento 2 has to offer. So is the migration from Magento 1 to Magento 2 worth all the trouble and investment? In this article, we'll elaborate on 7 reasons why you should boldly open yourself up to this change.
Why You Should Migrate to Magento 2
1. Stronger Immunity to Cyber Attacks
Magento 1 no longer receives security patches from the official Magento team since June 2020. Simply put, an M1 store is likelier to compromise not only your business' information but your customers' data as well.
Hacking bots might get easier access to the credit card details and any personal information for their use if the store continues running on Magento 1 without proper security. The security that you need to handle on your own! And online store owners definitely don't want to fall prey to cyberattacks and risk getting heavy fines for revealing the personal data of their customers.
Just imagine: in 2021 cybercrime is forecasted to comprise $6 trillion damages annually according to the CyberSecurity Ventures report. And this figure is expected to rise by 15% and will transform into $10.5 trillion annually by 2025.
Magento 2 ensures strong data encryption in contrast to M1. You don't need costly litigation from your loyal customers, so the sooner you decide to upgrade, the safer your store will be.
2. Compliance with Major Payment Systems
Based on the abovementioned, Magento 2 makes it possible to comply with the Payment Card Industry Data Security Standard. It is a set of requirements intended to secure businesses from the risk of fraud and protect cardholders' data while purchasing.
Lack of PCI compliance will jeopardize many Magento 1 stores in the future, as they won't have the most important advantages.
For example, better protection against ransomware and counterfeiting not only preserves your peace but gives way to payment systems like PayPal and Braintree. More importantly, Magento 2 does not stand still but continues to implement enhancements to these core payment methods.
3. PWA Compatibility & Mobile Friendliness
As it is known, M-commerce is developing quickly as a flash, while its share in all eCommerce is expected to rise to 72.9% in 2021. So, the official Magento team developers optimized Magento 2 for mobile devices to encourage mobile sales. They equipped the M2 platform with new responsively designed themes, integrated video, and easier checkout.
Magento 2 offers an easy experience and properly sized landing pages for all mobile users. All these criteria improve the look and functionality of Magento 2 stores equally perfect on all phones and tablets.
Speaking of mobile shopping, you can't ignore progressive web apps. A PWA is a website that looks and acts like a native app but works within a mobile browser. They are considered to be essential for eCommerce retailers' fruitful future. And there is a reason for it. PWAs make it possible to use the site without the need of downloading and cluttering the phone's memory with a plethora of applications. Also, they can boast an offline user shopping experience.
PWAs are responsible for a substantial revenue boost to businesses. And delaying their implementation for 1 month may lead to a $1.4 million loss in revenue for a retailer that earns $20 million annually. The numbers rise if we speak of six months which totals another $6.8 million.
Magento 2 makes it possible to build a PWA for your eCommerce store. Plus, thanks to the improved process of browser caching for static content loading page time will dwindle.
4. Admin Panel Upgrade
What is more, the main principles of the admin panel in Magento 2 are the ease for new team members to learn and the reduction of the time spent on managing an online store. It provides the ability to quickly access important business information and personalize it for each user. With new updates, the admin panel now makes it very easy to customize it to fit your needs.
So, the panel on M2 is much cleaner and more user-friendly than on Magento 1. Likewise, product creation is even easier with product import capabilities (4 times faster than before). Topping that, the admin panel on M2 is touch-screen friendly which allows you to manage your store on the go.
5. Choice of Plugins & Extensions
Security patches are not the only thing that Magento 1 will stop getting. Also, the developers won't support new feature updates for Magento 1.9.x. This means that your store will lag behind in the competition for up-to-date functionality. Which is a significant reason to start looking for a team that will assist you with a transition to Magento 2.
Although there are still 2,050 M1 extensions and themes on the Marketplace, they won't be replenished anymore. Unlike M2 third-party extensions which will be constantly developed day by day. To prove my point, only today Magento 2 provides a 30% wider selection of themes and extensions in comparison. Besides difficulties with finding new extensions, it will be hard to fix bugs for the already existing ones on M1.
6. Availability of Specialists
The official team of Magento 2 experts works day and night to provide users with the latest updates. This not only concerns updating extensions but also seeks to contribute to the fixes of previous bugs.
As time is running out for Magento 1, more and more specialists will be involved in projects on Magento 2. It will become increasingly difficult for you to find someone to help you with keeping up your store on Magento 1, just as it will be difficult for you to find the necessary extensions from trusted vendors. You'll be forced to have your developer to custom-code them for you.
7. Better SEO
Сreating sites that are convenient to use from a phone is no longer optional, but necessary as Google stated mobile-friendliness to be part of its ranking algorithm. With Magento 2 responsive web design, shopping is seamless from both mobile and desktop.
Magento 2 has become more consistent and Google-friendly with features such as:
extended snippets on catalogue pages;
SEO-optimized URLs;
image optimization;
canonical tags for categories and products, etc.
Based on Magento 1 shortcomings, the developers have made many improvements to work with duplicate content and meta tags (no need to use SEO extensions). Of course, Magento 2 will greatly simplify the work of an SEO specialist.
To Sum Up
Taking all the aforesaid into consideration, the time for Magento 2 is now and it's critical. Nobody wants to deal with a ghostly M1 platform that ceased to issue updates and security patches. So, the longer you postpone implementation of the best approaches in your store the more thousands of dollars lost it may potentially mean. Staying with Magento 1, which cannot provide performance at the proper level, you simply turn a blind eye to such alarming statistics.
Yes, the migration won't happen in a day. There are many complexities simply due to the drastic changes in architecture and logic that Magento 1 and 2 have. Yet with an experienced team, migration to Magento 2 means a great time to freshen up the design, get new features, or even build a PWA to help your eCommerce store thrive!
About the Author
Kate Parish
Kate Parish, Chief Marketing Officer at Onilab with 8+ years of experience in Digital Marketing and website promotion. Kate always strives to stay in pace with the ever-advancing online world, and the sphere of Magento PWA development. Her expertise includes in-depth knowledge of SEO, branding, PPC, SMM, and the field of online sales in general.