An emulator is a hardware or software that permits one operating system to behave like another system. Basically, an emulator allows one system to run software or use secondary devices (such as keyboard, joystick etc.) designed for another system. So we have shortlisted some Best Android Emulator For Windows 10 or other Windows Version as well which you can use to run Android Apps on PC or Play Games on PC like you can Play PubG Mobile Game on PC with control of Keyboard and Mouse. Isn't it Great!
Also See: Best Video Sites Like YouTube But Better
Android emulator is typically used for deploying apps without actually installing it on a device. There was a time when tiny mobile games were adored. Old games are still addictive and fun to play but what if we can play that same game on a big screen. This is the place where an emulator comes in action. If you're looking to run Android on your Windows PC, here is the list of 8 Best Android Emulator For Windows 10 that you can use:
Here are Best Android Emulator For Windows 10
1. Nox App Player
Nox App Player is one of the free Android OS emulators that enable users to run Android applications on their personal computers. It works by creating a virtual Android tablet on your desktop. By virtual it means that you can enjoy Android apps and games conveniently on a larger screen with better hardware performance and easier controls.
Also See: Does Instagram Notify When You Screenshot a Story?
The user experience of Nox Android emulator is fabulous. A separate Mac version of Nox App player is also available. Talking about its features, it includes a simple interface hence making the app easy to use, it also includes Intuitive keyboard mapping for app and game controls, Support for multiple control devices, and a stable and a reliable platform which is based on Android 4.4.2 and it's X86/AMD Compatible. You can Download it from HERE.
2. BlueStack App Player
The BlueStacks App Player is designed to enable Android applications to run on PC running Microsoft Windows. BlueStacks App Player is a software which will turn your computer or laptop into an Android device. The software's basic features are free to download and use but the advanced features require a monthly paid subscription. The features include controls on the mouse, keyboard, and external touchpad.
Also See: How to Check Instagram Direct Messages on PC
There are various versions of BlueStacks available which include BlueStacks for Mac OS, BlueStacks 2.0 for windows which allows a user to run multiple Android apps simultaneously and many more. Though BlueStack is completely risk-free, one should try to install it on the device they own because BlueStack can sync information from your Android phone to the devices on which you are using the software. You can Download it from HERE.
3. AMIDuOS
AMIDuOS is the fastest Android simulator for Windows PC which provides a user with the full Android experience that the latest version of the standard mobile operating system has to offer. Because of ARM v7 compatibility, AMIDuOS can run on most popular ARM applications as well. AMIDuOS also provides a tablet and desktop features. In tablet mode, it includes multi-touch and gesture support like Pinch and Zoom, accompanied by a full-featured software keyboard.
Also See: Luuna is the Smart Sleep Mask For Your Relaxing Night
AMIDuOS in tablet mode supports Compass and GPS components and allows map navigation using the multi-touch feature. In Desktop mode, AMIDuOS provides full hardware keyboard support which includes keyboard shortcuts and supports Ethernet and simulated Wi-Fi in order to provide network access for Android applications. You can Download it from HERE.
4. Remix OS Player
This is one of the best emulators for gamers that allows you to play multiple games at the same time. Remix OS player is based on Android Marshmallow and it is one of the most up-to-date emulators in the market. This software is not only free to download and free to use but it is also free to update. Its cutting-edge performance gives users unshakeable compatibility and the smoothest emulator experience. You can Download it from HERE.
5. LeapDroid
LeapDroid is one of the fastest emulator available and just like other emulators, LeapDroid also runs a virtual machine in the background. LeapDroid is one of the latest emulators which uses Android 4.4.4 Kit Kat. Even for quite heavy graphics games, LeapDroid goes light on the extra functionalities to make way for easy and even emulation. It also supports numerous power user and advanced functions such as ADB and side-loading apps. One of the major features of LeapDroid is the 'keymapper'. Keymapper allows you to map your keyboard and mouse buttons to various games to make them playable on your laptop. You can Download it from HERE.
6. KO player
Just like above-mentioned emulators, KO player brings a quality Android playing experience to the Windows platform. What makes it different is that the KO player uses cutting-edge kernel technology hence providing supreme advantages in performance, stability, and compatibility. KO Player is easy to install and run. One of the key features of this emulator is that the downloadable content is free to play and other features include- Crisp display options on larger screens, Keyboard mapping which brings streamlined control and also one can record and share gameplay. You can Download it from HERE.
7. Andy Android Emulator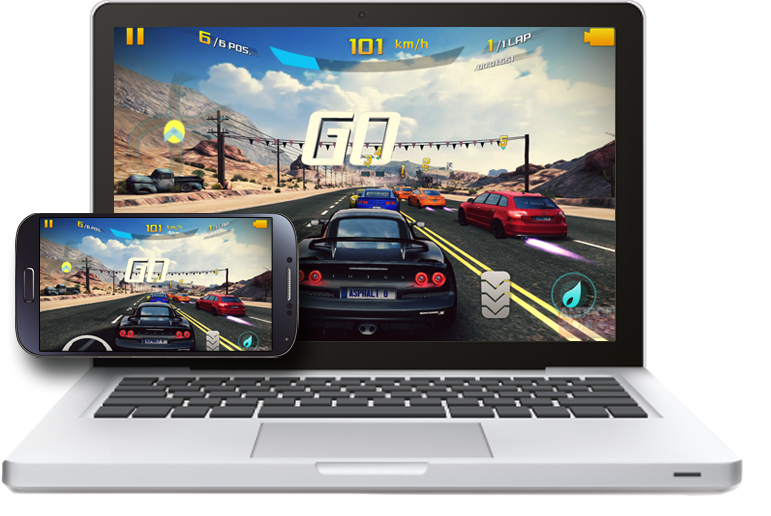 This emulator makes sure that your gaming progress is never lost as Andy syncs to your Google play account via the cloud and all your devices are synced, so there is always a backup for your gaming progress. It also provides you with unlimited storage capacity and freedom to play all your special mobile applications and games on your personal computer. With Andy, you won't have to offer any multi-touch or gyroscopic elements of gaming as you can use your own mobile phone as a joystick. You can Download it from HERE.
8. MEmu
MEmu App Player is a FREE Android Emulator which aims to provide the best experience to play Android games and run its applications on PC. With MEmu, one can play Android games or run applications on PC with larger screen and unlimited battery. With MEmu users also get the choice of playing Android games in multiplayer mode and they can enjoy better gaming experience with a keyboard or joystick mapping on the powerful x86 computers. You can Download it from HERE.
Our Verdict:
Though above-mentioned emulators are best and worthy to use I personally recommend    AMIDuOS because in this application file sharing is supported between Windows and Android so you can share pictures and other files between both operating system modes with ease. Also, LeapDroid is good in terms of the installation process as compared to other emulators. The installation process is comparatively easier in LeapDroid. For those who don't like BlueStacks player, Nox App player is a good alternative for BlueStacks player.
Also See: 10 Best Offline Dictionary Apps For Android
Hope you Like this Article, For more Awesome Articles like this make sure to Subscribe to our Website.