When we try to build our online presence, we want to know the best things that can help us. This includes finding a reliable web hosting service for our blog or eCommerce site. However, there are a lot of web hosting service providers in the market. So how will you know what works for you?
Best Web Hosting Companies
In this article, we will be sharing the top 10 Web Hosting Service Providers you should check out. Find the best hosting provider just for you and your website.
BlueHost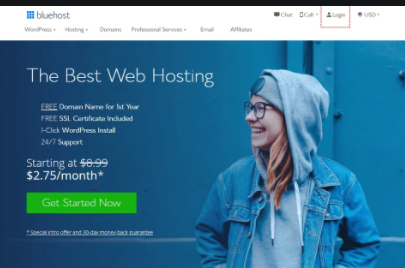 BlueHost is almost a household name in the field of web hosting service providers. What makes it so desirable for people finding hosting service providers is its incredible products and services. BlueHost currently maintains more than 3 million websites. However, even with millions of sites to handle, BlueHost provides its users with a strong uptime of 99.96% and a speed of 641 ms.
BlueHost is suitable for beginners as it is easy to manage. It is also automatically connected to WordPress. In case of urgent assistance, BlueHost has 24/7 Customer Support where you can have a live chat.
Their cheapest plan starts at $2.99 a month (renewal will cost $8.99 a month). You will receive a free domain name for a year, website builder, unmetered bandwidth, and 50 GB storage for this plan. If you have an existing GoDaddy domain and you want to avail the free domain name, you can transfer it from GoDaddy to BlueHost.
In case you decide it is not for you, you have a 30-days money-back guarantee for your plan.
A2 Hosting
If you are looking for a fast and reliable shared web hosting provider, then A2 Hosting is a great choice for you. It has an average 279 ms average load period and a 99.97% average uptime. Similar to other web hosting service providers, A2 Hosting works seamlessly on WordPress. It also works great with eCommerce sites such as Magneto.
When you purchase any A2 Hosting plans, you will receive a free LetsEncrypt SSL Certificate, unlimited SSD storage, and site migration. To check whether A2 Hosting is for you, you can try their cheapest plan starting at $2.96 per month (renewal $7.99 a month). It comes with free one-year use of domain name, unlimited bandwidth, 25 email accounts, one website, and free CloudFare CDN.
Hostinger
If you think less than 3 dollars a month for a hosting service is a steal, then you should check out Hostinger. Their plan starts at $0.99 a month, provided you choose the 48-month payment plan (renewal $2.19 a month). Although incredibly cheap for a hosting service, Hostinger does not lack the service it can provide to its users.
Hostinger offers different plans, all of which have a free SSL Certificate, easy website builder, 99.9% uptime guarantee, and 24/7 all-year-around customer support. However, unlike the previously mentioned, Hostinger does not provide any free domain name.
If you're looking for an affordable domain name, you can check GoDaddy for domain names. You can also try other domain name providers; some of them are a great alternative for GoDaddy. All in all, Hostinger is definitely a favourite for new website owners.
SiteGround
SiteGround provides an amazing uptime of 99.99% and 765 ms speed, making it one of the most sought-after hosting service providers. If you plan on availing of any of SiteGround's plans, you will be receiving an email account, SSL, Cloudflare CDN, website builder, daily back-ups, and SSH access, all for free.
SiteGround also ensured that it is up to par with its services by including WordPress Hosting, WooCommerce Hosting, and Dedicated Server Hosting. If you are unsatisfied with their service, they have a 30-day guarantee for all of their plans.
DreamHost
Although not the top contender, DreamHost is recommended for its basic, reliable service. Unfortunately, it is not as fast as the other hosting providers mentioned. Users must prepare for its disappointing 99.62% uptime and a slow 1180 ms speed.
However, DreamHost is still enticing to a lot of site owners for their perks that are unavailable from most of the hosting providers.
The following are services you can avail of from DreamHost:
a. It offers month-to-month pricing starting at $3.95.
b. Instead of the standard cPanel, DreamHost provides its users a custom control panel.
c. It is easier to migrate to DreamHost.
d. They have a free trial period of 97 days.
DreamHost is a recommended hosting provider by WordPress. However, when navigating in WordPress, these hosting providers cannot answer it all. You need to understand the latest WordPress statistics to know more.
HostGator
Another popular hosting provider, HostGator, provides almost the same perks as DreamHost. In addition, HostGator's plans provide its user's domain name, unmetered bandwidth, and free SSL Certificate. Their plans start at $2.75 a month.
If you are not prepared to commit to their service yet, they offer a month-to-month payment plan starting at $10.95. HostGator is highly recommended for site owners who do not need extra features from web hosting providers. In case of technical difficulties, their website provides a list of how-to-guides you can simply follow. But their customer support is also available through chat, email, or phone. What seals the deal for HostGator is their 45-day money-back guarantee.
GreenGeeks
Described as the Eco-friendly hosting provider, GreenGeeks use renewable energy to power their services. Besides being a great ally of Mother Earth, GreenGeeks maintained its services with unparalleled upgrades and products.
GreenGeeks' plans offer free domain names, wildcard SSL, and unlimited webspace. In addition, they offer fast speed and solid uptime, which is great for WordPress and WooCommerce Hosting. Daily backups and advanced security features are also in store for users. Their plan starts at $2.95 a month for anyone interested.
WP Engine
Some site owners will probably disregard WP Engine at first for its pricier monthly pay. However, in terms of WordPress hosting service, WP Engine is at the top of its game. With a starting plan at $30 a month, WP Engine will help you optimize your WordPress. This is a great choice for site owners wanting decent storage and speed quality.
WP Engine also has standard services such as a free domain name, SSL Certificate, and a 30-day money-back guarantee.
InMotion Hosting
If you are looking for excellent VPS Hosting, InMotion is a great hosting provider for you. The cheapest plan available starts at $7.99 a month. All of the plans offer free domain names, SSL certificates, and unlimited email.
If you are unsure about their services, InHost offers its site owners a 90 days trial period. After that, if users decide they want it, upgrades are available for users to check out. Some of the upgrades are useful for WordPress hosting.
Nexcess
If you run an online business store, Nexcess maybe the hosting provider you are looking for. Under Liquid Web, Nexcess excel as a web hosting provider for eCommerce sites such as Magento, WooCommerce, and WordPress.
One feature that Nexcess is proud of is its Nexcess Cloud Accelerator, which adds a layer of cloud stack to boost the speed of the website's loading time. It has an extensive list of plans, but the starting price of the basic plan comes at $15.84 a month.
Conclusion
In choosing a web hosting provider, there are a lot of choices for you. The choice remains with you, depending on the things you need. As described above, each hosting provider has its advantages. You need to weigh what you want to prioritize. However, if you are still uncertain, then you may want to try BlueHost's services.
Author Bio:
I'm Chris Wagner, Head of Content @HostingPill. I regularly write about Hosting, Web servers and WordPress. I have more than 9 years of Industry experience.