In this past few years, Xiaomi has considerably diversified its catalogue, there are numerous product now and each one plays a crucial role for the Xiaomi family. The brand recently has lifted the veil on a laser projector. Xiaomi Mi projector joins an impressive list of best smart projectors by launching the world's first truly cinema level laser projector TV called Xiaomi Mi ultrashort 5000 ANSI lumens laser projector. This projector is designed to display cinema-quality images. Nowadays TV screens are getting larger and larger and their price grows accordingly, Xiaomi mi laser projector is the best replacement for an LCD TV.
Xiaomi mi laser projector will stand out in the crowd due to a list of great features. It features T968 Cortex-A53 4-core processor. It adopts the ALPD 3.0 laser light source technology developed by Appotronics to achieve a high-quality image. The dimension is 41.00×29.10×8.80 cm and it weighs 7kg. This product is portable and can easily be carried out from one place to another. This 4K version features 0.66 inch OLED touch display. The screen supports full HD 1920×1080 pixel resolution and runs on Android 6.0 which is enough for a projector.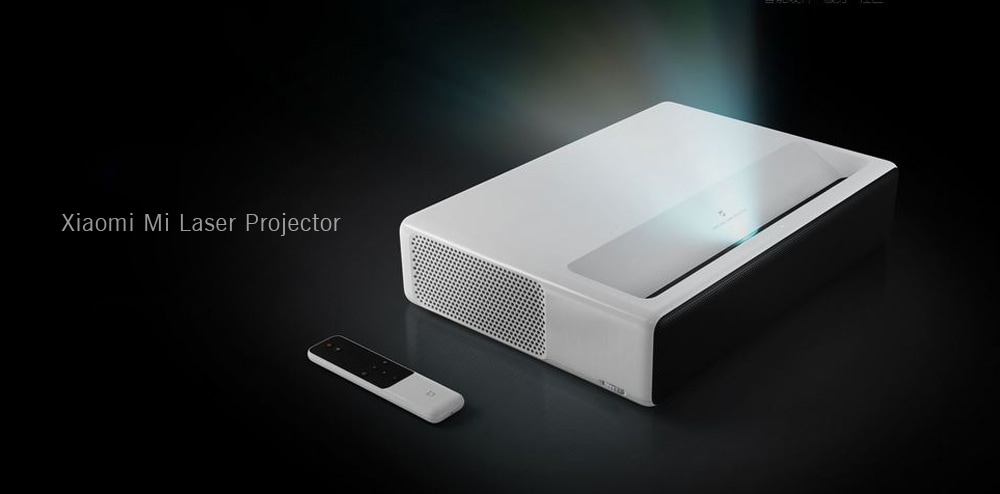 This projector supports high-quality audio which uses an inbuilt high-power, dual full-frequency, dual high-frequency and high- fidelity 30W speaker system. Maximum brightness of this projector can reach up to 5000 lumens with 3000:1 native contrast and an NTSC gamut (80% to 85%) which will make images clear and sharp. It can project a display up to a maximum of 150 inches. The remote control is powered by 2×AAA battery. It has MIUI TV operating system and supports Bluetooth and wifi for connectivity. It is an ultrashort laser projector with 1.8 GHz / 64 bit CPU along with 2GB DDR3 RAM and 16GB eMMC Flash. It delivers a full HD quality images in 50 cm with product life up to 20,000 hours.
The xiaomi mi laser projector is currently on sale on gear best priced at $2600 after 22% discount.