Professional writing is a communication style used in a workplace environment that allows professionals like business people and professors to make informed decisions. It has a formal tone that differs from the written text that generally seeks to convey entertainment. There are multiple keyboards that they use. So here is a list of the Best Keyboards for professional Writers.
The key to being a professional writer, as opposed to being a writer, is that you get paid for your work. Writing for internet sites provides a writer with a professional fee, depending on the number of articles they produce. Professional writers are very particular with their typing speed and accuracy, so they always use sites like words per minute test, to practice and improve their typing skills.
A professional writer may be a freelance writer, meaning heshe works on a self-employed basis or is fully employed in an occupation where their primary responsibility is the production of technical documentation.
Some of the skills that a professional writer must have are strong research skills, adaptability, a knack for word choice, working knowledge of grammar and syntax, and fast typing skills.
For writers, spending countless hours on the wrong keyboard can be frustrating and lead to other issues. Therefore one must be very cautious while choosing a keyboard. But, on the other hand, a good keyboard will help you become a faster, accurate, and more focused writer.
From a wireless keyboard to a Bluetooth keyboard to ultra ergonomics and multicolour backlighting. This guide consists of some of the best keyboards available for writers today.
Important keyboard features
Ergonomics
If you spend all day long writing, you might want to prefer a keyboard that makes typing more accessible and more comfortable.
Ergonomic keyboards are designed to position your hands naturally and reduce strain by offering proper wrist rest and the ability to raise or lower the device to maximize comfort.
Such keyboards reduce the wrist fatigue that might cause after a long duration of typing, can improve your wpm. Consider ergonomic touches such as a built-in wrist pad, tented design to mimic natural hand positioning and a dedicated number pad. Ergonomic keyboards are expensive but, they are worth the money.
Wired or wireless?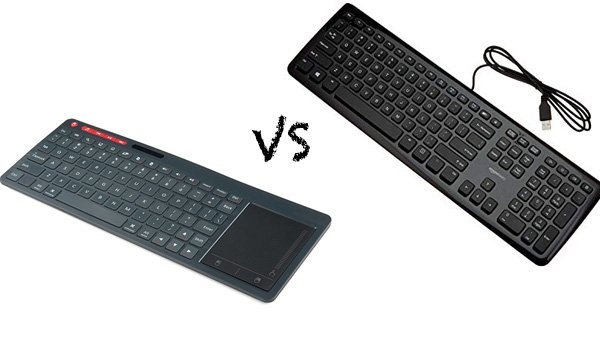 Wireless keyboards do not have to be physically plugged into your pc, whereas wired ones do. Furthermore, since wired keyboards are directly connected to your pc, their performance is not compromised by a single interference.
You do not have to worry about the battery life of wired keyboards. Wireless keyboards are easier to store and require less effort to set up on your desktop.
If you plan to do a lot of work and spend countless hours on your keyboard, then your best bet will be a wired keyboard. Since you do not have to worry about its battery, you can use it for long hours and remain consistent in your work.
If you hate dealing with cables and want to use your keyboard away from your pc, then a wireless keyboard would be the best option for you. You will have much more freedom to move around and, it will make your work a more nuisance-free process.
Ultimately, whether you should get a wired or wireless keyboard comes down to your personal preferences and what best fits your needs.
Hotkeys and Mediakeys
Media key is a keyboard key that performs a unique function not included in the traditional keyboard. It has tasks like volume, video, and computer brightness control.
Hotkeys let you complete specific tasks [such as starting an application] by pressing a combination of keys. As a result, it performs commands more quickly than by using a mouse or input device.
Size of keyboard
Smaller keyboards are helpful if you are constantly moving them from place to place. This is because they have shorter keys and no space between the buttons. However, if you want hotkeys and media keys on your keyboard, you should opt for a larger keyboard.
The Best Keyboard for Writers
1. The razer Blackwidow lite
The Razer Blackwidow lite is a mechanical keyboard known for its precision and receptiveness of its keys. However, unlike other mechanical keyboards, it has a pleasant clicking sound because of o-rings on the keys.
It has backlit keys, is ideal for travel, and is compatible with razer synapse 3, a cloud-based program for shortcuts.
It spans 80 million keystrokes and will be enough for you to get through your first few novels.
2. Azio MK Retro
The Azio MK Retro is a typewriter-inspired mechanical keyboard that combines retro aesthetics with modern functionality. It is compatible with fast typing tasks due to the presence of Kailh switches. In addition, the keyboard supports both Bluetooth and USB connectivity.
Hence, you can use it as per your comfort. In addition, the keyboard features easy-to-access shortcut hotkeys that give you fast access to multimedia and internet options.
3. ARTIX LED Backlit keyboard
Its smooth, typewriter-like keycaps and gracefully curved design are sure to help you polish off any assignment.
The satisfying sound of the keyboard and LED lightning creates an aesthetic atmosphere for your writing and motivates you to continue writing. The backlight brightness and frequency can be adjusted according to your mood.
Enhanced USB cable keeps you away from the complicated setup process. It has reliably accurate performance and saves your time and effort. However, it needs AAA batteries to function as it does not have a PGB backlight.
4. Logitech ERGO K860
Logitech ERGO K860 is one of the best keyboards for typing with an ergonomic design. It allows you to type more naturally, using a split keyframe that promotes natural body posture and reduces fatigue.
It helps to reduce distraction caused by muscle and joint discomfort and allows you to focus more. In addition, it delivers more stable keystrokes that reduce keying noise.
5. Ducky one 2mini
The ducky one 2mini is an excellent computer keyboard that has a dainty design with durable keycaps. The keys are well spaced -out, have outstanding typing quality as the double shot PBT keycaps feel great.
It consists of a detachable USB and three-level angle adjustment with key rollover to handle numerous keypresses. In addition, the keyboard has backlit keys with ten brightness mode options.
Conclusion
These were some of the best keyboards for writers. Choose wisely and pick a keyboard that fits best with your writing style.