EaseUS Data Recovery Wizard is a free data recovery software that allows you to recover your data if you have lost it by mistake or deleted it intentionally, thinking that it will not be useful in the future. It is a free software which is easy to use and recover your data from your memory card, hard drive, or any other device attached to your computer. If you have erased, formatted or lost data from your computer, laptop or any removable device, you don't need to get worried about it because you can recover your data within few minutes or hours.
It can recover data from different environments and offers the fast recovery of deleted photos, ideos, emails, music, and many more software files.
This software has three easy steps in which you can recover your data within less time. These are:
Launch:
In the launch process, you install the application.  You can select customized settings which ask you to add a shortcut to your desktop and other self explanatory questions. After the installation EaseUS Data Recovery Wizard gets open automatically.
EaseUS Data Recovery Wizard has a menu bar on the top which allows you to select various options like giving feedback, import scan status, menu, minimize, maximize, close. It is easy to use because it doesn't have deep settings which bother new users.
Scan:
In the next step, you scan your computer for lost data. You need to add a location from where you want to scan your lost data to recover it. You can choose any destination from your computer or attached devices to scan.
EaseUS Data Recovery Wizard offers you two types of scans i.e. Quick scan and deep scan. Quick scan is instant and scans the files within few minutes whereas deep scan searches for over 100 more files than quick search but it takes long time to complete.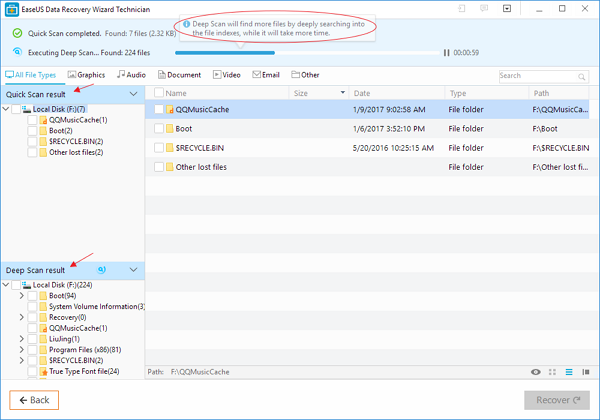 Recover:
In recovering process, you choose a destination where you want to restore your data for future use. After selecting the destination, you may select the files that you want to restore to that location. You may select some of them or you may select all of them from the list.
Some features of EaseUS Data Recovery Wizard are:
In deep scan mode, it can recover the files instantly and precisely.
Quick scan allows to look into your lost data thoroughly within less time than deep search.
It can be applied to all data file types which are lost by mistake or intentionally
By EaseUS Data Recovery Wizard you can restore all file types such as images, documents, audio, videos, emails, compressed files etc.
It can restore data from your PC, laptops, memory cards, hard drives, storage devices etc.
It also helps disk images to help in the file recovery.
You can see-through your files rapidly by entering their name, date, type, or size to find them quickly rather than finding them in a mass
EaseUS Data Recovery Wizard offers you a lifetime free upgrade and technical support.
EaseUS Data Recovery is a free data recovery software that helps you recover your data in no money.