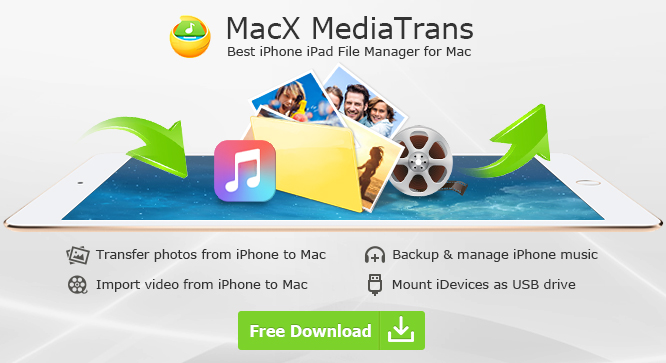 In this autumn, Apple will release the new iPhone 7 along with iOS 10. As happens every year, before upgrading your iOS system, it's wise to transfer all your data to free up iPhone space for installing new software and preventing data loss because of some bugs. Even for those who need to change old iPhone to iPhone 7 , it's advisable to copy files for easily transferring to the new smartphone.
In these cases, it may be more convenient to rely on a program like MacX MediaTrans, which is designed to store all the photos, music and videos on your Mac in a snap. The lifetime license for this software is on special offer for only $ 29.95 and allows you to install it on two Macs and free updates to higher versions, especially the compatibility with new Apple devices and seamless support for future iOS systems.
Data transfer operation could be done with iTunes, however, it does not seem to be a simple approach. Especially when you intend to use it to transfer and synchronize media files which often require format conversion through other software to guarantee the videos or songs are playable on your Apple devices. Recently we have conducted some tests of MacX MediaTrans, and it proves to be a better alternative in terms of ease of use and file transfer speed. Even for inexperienced users, it looks like an effective tool.
This software allows you sync photos, videos and music from your device as easy as drag and drop. When you start the app, it shows an intuitive main interface with a few quick buttons to get to the settings or access photo, music, video and flash drive panels, which allow you to quickly manage different kind of synchronizations by type of file.
For example, on the 'Photos' panel, you can quickly make a backup of all photos contained in the phone, thus making sure you do not lose the nice picture or maybe just keep a copy on your computer. The transfer is very fast; around 100 photographs with 4K resolution are transferred in merely 8 seconds.
The 'Music' panel will save you from the tedious slow music synchronization through iTunes. You just drag the folder or several songs to the software, and then you could witness how fast it can get music transferred from Mac to your iPhone. In the similar way, you can export the songs from your iPad or iPhone to Mac. Meanwhile, you will also be able create new playlist, edit music information and so on.
Similar functions are also guaranteed on the 'Video' panel, where you just drag all desired movies into the screen, and then the videos can be automatically converted to  the correct format supported by your iPad or iPhone. Likewise, you can also export the videos stored in your Apple mobile phont to computer with only some simple clicks.
An interesting gem is the 'Flash Drive' panel, which literally turns the iPhone and iPad into a USB drive. You can transfer any type of file in the phone memory, such as Word, Excel, but also PDF, DMG files, and so on and so forth.
Ultimately we could safely conclude the MacX MediaTrans meets Apple users' needs for a new user-friendly data manager utility that keeps a good balance between simplicity and powerfulness. In this sense, we can certainly consider this program currently among the best available alternatives to iTuns.