Today we're testing a PDF management solution developed by Investintech called Able2Extract Professional 11. It is a cross-platform professional software that runs on Windows, MacOS, and Linux operating systems. Although the software is geared towards office users, it is a good choice for people who regularly deal with digital documents.
Able2Extract Professional gives you the opportunity to create, edit and convert both native and scanned PDF files. It converts PDFs to a dozen of popular file formats, while at the same time it allows you to create a PDF from virtually any printable file format. For example, you can convert a PDF to Word and make further adjustments to the document if necessary. On the other hand, you don't have to convert your PDF if you need to make only a few edits.
In large companies, people often collaborate on documents. Collaboration among the colleagues is made easy with the annotation feature that allows users to leave comments or highlight important data that require someone's attention. Able2Extract also offers PDF security options. You can password protect your PDFs. This way you have the sole control who can see or edit your documents.
Not to disclose all the features right away, let's take an in-depth look at what Able2Extract has to offer.
Features
PDF Creation and Extraction
Able2Extract gives you the ability to convert and extract content from all of the popular formats like Word, Excel, PowerPoint, AutoCAD, and HTML. Thanks to its advanced built-in OCR technology you can even extract data from scanned documents without the hassle of retyping the missing letters or numbers.  Additionally, Able2Extract Professional can convert multiple files at once. One feature that stands out is that you can choose whether you want to convert the whole document or just a part of it with the Select Area option. This is quite useful if you deal with tabular data on a daily basis.
PDF Editing
With Able2Extract Professional 11 you can do all of the customization on your PDF without having to convert it to the desired file format. You can tailor your PDF in different ways to create rich, highly visual content. The editing options are numerous and some of the most prominent are:
Add and delete PDF content (text),
Resize and scale PDF pages,
Extract and merge PDFs,
Insert images and Vector shapes to PDF files,
Redact and Annotate PDFs.
Add Text, Images, Vector shapes
You can add some new textual information or delete the existing one if needed. Furthermore, you can insert images and vector shapes and customize them further on the spot. All changes are immediately visible.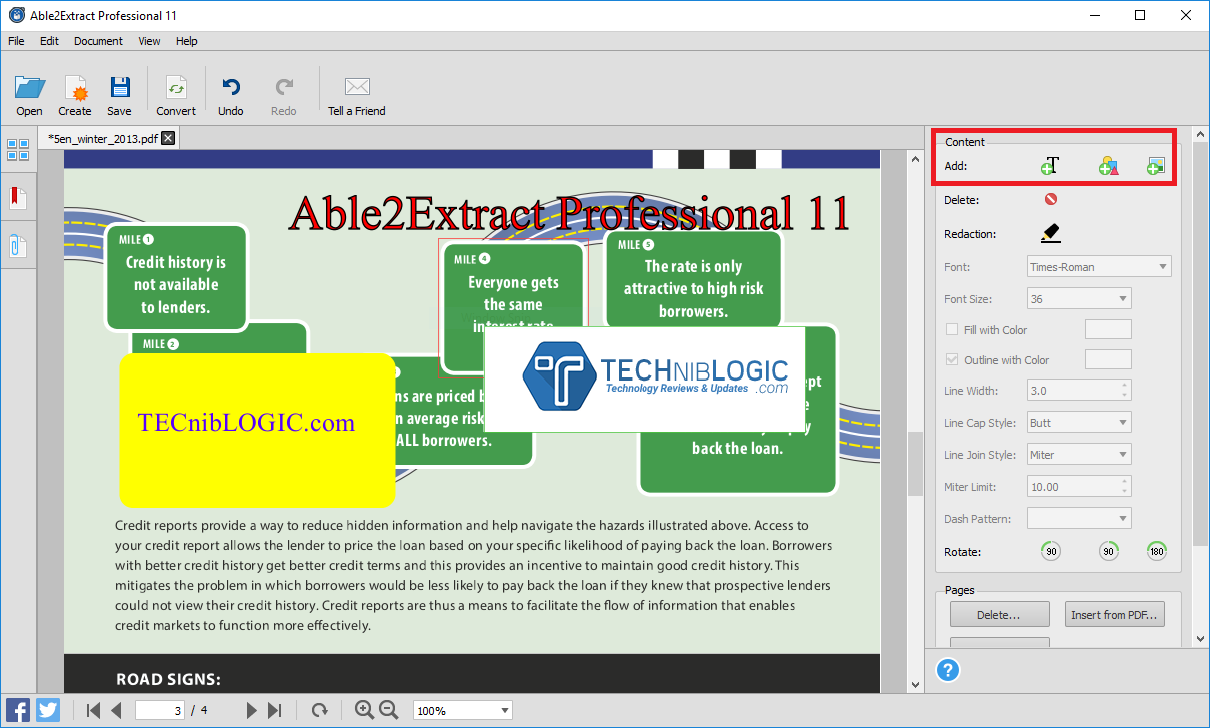 Delete and Redact data
Next option is Redaction. With this feature, you can be sure that your classified data won't be seen by anyone. The data you choose to redact will be permanently removed from your PDF file.
PDF Annotations
The Annotation option allows you to instantly add notes, strikeout text, add comments and highlight text on the displayed PDF page. There are total 12 annotation options that Able2Extract
Conclusion
Able2Extract is a professional software that is great for both office (business) and personal use. With it, you can deal with all of your conversion and editing needs from a single desktop window. The user interface is simple and easy to use. The feature we liked the most is the unique custom Excel conversion that allows users to choose how the tabular data from PDF file will be converted to Excel for further modification.