So, from a last few months there is increase in demand of more battery pack devices because of it most the devices get shut down till evening, due to this there are so many companies in the market coming with new huge power-banks which we can carry easily and be used to charge our device on the go.
But finally ASUS last year launched a device with 5,000 mAh Battery backup named ASUS ZENFONE MAX, which can even charge other devices using its huge battery.
Asus Zenfone Max UnBoxing & First Look
Asus Zenfone Max packing is done very clean and simple. The Smartphones comes with a Normal Micro USB cable + Charger, manuals, warranty card and a OTG cable so we dont need to buy a separate cable for it. There is no earphones in the package as now a days it is a trend for budget devices.
Built Quality and Design
When we come to the overall built and design the Zenfone Max comes with is, it is available in two color variants: black and white. The white variant is having a dull, smooth finish at the back panel, where as on back variant has a leather-like textured finish. The phone has a rounded gold plastic strip bezel running along all the sides.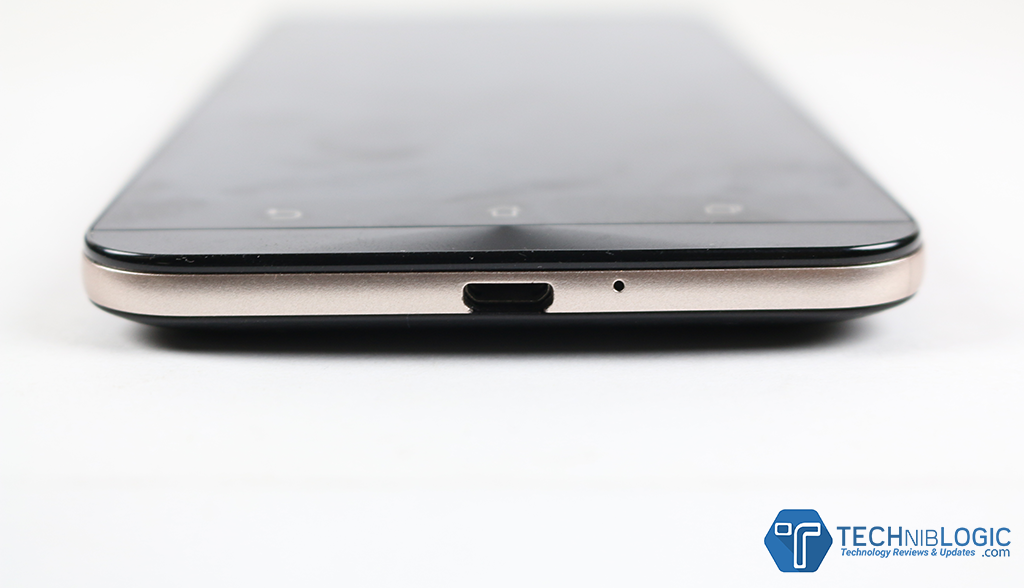 The 3.5mm jack and Micro-USB port are at the top and bottom respectively, while the notification light is at the front, just next to the earpiece.
The power and volume keys on ZenFone Max is on the right side of the phone. The back panel is removable, and the Dual SIM with microSD slots fits over there, the battery or we can say a beast of battery is not removable.
At the back of the device there is a speaker grille at the bottom, the flash, camera and laser autofocus window on the top. The Asus and ZenFone Max logos are being printed on the back for the white variant, where as on the black variant the Asus logo is being embossed. I personally prefer the black variant, just because of its texturing.
The screen size of the Asus ZenFone Max is a 5.5-inch HD display. The screen has decent brightness and colors. The device comes with Corning Gorilla Glass 4 which adds up extra amount of protection to its front.
The package includes a 1A/5V charger that is just worse as it make the device charge in more than 4 hours with this battery size. The Fast Charging capability is just necessary for this huge battery device.
Memory, Storage and OS
The Device come with 2GB RAM and 16GB storage. On the first boot you will get around 9 GB free space and 0.9GB free RAM. OTG is supported. Apps are getting installed on the internal storage, there is an option to move them to external storage (some apps can be moved). But on the first boot there a whole lot of apps which just get update till 3 hours. and i need to uninstall most of them.
The zenfone Max is running ZenUI 2.0 based on Android Lollipop 5.0.2 and soon there will the update for it by ASUS.
Performance
Zenfone Max come with MSM8916 Snapdragon 410 quad core chipset (64 bit) clocked at 1.2GHz, coupled with Adreno 306 GPU. Overall performance is smooth, lag free and handset does not heat up. Max temperature I got is 36 degree with Full HD game play.
Benchmark
Quadrant – 14486
Antutu (64 bit) – 1st time 25853, 2nd time 24200
Nenamark 2 – 53.7fps
Multi Touch – 10 Point.
Camera
This Zenfone Max comes with 13MP laser AF camera with dual tone LED flash and front camera it comes with is a 5MP shooter. Laser AF is very fast  and UI of the camera i just love the pixel master camera app. Camera quality is average. Rear camera can shoot FHD videos. The Video samples and the night shots are included in the video:
Battery
Zenfone Max is loaded with 5000 mAh non-removable battery. Battery backup is really very good, and with a single charge it can easily be used for 5 days for light usage. For heavy usage it will easily last for up to 2 days. The drawback of battery is, it take more than 4 hours to charge up the device because of no fast charging capability in it.
 Full Review