90 FUN IP64 Intelligent Down Jacket From Xiaomi Youpin Automatic Heating Waterproof Goose Feather
Have you ever imagined of getting yourself an intelligent jacket that might feature intelligent heating? Well, here is the good news from the brand Xiaomi Youpin. The brand launches an Intelligent Down Jacket with IP64. This Xiaomi Heating Jacket will help you to survive in extreme winter temperature.
Xiaomi Youpin Smart Heating Jacket Features:
It is a temperature-controlled down jacket and comes with 90% goose down padding.
It is a washable jacket, both hand washing and machine washing are suitable.
It comes with Heatex temperature-controlled heating technology.
It is a level 4 water repellent jacket.
The jacket support fast charging. It is suitable for power banks like:
Original Xiaomi New 10000mAh Power Bank 2
Original Xiaomi 10000mAh Pro Power Bank
Original Xiaomi 2C 20000mAh Power Bank
Original ZMI 10000mAh Quick Charging Power Bank
Original ZMI 5000mAh Mini Power Bank
Original ZMI 10000mAh Power Bank
Original ZMI 15000mAh Quick Charging Power Bank
Original Xiaomi Power Bank 2
And other quick Charging Power Bank
The heating time of the jacket is affected by room temperature and power bank.
Xiaomi Youpin Heating Jacket Specification:
| | |
| --- | --- |
| Brand | 90FUN |
| Source | From Xiaomi Youpin |
| Inner cloth | 100% polyester |
| Face cloth | 100% polyester |
| Filler | Gray goose down |
| Rated voltage | 5V / 9V |
| Rated power | 7W / 13.5W |
| Heating zone | 2 |
| Regional location | Neck, waist |
| Gear adjustment | 2 modes |
| High-temperature gear | 50℃ |
| Low-temperature gear | 40℃ |
| Power supply interface | USB |
| Waterproof grade | IP64 |
HOW TO OPERATE:
The on/off operation can be performed by long-pressing the button(situated at the bottom of the jacket) for2 seconds.
After the first step, red light is on and the boot is successful and default 50 degrees Celsius output.
For gear shift, short press the same button, the low temperature(40 degree Celsius) file is represented by orange color and the high temperature(50 degree Celsius) file shows red.
The package contains: 90FUN Men Down Jacket (Without Power Bank)
Size Chart: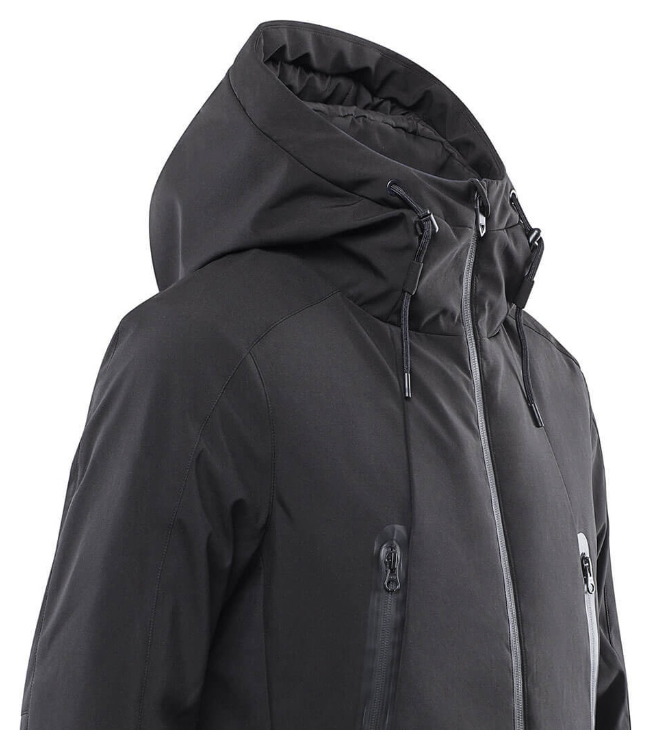 | | | | | | |
| --- | --- | --- | --- | --- | --- |
| Size | S | M | L | XL | XXL |
| Code | 165/84A | 170/88A | 175/92A | 180/96A | 185/100A |
| ①Collar | 24cm | 24.5cm | 25cm | 25.5cm | 26cm |
| ②Shoulder width | 45cm | 46cm | 47cm | 48cm | 49.2cm |
| ③Bust | 53cm | 55cm | 57cm | 59cm | 61cm |
| ④Sleeve length | 74.6cm | 75.8cm | 77cm | 78.2cm | 79.4cm |
| ⑤The back middle length | 67cm | 69cm | 71cm | 73cm | 75cm |
Xiaomi Heating Jacket Price:
The original price of the jacket id Rs. 21,609.26 but currently it is available for Rs. 13,620.77
90 FUN IP64 Intelligent Down Jacket From Xiaomi Youpin Automatic Heating Waterproof Goose Feather