Sally Mann once noticed: "Photographs open doors into the past, but they also allow a look into the future." Photography is simple yet difficult, light yet meaningful, evident yet complicated. Taking a picture needs a moment, but the photo will cause you to feel that moment forever. A talented photographer is able to find something interesting even in an ordinary situation. It's not for nothing Elliott Erwitt termed photography "an art of observation." An artist knows what to see, and when and how to catch that moment.
Photographer without Portfolio Is Like Fish without Water
Each and every man just once in his life needed a professional photographer to depict the most important event: a wedding, child's birth, birthday, anniversary, and so on. For sure, you did the same. So where to find a talented photographer with a comprehensive portfolio? Today people used to seek any information on the internet because it is convenient, easy and quick. It would be a pity if your profile was out of that search list. The world of photography is a quite competitive niche so that make a maximum effort to become online presented and build a name for yourself.
The web gives endless possibilities for your creativeness. Having an own portfolio website adds credibility to your business and increase your brand awareness. Thus users have a great chance to observe your works displayed in the most attractive way, get info about your service and prices, contact with you as soon as possible, and interact with you through various tools: blog, newsletters, chat, feedback, and so on. When customers have constant access to you (even virtual) they believe and trust your brand. That said, it's quite difficult to run a successful photography business without strong online presence.
How to Run a Photography Website Based on WordPress
As of today WordPress powers almost 30 percent of all websites throughout the world. This CMS is so popular because of a simple interface, tons of free and premium templates for all occasions, a wide variety of plugins, and more and more. Moreover, the platform has gathered the largest digital community, so it's easy as pie to get any kind of data about the CMS and ask for help on multiple forums and specific websites. With WordPress, you are not alone on the web. In addition to all those possibilities, with TemplateMonster WordPress templates for photographers, you achieve free, friendly and efficient 24/7 support. All templates are well-optimized for all modern devices with any screen resolution.
Below you can find a list of hand-picked top-notch WordPress themes devoted to photography business of any kind. They feature outstanding quality, comprehensive documentation, handy tutorials, and advanced functionality. Dive into the endless world of digital possibilities right now!
Elegant Primrose – Photographer Portfolio Responsive WordPress Theme
Primrose is an excellent WordPress theme devoted to photography theme. Here is a set of gorgeous homepage layouts that allow creating nine one-page websites. Moreover, to build pages with Elementor tool easy since it doesn't require special coding skills. Featuring incredible options for organizing and displaying your photography with gallery pages and fast-loading HTML5 coding and CSS3 scripting, Primrose can become a powerful promo weapon in your talented and creative hands.
Appealing Zoomix – Photo Gallery WordPress Theme
Welcome to the sleek-looking and professionally crafted theme devoted to different photo purposes. Attractive appearance, advanced functionality, and fully responsiveness make this theme desirable for many photographers who seek ways to share their artistic vision on the web. Zoomix offers different 10 headers and footers, 4 stunning blog layouts and multiple Google web fonts to choose from. With built-in WP Live Customizer and Elementor page builder, the process of customization and content building will be easy and fast.
Charming FrameMe Responsive WordPress Theme
FrameMe offers true creative freedom for building your online presence. The theme is elegant and purposeful, fully responsive and incredibly adaptive to any size screen of any modern device. FrameMe comes with fascinating, stylish pages for all occasions and customization elements that will help to stand your website out from the crowd. Having bought the theme, you achieve an advanced complex of usable and handy features like Cherry Projects plugins, 4 stunning blog layouts, multiple Google fonts implemented and more.
Polished Looking Zoomin WordPress Theme
Zoomin is that digital tool which will definitely help talented individuals express themselves to the full. The theme includes everything you need for convenient and quick website building – from intuitive Admin Panel to stunning Favicon. With drag-and-drop Elementor Page Builder, you will enjoy fast and easy page building because the tool includes full access to all the design features you might need.
Eye-Catching Projector – Photographer Portfolio Multihome WordPress Theme
If you are looking for a top-notch website for your photo gallery or portfolio, Projector is the best choice. This mobile-friendly, SEO optimized, clean coded and easy-editable theme offers seven gorgeous headers and three captivating footers, a bunch of Google web fonts, numerous outstanding plugins, and four different blog layouts. In addition to all these impressive elements, you get bonus images and life-term support.
Elegant Atelier – Design and Photography WordPress Theme
No doubt, Atelier is one of the most powerful and flexible themes demonstrating an outstanding appearance. The theme is able to adapt to any role of design or photography niche with no effort. Atelier is equipped with handy Visual Composer Builder and efficient WooCommerce package so that it would be easy as pie to turn your website into a successful selling platform. Moreover, with the theme you achieve access to tons of quality images and as extra bonus Booked Appointment plugin to enrich your website.
Deliacte Falero Wedding Photographer WordPress Theme
Falero is beautiful and incredibly functional, deeply tech-savvy and extremely modern WordPress theme that is suitable for photographers' needs. Organize your website with customizable layouts, tons of Google fonts, different header and footer styles. With this theme, you achieve unlimited field for coming to your dreams true: amazing Revolution slider, wonderful blog page, multiple plugins for all occasions.
Beautiful Julie Bernerro – Photographer Portfolio Responsive WordPress Theme
If you are seeking a reliable, captivating, modern and extraordinary website for your portfolio, pay attention to Julie Bernerro WordPress theme. It is based on the clean code with HTML 5 coding and CSS3 scripting. This professionally crafted template is stuffed with several header and footer layouts, multiple Google fonts, different blog layouts and advanced functionality. To add credibility to your website the theme comes with an efficient commenting system, TM Gallery and social integration.
Modern Looking Monstroid2 – Multipurpose WordPress Theme
For those who are searching for a fresh-looking, media-savvy, the minimalistic and multipurpose theme for a business website, Monstroid2 is the most suitable choice. The theme is extremely powerful and engaging being designed with flat yet attractive appearance and multiple yet efficient elements. Whatever you want to change or edit there you don't need to make effort, just several clicks are required. In addition to ordinary features and options, you can enjoy a forum module, online store functionality and a wide diversity of useful web forms.
Fascinating WhiteLight – professional photographer portfolio WordPress Theme
WhiteLight includes Retina-ready collections of icons and fonts, gorgeous header and footer styles, and multiple layout options. For turning your website into e-commerce you need just 5 minutes thanks to Ecwid plugin. WhiteLoght provides an easy panel to maintain the website and edit content in an instant. HTML 5 and CSS3 animations are featured as well.
Stylish RyanZoom – Photographer Portfolio Responsive WordPress Theme
If you want an affordable, pleasing looking, highly adaptive WordPress theme for your photographer portfolio website, RyamZoom is for you! This template features elegant yet minimalistic design, 25+ modules to build different pages, drag-and-drop functionality. With the ultimate pack of outstanding plugins, it's possible to enhance your website in an instant.
Impeccable Siena – Aesthetic Photography Portfolio WordPress Theme
Siena is a clean, fresh looking and highly customizable WordPress theme with multiple layouts, fonts, and options. There are unlimited ways to customize the theme to your needs since every title, colour, text and button can be edited as you wish. The theme is equipped with a dark mode that allows underlining your photographs and making them look more impressive. Thanks to gorgeous portfolio page layouts with multiple visual elements, you can significantly increase your exposure.
Impressive Carmen Design Portfolio WordPress Theme
Carmen is a feature-rich and well-crafted engaging website template dedicated to designing portfolio needs. The theme includes outstanding pages for all occasions. In addition to commonly used About and Blog page layouts, you get stunning Skills and Clients page variants that will add credibility to your professionalism. With a built-in Elementor Page Builder block to adjust content to your needs will be easy and fast. Create unique look and feel of your portfolio with the help of Cherry Projects plugin that comes with the Cherry Framework package.
Impressive Anna Solas – Photographer Portfolio WordPress Theme
Anna Solas is an admirable, expressive and full-featured theme designed especially for photographer portfolio. The theme is powered by the latest and cross-compatible HTML5 and CSS3 technologies and based on Cherry Framework 5 that allows building a website in a short term. The collection of Cherry plugins available with this framework will definitely enrich the functionality of your website and make it get noticed by competitors.
Contrasty Photographer WordPress Theme
Photographers like the sharp and contrasty style for displaying their pieces of art. The theme based on such a colour approach will give a showing to artist's products and grab visitors' attention. In addition to standard page modules and functional elements, you get all necessary tools for turning your website into an e-commercial business. The theme is stuffed with a set of advanced visual tools (gallery, slider, icons), social integration and the rich variety of smart customization options.
Truly Remarkable One Page Freelancer Photographer Portfolio WordPress Theme
Looking at this flat yet eye-catching theme you understand that success is dependent upon simplicity. This one-page WordPress template is aimed to showcase all your photographer skills and talented works with the focus on the key point. Thanks to the highly flexible drag-and-drop Power page builder it is possible to create different page elements even without touching a single line of code. Multiple content modules provide your website with an extended set of options to achieve an all-winning online presence.
Colorful Niftyfifty – Photography WordPress Theme
Niftyfifty is a beautiful and dynamic, fully responsive and easily editable website template with an absolute focus on images and photographs. It is built with a user-oriented, intuitive design that will look amazing through any browser on any device. With Jetpack plugin that comes jam-packed with a number of useful features you no longer have to install a new plugin for every new feature.
Trendy Addison – Creative Photographer Portfolio WordPress Theme
The theme is extremely flexible, stylish looking and carefully designed for true photographers. Use the simple and handy drag-n-drop editor to edit content faster since no coding is required. The template runs on Cherry Framework technology that provides easy and fast installation and customization process. With in-built Cherry Projects plugins, it is possible to demonstrate your pieces of art in a stylish gallery.
Romantic Focussity – Wedding Photography WordPress Theme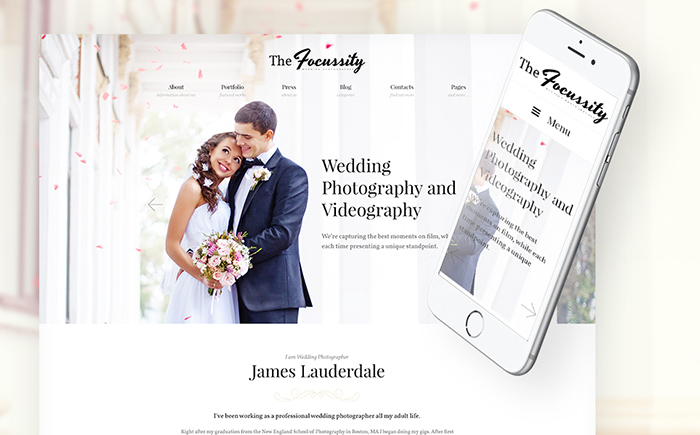 Focussity makes the building website process a fun game since everything is intuitive and simple. The clean coded theme supports high-quality Retina-ready graphics and CSS3 animations. Focussity offers a bunch of layout options that allow playing with pages structure due to your needs. A set of multiple content modules and widgets helps to improve your website appearance and navigation to the full.
Stunning Landscape – a Photography WordPress Theme
The landscape is a gorgeously looking and perfectly designed WordPress theme that is ready to become a powerful photography website with minimum effort. All functional features of the theme are aimed at focusing on your content first and foremost. Photographers can arrange their masterpieces into beautiful and well-organized galleries (there are 6 gallery types) that will definitely attract visitors' attention at the first sight.
Just imagine, your artworks can be shared with the entire world instantly if you have your own website. With an online portfolio, you can reach fans, clients, general audience throughout the world and interact with them at any time and place. Building a website on one of the above-mentioned WordPress themes for photographers will be an enjoyable journey to the digital world of unlimited possibilities and endless creativeness. Welcome to the largest community on the web!