Security isn't an inherent trait of the internet. At the same time, it is full of distractions and time-wasting things for everyone. Therefore, it is better NOT to use online communication and file transfer aids during LAN Chats within the same office. You'll say – Going to someone ten seats away from my seat, or maybe in another block, is tiring and time-consuming. Well, yes; it is. So, we've got a solution for you:
Make use of a LAN Messenger instead of Skype, Slack or any online tool.
In this article, we will tell you which Messenger you should use, how to use it and why.
First things first –
Why Do You Need a LAN Messenger?
Every office needs software for messaging and data transfer – online or offline. Due to the arising issues of data theft faced by internet users and lack of other security protocols, LAN appears to be the most secure medium of data transfer, provided, you are using a reliable Messenger for LAN communication.
Local messengers won't be affected by internet disconnection, online congestion, slow speed, high data costs due to enormous data transfers and more. And for obvious reasons, LAN Messaging works super fast too.
Which LAN Messaging Software will suit your Requirements?
Take a look at Softros LAN messaging application.
This messenger ensures effective communication through its instant messaging and file-transfer facilities. For companies with a large number of employees working on LAN, it is the fastest network messaging solution to implement. Softros LAN Chatting tool has been devised which ensures secure and unhindered communication with least efforts.
It works on all Intranet / LAN / WAN network and acknowledges all Windows XP/7/8/10 user accounts. It is endowed with a multiplicity of features and languages to make communication more comfortable and reliable. Having robust encryption options to safeguard your incoming and outgoing messages from unlawful usage, it is more secure as compared to any other messaging apps.
How to Install Softros LAN Messenger?
Its installation and usage don't require any specific training or IT assistance; it can be done by anyone who has little knowledge of computer operations. Moreover, you need no training to operate it too.
Here's the quick and easy installation procedure with all screenshots and process details:
Visit Softros LAN Messenger website. Now, download it as per your system's requirements. The software supports Windows, Mac OS, and Android platform.
Softros offers 30-days of free trial for its users. This duration is well long enough to check the efficiency and usefulness of the tool.
Click on 'Download your Free Trial Now!' and you will be forwarded the main download screen –
3. Click on Download and the page will redirect you to CNET's software directory.
4. Finally, click on 'Download now' here.
5. Let the process complete and open .exe file, once it is downloaded.
6. Click on 'yes' when this app permission notification appears.
7. Select your language.
8. Read the terms and conditions and select 'I accept the agreement' before you click on 'Next".
9. Click on 'Next' again, and your Softros app will be installed.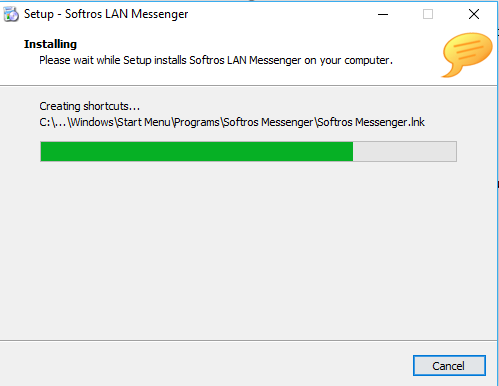 10. Launch the app to get started with this Messenger for Intranet. You may do it later too.
Ask all your employees/LAN users to follow the same procedure so that everyone in the network could use it.
How to Use Softros LAN Messenger?
As you have already installed the Softros Messenger for office chats, you can now avail of all its benefits for free. The trial version will remain free for 30 days, with all the features accessible to you. After that, you will have to upgrade to its premium version if found useful.
To get started, open the software. A screen will appear, showing all details related to online users,  such as –
Now, let us explain all its major features one by one.
How to Chat and Send messages over LAN?
The application supports individual, i.e. Person-To-Person Communication; group chats and broadcast messaging. It allows the user to leave messages, which will be delivered when the recipient goes online. It works without any server and is a P2P based software that is a standalone solution.
Here's how you can perform these operations:
To start a one-to-one chat session, just click on the username of the person, with whom you want to talk. This will open the chat slot.
Type the message and send.
The message will be delivered within seconds if the recipient is available on the LAN network. It is as comfortable as you want.
To add other users' the conversation, you can press "invite" on the chat window.
To send message or files to a large number of users at once, you can use the broadcast feature of Softros LAN Messenger. For this:
Click on Settings.
Go to Network.
Add the broadcast address of single IP, subnet info or a range of IP Addresses and click on 'Add".
Start sending Broadcast messages.
With it, sharing a file on the LAN is easier than ever; it takes the minimal time too.
You can just drag-n-drop files to share them with your peers. These files can be accepted manually or automatically, as per your settings.
Files can be opened from Within the chat anytime:
It not only assures the safety of the sent document but also saves the history to check it anytime you want. It allows messaging and File Transfer on multiple LAN networks with different subnets by combining them all together to create the single messaging environment.
Remote Desktop Access
This feature lets one LAN user share his/her desktop screen with another LAN user. As it requires the consent of the system owner, so it is safe to use RDA feature of Softros. The process to utilize RPA differs as per your user role.
Click on "Desktop Sharing" and request access from the other LAN user, whose screen you want to control.
If you are the network administrator and have access to all the systems in the network, you can just use 'Remote into ….. Computer' option. After filling the credentials in the windows that just popped up, you can access the screen of that particular user.
This feature is particularly helpful when you want to carry out unnotified audits or need data from someone's system when he or she is not present.
Other essential  features of Softros LAN Chat Messenger
Restricting User Access
Importing, Exporting and Pre-configuring User Settings
Network-Wide Group Policy Deployment
LAN, WAN, VPN, and VLAN Support
Active Directory and Domain Support
Terminal Services Support
Remote Desktop Sharing
What can you do with this tool apart from Office Chats (At a Glance)?
Creating User Groups
File Transfer
Offline Messaging
Group Messaging
Individual and Group Conversations
Serverless Architecture
View Users Information
Maintain Security, Privacy, and Safety
Trace Message History
What Makes it a Good Solution for Internal office Messaging?
Companies are always in search of secure ways of data transmission, and information exchange. Online is definitely not the super-secure way for this. So, LAN chats come into the picture. For this, tools are available but either they are highly-priced or lack features. That's where Softros looks reasonable.
The LAN messenger program permits individual and group messaging, file transfer, offline messages, and encryption. It assures the security of communication and the entire conversation is logged, reducing the risk of losing any message.
It is available for free for 30 days. Be it a large organization or some small company working with LAN; anyone can access it with a simple subscription later.
Softros Messenger is a perfect intra-messaging office solution for companies working using LAN, which comes with a variety of features. It assures no interference of your private data by any unauthorized person due to its secure encryption, which will not let your file or message leave the LAN. The tool has an intuitive interface for faster response, remote assistance, files transfer, group, or private messages with notification alarms, emoticons for effective communication.
To use the Softros messaging application, download it from here.