If you have got a new iPhone and would like to move your data from an old Android to a brand new iOS device, then you have come to the right place. There are a few tools that can help you transfer your data from one device to another, but almost all of them are time-consuming. Some can even mislead you as well. Don't worry – this is the last guide that you will read about Android to iPhone phone switch for sure. By using the right tools, you can easily move your data directly from one device to another. Read on and learn how to achieve the same in a step by step manner.
How to Perform a Phone-to-phone Transfer?
Whenever we get a new phone, this is the first question that we ask. Since our smartphones are nothing without our data, it is important to move from one device to another with no data loss. There are a few solutions that you might consider to perform a seamless phone switch. Though, if you are looking for a fast, easy, and hassle-free solution, then we would recommend dr.fone – Switch.
Things to Remember (before transferring your data)
It has been observed that too many times, users end up losing their important data files during the phone transfer process. To make sure that you have a trouble-free experience, we recommend following these suggestions:
Always take a backup of your data beforehand. In this way, even if the transfer process fails, you will have a second copy of your data. To do this, simply take the assistance of fone – Backup & Restore (Android). You can take a selective or a complete backup of your device using this remarkable tool.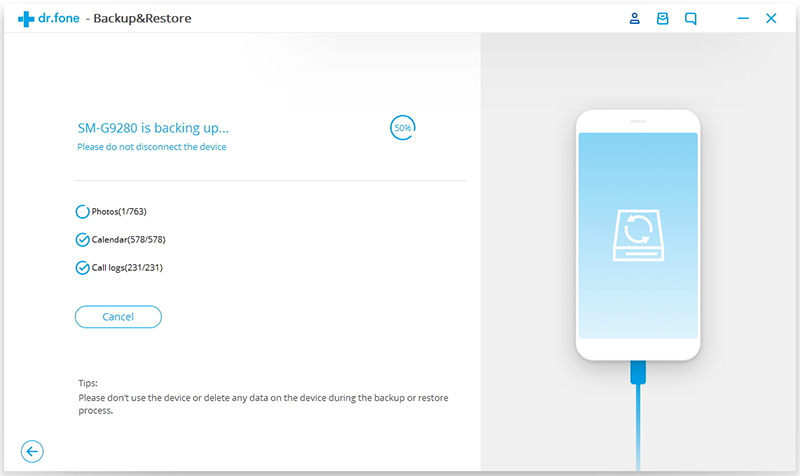 Make sure that you use a reliable phone switch tool that won't access your private information or halt the process unexpectedly in between.
The phone switch tool that you are using should be compatible with both the devices.
If you are transferring your data over the air, then make sure that you have a stable internet connection.
Try to look for a tool that won't require you to root or jailbreak your device.
Make sure that both the devices are charged before you commence the process.
 A One-click Solution to Transfer Data from Android to iPhone
Great! Now when you are familiar with all the prerequisites, you can easily learn how to transfer your data from Android to iPhone. As surprising as it might sound, you can transfer all your data from one device to another directly using dr.fone – Switch. It is an easy to use and smart Phone Switch application that will certainly come handy to you on numerous occasions.
It is a part of the dr.fone toolkit, which is developed by Wondershare. The company is known to provide advanced solutions related to data recovery and transfer. With more than ten years of presence in the industry, it has millions of users the world over. One of its most popular applications is dr.fone toolkit, which provides dedicated solutions for all smartphone-related issues.
You can easily transfer your data from your old Android to a new iOS device using dr.fone – Switch. All you need to do is follow a simple click-through process. The tool is extremely user-friendly and doesn't require any prior technical knowledge as well. Here are some of its leading features.
The tool can transfer your photos, videos, music, contacts, messages, call logs, apps, and so much more from one device to another.
It is compatible with all the leading iOS and Android devices. This includes devices running on Android 8.0 as well as iOS 11.
You can perform a cross-platform transfer of data as well (that is, Android to iPhone and vice versa).
Users can select the type of data they wish to transfer or can move all their data in one go.
Lightweight, responsive, and extremely easy to use
The tool won't access user data so you don't have to worry about the leak of your private information.
No data loss is experienced during the transfer process
Desktop applications available for Windows and Mac (Windows 10 and Mac 10.13 compatible)
It comes with a dedicated customer support
The free trial version available
With so many amazing features, dr.fone – Switch is certainly a must-have tool that every Android and iOS user should have. To perform an Android to iPhone phone switch, you can simply follow these steps:
To begin with, download dr.fone – Switch on your Mac or Windows system. You can download its free trial version or get a premium subscription. Launch the dr.fone toolkit application and select the "Switch" option from its welcome screen.
Now, connect your Android and iOS devices to the system. Let the application detect both the devices. Trust the computer if you are connecting your iPhone for the first time.
The application's interface will provide basic details regarding both the connected devices. Your old Android should be the "Source" while iPhone should be the "Destination" device. If not, then use the flip button to change their positions.
Great! Now you can just select the type of content that you wish to transfer. To initiate the process, click on the "Start Transfer" button.
Wait for a while as dr.fone – Switch will transfer all the selected data from your Android to iOS device. Make sure that both the devices are connected to the system till the process is completed.
Once the transfer process is successfully completed, you will be notified. In the end, you can remove both the devices safely and access the newly transferred data on your iPhone.As you can see, you can transfer your data from Android to iPhone using dr.fone – Switch with a single click and that too in a few minutes. Without facing any compatibility issue or unwanted technical hassles, you can perform a direct phone-to-phone transfer. The tool supports all the leading iOS devices (like iPhone 5s, 6, 6s, 7, 8, X, etc.) and Android devices (manufactured by Samsung, Huawei, Sony, HTC, LG, Lenovo, and more). Go ahead and buy its premium subscription to make things easier for you. Move to a new smartphone in a few minutes and never lose your data again.