Some users complain that it's a big deal to transfer or back up data between iOS devices and the computer. To facilitate, IOTransfer 3, an easy-to-use iPhone transfer program, offers a convenient way to transfer photos, videos, music, PDFs and other iPhone files with more clicks.
IOTransfer 3 is a tool for managing and transferring data from Apple mobile devices (iPhone, iPad). With your help, we will transfer data from a computer to the device in a practical and fast way, or vice versa, and will also allow the legible management of multimedia content such as photos, music or movies and contacts.
IOTransfer 3 Feature
iPhone Transfer
IOTransfer 3 is a tool for managing and transferring data from iOS devices (iPhone, iPad) to PC. With just a click, it will transfer data from your iPhone to a computer in a practical and fast way, or vice versa.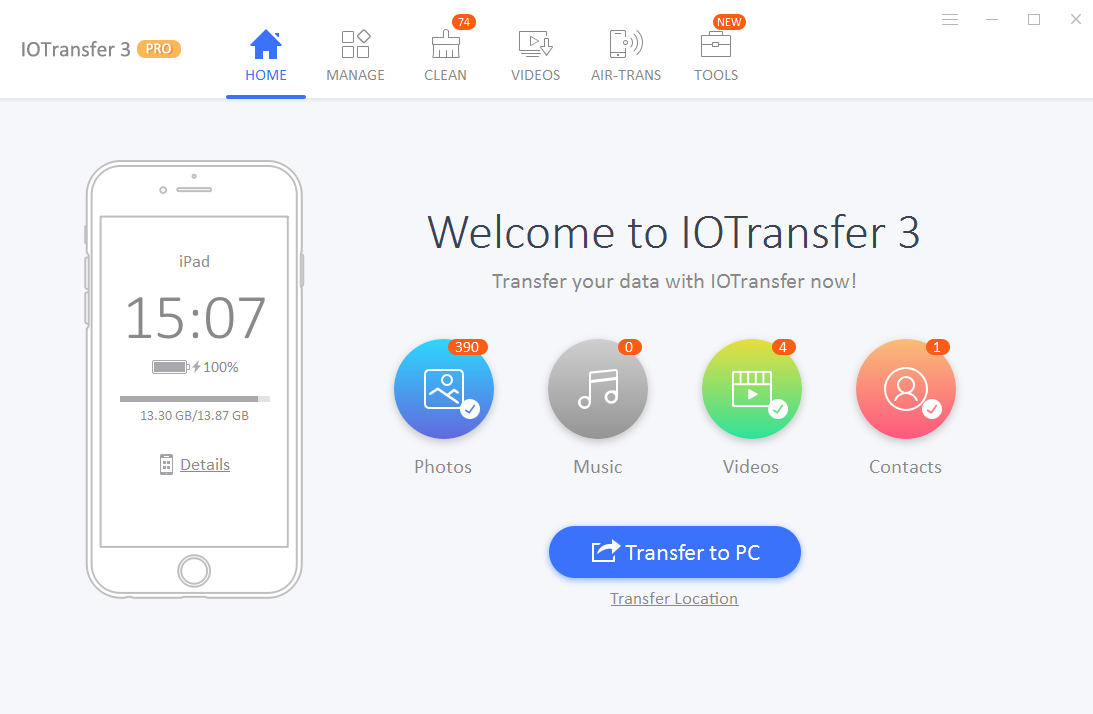 Photo and Video Manager
IOTransfer 3 is one of the best applications that allows you to transfer files and folders, photos, videos, contacts and other data between your iPhone / iPad and your PC with ease. It will enable you to transfer several files at the same time. You can also delete your batch files. It supports the HEIC image format of iOS 11 and can convert the HEIC image format to JPG with one click and save it directly to the photo folder.
YouTube Video Downloader
It includes a powerful video downloader that allows you to download videos from YouTube, Instagram, and Twitch, etc.
The inbuilt Video Downloader allows you to download your favorite videos from more than 30 websites, including YouTube, Vimeo, Dailymotion, and Twitch. With almost no loss of quality, you can save videos to your PC to view them offline and download them directly to their iOS devices. The IOTransfer 3 will not bother you, providing annoying pop-up ads to constant server errors. The download speed can be quite fast once the network condition is not so bad.
Video Converter
This feature allows you to convert videos to another format such as MP4, MP3, AVI, MKV, MOV, FLV, WMV, etc. without suffering any loss of quality.
Backing up and Sharing Music
IOTransfer allows you to transfer and synchronize music files along with additional information, such as illustrations, album covers, and artists, between your iPhone, iPad, iPod, iTunes, and your PC quickly and easily with just one click. It also allows the transfer of any music format compatible with iOS as mp3, wav, and aac.
AIRTRANS
This feature allows the user to transfer photos, videos, music, and documents wirelessly from iOS devices to PC without USB cable and iTunes. The transfer speed is not too slow if the local Wi-Fi signal is not bad. Your new AIRTRANS feature allows you to remove the USB cable and iTunes. And enable wireless transfer of music, photos, videos etc. between the iOS device and the computer at any time.
The IOTransfer 3 helps to copy any file you want from local directories directly from the Apple device you own. So it's a file transfer solution with one click anywhere and anytime.
iOS 12 tips
iOS 12 makes the experience of your iPhone and iPad even faster, more responsive and more fun. Customize your Memoji, control screen time and use notifications to minimize interruptions. And IOTransfer is a tool which is totally compatible with iOS 12.
Conclusion
The IOTransfer 3 breaks the data transfer limit between iPhone and PC and provides users with a better experience to access devices conveniently. This is an excellent program for iPhone, iPad or iPad owners to manage their iOS content and devices fully.