Your smartphone is deemed to remain cluttered if you are surfing the internet or downloading a lot. So, what do you do in this case? Get yourself a junk cleaner. It will keep your phone clean and tidy.
The Android phone market is growing with each passing day. The reason being the Android operating system is highly customizable, thanks to the tons of free junk cleaner apps available on the Play Store.
As your smartphone performs numerous tasks seamlessly, it becomes slower with time. It happens due to cluttered data stored on the device, junk files, caches and other temporary files that take up extra space. These can directly affect your device's speed and performance.
To take care of the situation, you can perform manual cleaning, but it is not always recommended as it comes with restrictions like it is time-consuming and there is no guarantee of accuracy. You can use junk cleaner and phone booster apps for effective results. Install the right cleaner app to save time and free a lot of space in the process.
One such cleaner application is the Falcon Mobi Cleaner that comes packed with an array of excellent features like advanced junk cleaner, smart memory booster and virus scanner to keep your device optimized at all times.
Highlighted Features Of Junk Cleaner App – Falcon Mobi Cleaner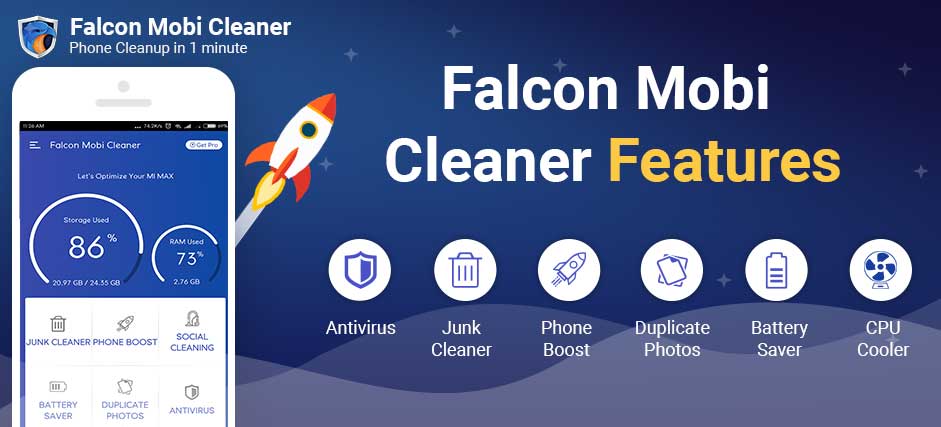 Falcon Mobi Cleaner is a one-tap junk cleaner for Android. The clean-up application takes care of frequently freezing abnormalities of your smartphone. It can clean all your junk files and caches to accelerate your device's processing speed and reduce charging time. Following are the best features of the app:
Junk Cleaner: The application finds all infected files in your device after deep scanning and analysis. It can excellently wipe out unwanted files like system caches, temp files, app cache, APK files and empty folders. Designed with advanced junk cleaning technology, it can stop all those sneaky apps running in the background.
Antivirus for Android: This feature protects your device against virus and other malicious content in real-time. It scans all files and application for threats and provides a protective shield. Users are also notified every time a virus is detected to take appropriate action.
Phone Booster: The application offers a wide variety of tools and utilities to monitor your phone's status, manage your device and boost its speed. The boost button frees up system resources when your phone drops below a certain threshold. Also, the app behaves as RAM booster to help you get better at gaming.
Battery Saver: The application lets you select lower priority apps and shut them down. It identifies those applications that have the most impact on battery and provides a better way to manage options like Wi-Fi, display brightness, sync, and vibration. It detects the cause of overheating and prevents lagging of your smartphone.
Duplicate Photos: The application identifies unwanted photos and deletes them to keep your device optimized and boosted. Users can customize the matching level, the time interval between clicks or scan according to GPS location for duplicates. You do not have to go about selecting hundreds of blurry shots and poor quality images manually before deleting them.
What makes Falcon Mobi Cleaner unique?
Other than the features mentioned above there are also a few unique ones that make the app stand out in the play store. Let's take a quick review.
Social Media Cleaning: The application cleans and manages unnecessary files like images, videos and audio files sent and received on social media. With Social Media Cleaning, you can all clear all cached data and boost the performance of your device. The application lets you remove such files from the different platform on the same screen.
CPU Cooler: The application performs real-time monitoring of apps. Its heat minimizing algorithm controls your phone temperature in real time. You are displayed current temperature along with the percentage of CPU usage. You need not worry about your device speed during multitasking and the cool temperature ensures long battery life.
What makes Falcon Mobi Cleaner stand out from the competition?
Game Booster: This is one of the most useful features for those who are into gaming. It provides a subtle boost in performance by squeezing every bit of free memory so that your game can run smoothly. It stops unnecessary apps to release extra memory and control CPU temperature to enhance your gaming experience by up to 50-60%.
App Manager: This feature is designed to help user batch all installed apps under a single tab. The app display information about each application before deciding to remove them. Uninstalling the ones you do not need while keeping a backup of apk files becomes a lot easier with this module.
Private browser: This feature lets you enjoy a connection that is totally private. It prevents your browser from creating browsing history, storing cookies and search histories. It automatically blocks all web trackers that otherwise spectate your internet activities.
Best Features of the Junk Cleaner App – Falcon Mobi Cleaner
The app uses smart algorithm to create a customized profile to enable/disable power settings on your device.
Closes applications running in the background for a smoother and finer android experience.
Accelerates processing speed by stopping unresponsive task with a single touch.
It offers powerful speed booster features to optimize and manage your device.
It boosts RAM to power device speed by up to 50-60% and better your gaming experience.
One-tap booster for accurate cleanup and optimized phone performance.
Reduces charging time while slowing down power consumption.
Intuitive and easy-to-use UI with no deception animations.
It controls CPU temperature and prevents your device from unhealthy freezing.
The phone booster cleans residual files left by uninstalled apps for better performance.
It allows users to identify photos according to the degree of duplicity and delete them.
Verdict
Falcon Mobi Cleaner is an all-in-one junk cleaner app trusted by users on the play store. The primary focus of the app is to remove unnecessary junk, free memory space, optimize background apps and improve the overall performance of your android device.
The application is simple. If you're looking for something that does not clog much memory and can clear serious space on your Android phone, Falcon Mobi Cleaner can really get your job done.