With businesses facing more challenges to get the maximum out of their mobile workforce, usages of rugged computing products are growing gigantically each passing year. Oil and automobile companies along with government bodies (such as police department) have contributed to remarkable sales of these devices. Rugged laptops or tablets offer everything that mobile workforce asks for – smooth operation in extreme temperatures, odd wet and dusty environments. While a conventional tablet is subject to damage, rugged laptops ensure no loss of productivity and hardware, holding out hard knocks, sudden drops, spills, dust, and grime.
A name that needs no introduction in computing products – Panasonic, too, has come up with a line of rugged tablets that is designed to survive the rigors of the real-life business world.
Low cost of ownership and great industry feedback are hallmarks of the brand's latest series of rugged notebooks – Toughpad. While a durable frame, shielded connectors, and reinforced corners add to the strengthening features, the high Ingress Protection (IP) Rating ensure safeguarding against solids and liquids. Panasonic's reliable Windows® mini computers pack a punch to deliver desktop-class performance with a brilliant touchscreen, integrated webcam, and incredible battery life.
Rugged Handheld for Tough Conditions – Toughpad FZ-G1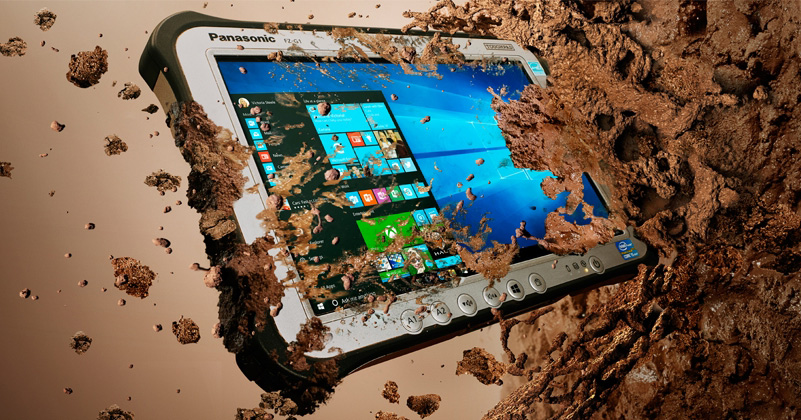 Toughpad FZ-G1 is a 'less downtown and long life span' that requires low maintenance and fewer repairs. Letting businesses realize that they need don't have to compromise on ease-of-use and mobility, Toughpad FZ-G1 is an ideal device for the workforce from oil and automobile industries. The device features embedded Wi-Fi to meet 24×7 connectivity demands by the hectic, mobile lifestyles of security personnel or an engineer in an automobile manufacturing plant.
Apart from police, oil and automobile workforce, it is widely used by the logistics workers, and warehouse operatives who often drop their handheld from 4 foot on the concrete floor. Now, surveyors who work outdoors under drastic weather conditions and food processors whose devices need to withstand high-pressure water can enjoy the power of the latest sixth-generation Intel® Core™ i5 vPro and Windows 10 Pro platforms in this 10.1-inch device. Equipped with a glove-sensitive touch screen, hot-swappable battery and integrated RFID, the device can handle whatever comes its way.
Why Toughpad FZ-G1 with ATEX?
Be it the intense heat, pouring rain or freezing temperatures, Panasonic's Toughpad series offers enterprise-class mobile computing power in all harsh conditions. Offering an excellent choice of tablets for oil and automobile industry, the devices are small enough to slip into a pocket and can survive underwater.
The fully rugged, highly mobile yet lightweight, FZ-G1 with ATEX caters to the needs of organizations that require Windows functionality in a pocket-able device for field working challenges. Sharing its DNA with the Toughbook family of products, the FZ-G1 combines ergonomic and durable design – the best choice for field workforces. Now, the oil and automobile industry and working sites that are exposed to potential gas explosions have access to flexible, configurable ports to view high definition documentation in ATEX environments.
Setting the new benchmark for outdoor viewable tablets, the devices keeps workforce connected through the embedded Wi-Fi Bluetooth® and USB 3.0 and optional 4G LTE (or 3G Gobi™) in difficult and challenging conditions. The Toughpad FZ-G1 comes equipped with 10-finger multi-touch display and digitizer pen and can run nonstop for 8 hours in ATEX zones. Built for workers who spend much of their time working under the sun, the device uses a new level of view quality for a tablet.
Certified according to MIL-STD-810G and an IP65 ingress protection rating for resistance to dust and water, the device also has a high-quality front web camera with flash capability for capturing site photos whatever the light conditions are.