If you are waiting for buying the electronic products in lesser rates ,we have a good news for you as Everbuying is giving a mega sale on its 8th Anniversary.The Massive Everbuying Anniversary Sale Starting at 0.88$ only.Deals will be started on May 9 to 14.
On this great occasion Everbuying is giving great deals and massive discounts on various electronic products such as mobiles and gadgets.Not only the discounts ,in addition Everbuying is also providing an interesting promotion prizes called "Sign in to Win, Collect YOUR Shining Prizes!" So you can also win extra prizes by just signing it.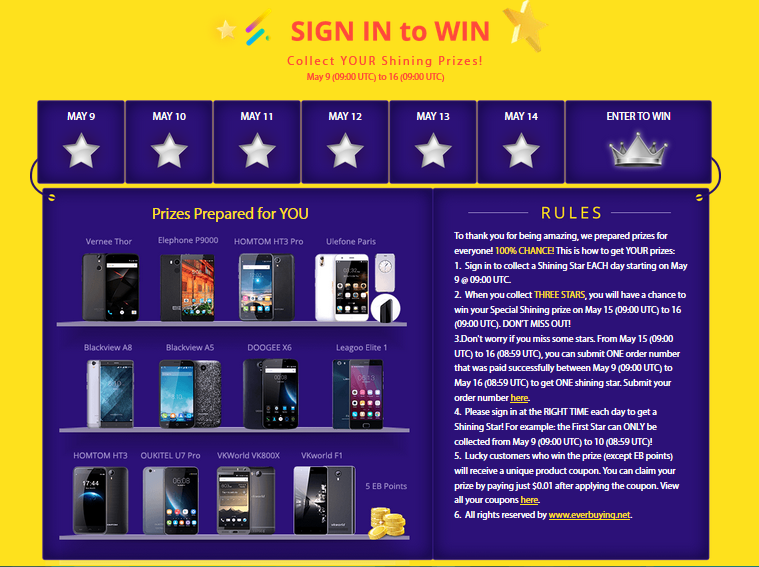 So How to win the Prize ? Here are some Rules :-
1.  Sign in to collect a Shining Star EACH day starting on May 9 @ 09:00 UTC.
2.  When you collect THREE STARS, you will have a chance to win your Special Shining prize on May 15 (09:00 UTC) to 16 (09:00 UTC). DON'T MISS OUT!
3. Don't worry if you miss some stars. From May 15 (09:00 UTC) to 16 (08:59 UTC), you can submit ONE order number that was paid successfully between May 9 (09:00 UTC) to May 16 (08:59 UTC) to get ONE shining star. Submit your order number.
4. Please sign in at the RIGHT TIME each day to get a Shining Star! For example: the First Star can ONLY be collected from May 9 (09:00 UTC) to 10 (08:59 UTC)!
5.  Lucky customers who win the prize (except EB points) will receive a unique product coupon. You can claim your prize by paying just $0.01 after applying the coupon.
6.  All rights reserved by www.everbuying.net.
Everbuying is giving a mass variety of products in different categories such as  Top Cellphones, Powerhouse Tablets, Smart Watches, Computers & Networking, Consumer Electronics, Toys & Hobbies, Outdoors & Sports, Home & Garden, Stylish Apparel, Other Great Deals.You must check it out.
Top Cellphones
Must Check Deal :-
UMI TOUCH Android 6.0 5.5 inch 4G Phablet 2.5D Arc ($149.88)
OUKITEL K10000 5.5 inch Android 5.1 4G Phablet MTK6735 64bit Quad Core 2GB($180)
CUBOT NOTE S 5.5 inch Android 5.1 3G Phablet MTK6580 Quad Core 2GB($80)
Teclast X10 3G Phablet MTK8392 Octa Core 1.4GHz 10.1 inch Android 5.1 IPS($120)
Vido T99 WCDMA Phablet SoFIA 3GR C3230RK 64bit Quad Core 1.2GHz 7 inch($53)
A1 Smartwatch Phone MTK6261 Camera 1.54 inch Touch Screen Sleep Monitor($19)
SHENGKAI WIFI FPV D97 with HD 2-mega-pixel CAM 6 Axis Gyro 2.4GHz 4($44)
901 2.5CH Mini Radio Remote Control Helicopter With Light and Music($6.49)
Analog Quartz Watch for Men Leather Strap Line Dial ($2.69)
Hope you like it for more DEAL ALERTS don't forget to subscribe .Thank you 🙂