There are many ways to make money online, and you probably have tried every possible method to earn. However, it's quite difficult to make a good amount of money with so much competition.Shorte is giving a platform to make extra with outgoing links and shorting the URLS.This shorte.st Review help to know about this tool to earn more money.
What is Shorte.st?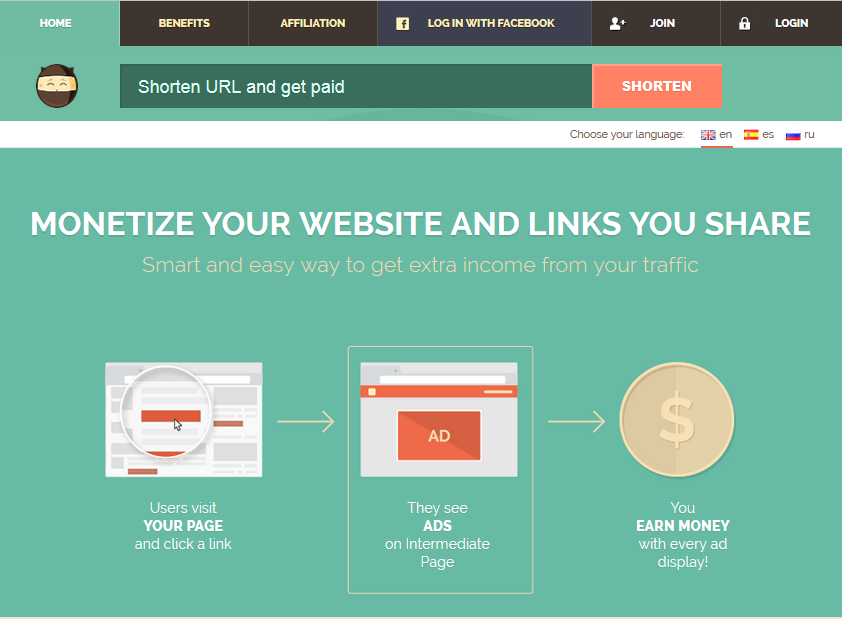 Shorte.st is a European based link shortener tool that is connected to advertising network so that we get paid when we shorten a link and make someone click on it. Sign up Now and get an extra $ bonus in your Account.
How to Start?
Go to Shorte.st Register page (click here)
You can Join by your Facebook account or by your Email Address
If you Join by Email Address you have the verify your Email Address
And you are ready to Earn Money
Payout rates
More than 320 000 users in over 100 countries use Shorte.st to grow their income.And Shorte.st have quit high payout rates than other ads networks.
Check out all the payment rate of available countries.
Wide range of Monetization tools for our publishers:

Full Website monetization
In this full page script will transform all your links into the shorte.st form. Copy the code and paste it into the body section of your HTML code. You can include or exclude the domains that you want to shorten.And it also added a new feature of popups to increase your earning.
Quick Link
Copy the code from the frame – it contains your personal ID token which assigned to your account. Change "Yourdestinationlink.com" to ANY link you want. Press enter and BUM – you're on the destination URL.
Developers API
For developers Shorte.st prepared API which returns responses in JSON format.By adding the little code, you can make short URL in your Website and increase your earning.
Social Share Widget
You can easily monetize your website's social network shares. All you need to do is to place our Social Share Widget on the page you want to share and earn. All the clicks in social buttons will go through our shortener so you can increase your revenue even more.
WordPress plugin
Shortest monetization plugin is probably the easiest and the least disruptive way of monetizing your WordPress blog.
It based on shorte.st advertisement network which deals mainly with links. The biggest profit of using shortest is that it doesn't need a single pixel on your web page, so your blog won't be cluttered with another banner ad or popunder window.
For Featured Tools
Mass Shrinker
Earn on Blogspot comments
twitter feed integration
dlvr.it integration
Mobile Responsive Ads
Shorte.st also provide responsive ads which can make the user comfortable to view other the scroll for the skip option.
Referrals / Affiliation

Sharing your short links is not the only way to earn money with shorte.st. You can also invite new users. For each invited user you will receive 20% of their earnings. Go to the "referrals" tab, share your referral link with one click – on Facebook, Twitter, G+!
Withdrawal / Payout
In order to withdraw your money your profile must be fully completed. If not – you can do this anytime, even from the withdraw page.Shorte.st Payment system is automated as you get eligible for payment till 10th day of the month you get paid automatically
To get paid you need to:
Have at least $5 earned for PayPal and Webmoney Only if your earnings have reached a total of $5.00 or more for the previous month(s)
Have at least $20 earned for Payoneer
Payment dates:
10th day of every month
Note: There might be delays if you use WebMoney (up to 10 days)
Conclusion
Shorte.st is best ad network with the High CPM rates.Must try this network and increase your earning .Earn Money from Shortening URL and outgoing links on your Website.Sign up Now and get an extra $ bonus in your Account.