What to Play your favourite music on Piano but doesn't know how? Don't worry! Skoove Piano App is there to help you and provide you with a good foundational knowledge of piano.
"Music is the soul of language." Max Heindel. There is no doubt that Heindel was right. The more you talk about music, the more you delve into the world of memories and emotions. It is the nostalgia that we all crave, the feeling that we all seek, and the relaxing pill that we all need. So, to be honest, the more I talk about it, the more I keep changing my playlist to write this perfect piece. Well, this will be a musical ride, so stick together!
Out of everyone out there who loves music, only a few can play an instrument, understand the nuances of music, and try to create something unique, something different. Yes, If I am blunt, you just need to know only the 12 notes to make any song; that's it. However, mastering these 12 notes is a task in itself; it demands precision, focus, and patience. I will be lying If I say we all have that privilege. However, some of us do have, and some of us are busy in our daily life chasing dreams. Online lessons come to the rescue; some apps offer music lessons and help you achieve your musical journey. One such app is Skoove.
What is Skoove?
Skoove is a Piano learning app that provides online piano lessons. It has a fun interface that simplifies complex learning techniques and makes the learning process interactive. So you can jump on to your lessons whenever you want and continue being a piano master. The app is available on iOS and Android platforms and offers varied features for beginners and experienced music enthusiasts. We'll look at some of its prominent features on this Skoove App review.
Skoove Pianio App Features that we love:
1.Interactive Piano Learning
The app has an easy-to-use UI that helps people learn quickly and efficiently. It shows Piano keys and hand videos that helps in correcting your positions and techniques. In addition, this practical learning method allows beginners to correct their posture.
2. Play by ear
This unique method allows the app to listen to the music via the mic and help you press the right keys at the right time. It also keeps track of the music tempo so you can play the tune with precision.
3.Moving Score
A moving score is an addition to all the features that you get in the app. It helps you track your progress and stay on top of your learning curve. It also shows you which notes to play and when to play. This helps in keeping the overall piano excited.
4.AI as assistance
App integrated AI assistant help in creating a better learning experience, it tracks all the score and comes up with a custom solution that best fits your goal.
Extensive Song Catalogue:
One of the prominent features of any music learning app is the song selection. Most of the app has a list of selected song or music catalogue from which you can learn. However, Skoove has an extensive song catalogue, which can be seen as its perk over the other piano learning app. The app allows you to select not just classical music but also trending songs, making the learning experience fun and exciting.
What are the Special Courses?
Apart from beginner, intermediate and advanced piano learning courses, the app also has Musical Notes, Chords and Scales courses. So it helps users blatantly learn the keys and the concept of musical notes and gradually understand the musical charts. This benefits a lot in playing the piano and creating your own music or playing any other instrument.
Who could use it?
Be it a beginner or an expert, the Skoove Piano learning app is made for everyone. It doesn't just have a song collection for beginners to learns but also a custom music maker that will help you create your own music. So you don't just learn but explore the new pianist in you, and might create something spectacular.
How to use it?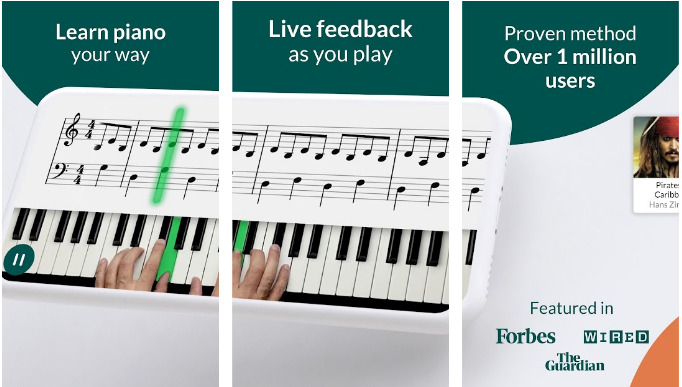 You find the Android version of Skoove directly on the Google Play Store, or the iOS version on the App Store and get it going in a minute. The interface is straightforward, and you can set it up quickly. Once you have installed the app, just log in and start your learning session as a beginner, or if you're feeling a bit challenging, you can directly start with the intermediate and advanced lessons.
Pricing
Skoove app comes with a one-week trial pack for premium. However, you can create a free account and get 25 piano lessons and unlimited time to explore the app as much as you want. The premium package comes with more than 400+ piano lessons, monthly updated lessons and songs and one-on-one support from Skoove music instructors. The premium plan starts from US$19.99/month. However, if you purchase it the right way, you might get an exclusive 50 per cent off. Click here to buy Skoove premium.
Skoove Review: On the Ending Note
What looks like a regular Piano learning app may convert some music enthusiasts into entry-level musicians. Skoove has all the features laid down to build up the foundation of the musical journey. It has a friendly user interface packed with an interactive learning experience. No doubt that the constant feedback on the user's performance will not work. Perhaps, it is the USP of the app. It's not just a learning app but a fun, intuitive gaming app that helps users excel in their piano skills. Apart from that, it also teaches you music, notes and trending pop songs. Perhaps, this app can be a game-changer in the music learning industry and help some user find their inner musician.