Leaked specs of which claimed to be the Xperia Z4 Ultra suggest that the upcoming Sony tablet will be the most powerful mobile device or tablet ever launched. The leaked specs are so unbelievable that we literally cannot believe them, especially since we don't know where PadNews, the blog that leaked the specs, got the source image from.
Anyway, let's take a look at the specs in the image below: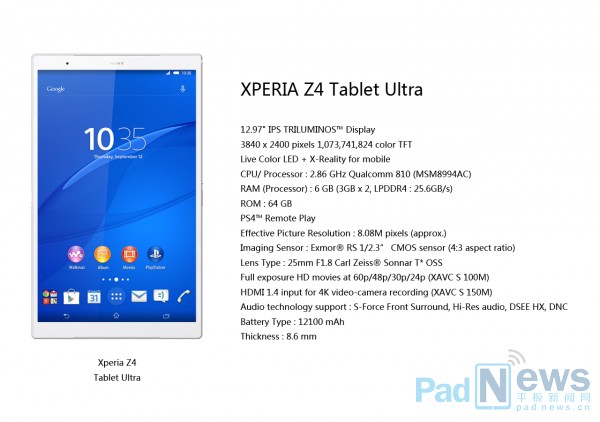 As you can see, these specs make the Xperia Z4 Ultra tablet the single most powerful tablet to ever be launched. Now, while Sony has a reputation of packing its devices with quality, powerful hardware, the above specs do seem out of this world.
On the other hand, if Sony can actually deliver an Android tablet with a 13-in 4K IPS display, a 64-bit octa-core processor, 6GB of RAM and a 12,100 mAh battery.
The camera is also trumped up – an 1/2.3″ Exmor RS sensor with an f/1.8 Carl Zeiss Sonnar T* lens and just 8MP resolution. That's probably the Superior Auto resolution as the rest sounds like an improvement over the Xperia Z3 camera with a better lens (Zeiss f/1.8 instead of Sony G Lens f/2.0).
The Sony Xperia Z4 Tablet Ultra will be a slinky 8.6mm thick and pack a massive 12,100mAh if the rumored specs are to be believed. The image by itself is quite suspicious, holding a massive 13″ tablet with such thin bezels will not be comfortable.
All in all it sounds too good to be true. We'll gladly admit if we are wrong and Sony does pull this out monster at CES or MWC 2015, but for now we're skeptical to say the least.