In video editing, one of the most important aspects is being able to Splitting Videos into segments. At first glance that may not seem to be the case – but once you get right down to it you'll begin to realize that being able to split videos into segments will open up numerous possibilities.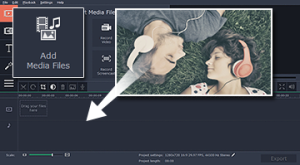 Needless to say, when you're able to split your videos you'll be able to take a single video and split it into individual clips. In itself this will already give you the ability to extract the 'important' parts of your video and save them individually. However if you go a step further you'll also be able to remove the 'unimportant' or unnecessary bits from your video too.
From those basics you can then start to dig deeper and begin to 'cut' your video. Essentially 'cutting' a video refers to removing unnecessary footage, extracting good footage, and then re-engineering the video accordingly. It is the same process that is used to cut movie footage and eventually come up with the 'final cut'.
How to Split Videos with the Movavi Video Editor
Using the Movavi Video Editor to split your videos into segments is really a simple and straightforward process. In fact, all it consists of is:
Add the video that you want to split by clicking on 'Add Media Files' and selecting it.
Move the red marker above the 'Timeline' to the point where you want to split the video.
Click on the 'Scissors' icon to split the video into segments at the point where the marker is located.
Repeat the process to create all the video segments you require.
Once you've segmented your video you can then either delete the segments you don't want, or even change the sequence in which they appear by dragging and dropping them accordingly. While you're editing the video you may also want to use the other features of the Movavi Video Editor to enhance the video quality, insert stylish transitions between scenes, add audio tracks as voice overs or background music, insert customization text, and much more.
By the time you're done your video should end up looking great. Because you now know how to split your video you could even re-shoot parts of the footage and insert it into your video in place of some of the footage – just so that it really does look perfect.