Photography has become the newest fashion wrinkle. This is what the scenario speaks, let's have a look over it.
Back to 1940s, mankind only had fixed image cameras, the trend grew and gradually digital cameras came in vogue. This vogue has now been taken to a different height. People have got smart cameras in their smartphones. Some really amazing SLRs and DSLRs are out to satisfy photography freaks.
This is one side of the coin. If you flip it, you'd see the need of many more gadgets and tools which supports photography. Let's say lens and editing apps help get better over camerawork. Perhaps, i.e. huge range of photography and editing apps are available on all platforms.
Nevertheless, most of these apps are proficient in their operations. But there are only a few which offers a whole set of features with a new model. One such app is Tweak Photos available for Mac users.
Tweak an Uncut Bunch of Photos
Picturize the scene- On recent road trip you clicked hundreds of photos and want to share your experience with the world. But before you put them for display, your preview asks for some brush up on all images.
Phew! This might be your first reaction to the situation. But relax, there is a rescue for this situation as well. It's nothing but Tweak Photos, an app which edits hundreds of photos altogether. The app's special feature to edit a batch of photos and relive people from all tiring- manual editing. This feature impressed us and made us dedicate it this write up.
Know-how of Tweak Photos
Tweak Photos has some intelligent features. Find them here: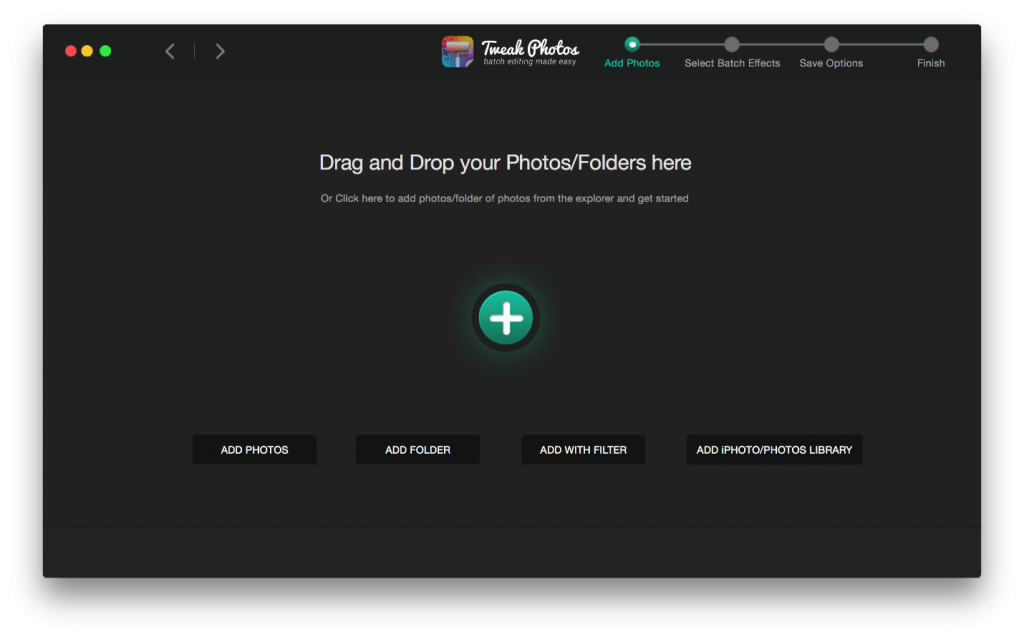 The app allows you to edit numerous photos at a time. Editing on Tweak Photos has 4 steps- Drag and drop multiple images or image folder on the home screen, start with editing in layers, save via different options and you are done with a click on 'Add' button.
The app has many filters, effects and styles. These filters and effects primarily include image text, blur options, borders for images, black & white effect, vignette effect, sepia and many more. You can also customize the effect level with the help of effect slider.
The app edits images in layers and save the changes for entire batch. It also has an option to save the batch steps, which can be used later for editing various images.
You can change file type and format, add strings and digits. These selections help you customize your folders and files. For instance- if you have a folder with images of two different events, then you should add prefix or suffix to specify both the event images. This process is named with batch conversion in the app.
You can add any of the steps as your favorite step and any effect as your favorite effect. These favorites are preserved by the app for your later editing on images.
Any layer (batch step) can be deleted if that doesn't give you satisfactory edit results. Just click on the delete icon right on the batch steps pane.
You will be informed about the errors that occur while saving the effects, you have made to your images.
Final Verdict
Tweak Photos is a mature app for professionals as well as amateur photographers. It gives you all major edit preferences to edit images. We were impressed with some of its brilliant features, namely batch conversion, error finding and batch step saving option. With this note, we'd rank Tweak Photos a good app on our critics.
Get the app here.