The MAGQI is an innovative and a very useful product. As of now MAGQI is under indiegogo kickstarter program and is under Pre-order basis. It is a very handy Qi-enabled wireless charger which can make any phone charge via wirelessly. So, if you very messed up with the charging cables and want a simple and innovative way to convert any of your device in a wireless charging device then this one is for you.
So, coming to the kit, it comes up with a wireless charging power banks which I have never seen or used. A desk charger which will help you to charge your phone wirelessly while on the dock. A wireless car charger which can be attached with the glass of your car or if you want to attach the phone on ventilator a separate dock is also there in the package. After that the package comes up with different magnetic patches that can transform any ordinary phone into one that can support wireless charging.
The company is claiming that it is a unique and new way to attach any phone and charge it wirelessly, you won't believe that even the power bank which comes with the kit is having that magnetic capability built-in which is awesome.
Now first starting with the Magnetic patches which comes with the package, you will get 5 patches in the bundle.
2 types of Micro Usb port, 1 is having short pin and other one is having a long pin, you can use it as per your phone.
A lighting port
Magnetic sticker (for adding magnet support on the device which already support wireless charging)
USB Type C port
After that now coming to the desk dock, it can make any smartphone hold using that magnetic charging patches and at the same time you can charge your phone very easily. As the dock is totally dependent on the magnets you can turn the device in any direction, whether in horizontal or vertical and use it normally on dock while at the same time it is charging. The dock is made up of full metal and to hold the dock perfectly on the table there is silicon padding below that which make is stable and done make it slip. The wireless charging system is attached to it, which has magnets in it, using which any phone get holds up on the dock. There is a Micro USB support using which the dock is attached and the dock converts that energy into wireless charging.
Now coming to the car dock, on the box there is not much which we need to show, when we open it up first we get the unattached wireless charging hub, under it you will get a phone window holder using suction cup and if you don't want to attach the phone on windows or glass you can also place it on your AC vent, the adapter for it also comes up within the box. Now it's your choice which one to use and after that just attach the charging hub to it. One more thing which I forgot to mention is that the windshield bracket also has a 360 degree rotation inbuilt in it, which means if you want to use it for navigation while charging you can do it simply.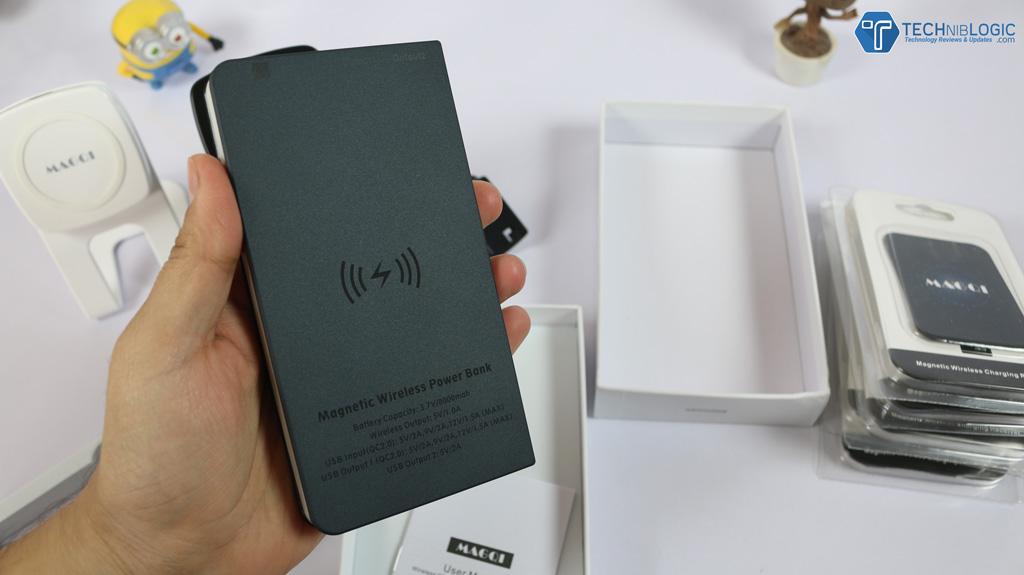 Now finally coming to the wireless 8000mAh Battery which has 2 USB port out of which 1 is having the output of 1 Amp and other port is having the output of quick charge 2.0 for fast charging. You can also wirelessly attach the phone on the power bank which makes it the world's first power bank which support wireless charging and that too with magnets which won't make your phone slip while charging the phone on the go. The power bank will hold the phone even when you use it upside down.
If you have some unique phone design or having some different placement of port, you can simply mail them the info about your phone and they will customize the QI wireless chip as per your phone. How cool is this.
And one good new if you are already having some other wireless charger the MAGQI Wireless Receiver Patch will also be compatible with them, but the point is that their won't be any magnets in them and so they won't stick the phone to them and will slip most of the time.