So, finally its here. The most awaited and rumored notebook from Xiaomi has been announced Mi Notebook Air. They are just offering too much as per the price tag. As it was expected it looks something similar to Macbook Air, and as per the company it is much better in performance and hardware.
The Mi Notebook Air, will run on Windows 10, and will come in two sizes which is 13.3-inch and 12.5-inch, both will feature a slim body with 1080p display. The keyboard which they are offering is having backlit keyboard with a USB Type-C charging port. The Notebook is made up of metallic body and will be available in gold or silver and you can found no logo on top of it. The best part as of now is the price as it will gonna cost you just 4,999 yuan which is about $750.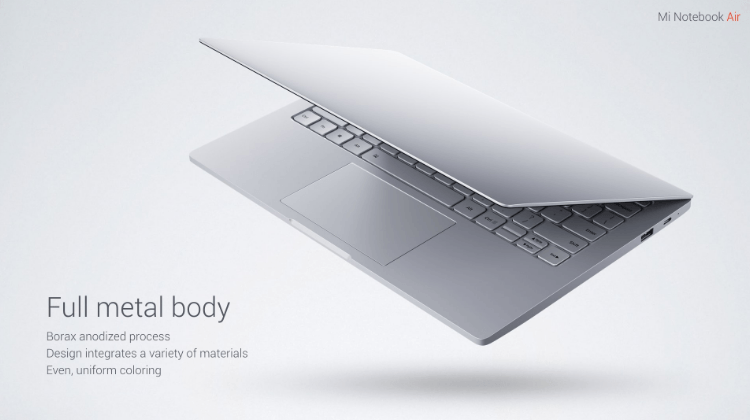 Cming to the 13.3-inch model it is just 14.8mm thick and 1.28kg heavy, you get an Intel Core i5-6200U processor and a awesome NVIDIA 1 GB GeForce 940MX GPU. It also add up with 8GB of DDR4 RAM, which none other company is offering till now. The memory it comes up with is 256GB of SSD and one free SATA slot for expansion in future. The 40Wh battery will last easily for about 9.5 hours, and can go from zero to 50 percent in just half an hour using the USB-C charger, as per the info.

Coming to the smaller variants, it offers 12.5-inch screen size which is even slimmer and lighter from previous bigger one with 12.9mm and 1.07kg, respectively. On more thing here you need to compromise a bit because of its sleekness as you will be getting Intel Core M3 CPU & no dedicated GPU & only 4GB of RAM with just 128GB SSD via SATA. you will only get 1 Usb 3.0 Port over here, and adding up you still have an HDMI port. The upside of this model is that you get two more hours of battery life and price only 3,499 yuan or about $520.
Mi Notebook Air 13.3-inch specs
Intel Core i5 processor
9.5-hour battery life
13.3-inch Full HD display
8GB RAM, 256GB SATA SSD storage, expandable SSD slot
1.28kg weight
Mi Notebook Air 12.5-inch specs
Intel Core M3 processor
11.5-hour battery life
12.5-inch Full HD screen
4GB RAM, 128GB SATA SSD storage, expandable SSD slot
1.07 kg weight, 12.9 mm thin
you can even personalize the laptop with different skins like leather sleeve (RMB 299), PU leather sleeve (RMB 99), and Microfibre sleeve (RMB 69). The Mi Notebook Air is launching in China on August 2nd. And as per my info just forget to get this in India any soon.