Valuable Things To Know To Avoid Making A Mistake
When it comes to purchasing a POS (point of sales) system for your business, you want to purchase with confidence. Knowing that there are some potential pitfalls that can be made gives you the advantage in avoiding them.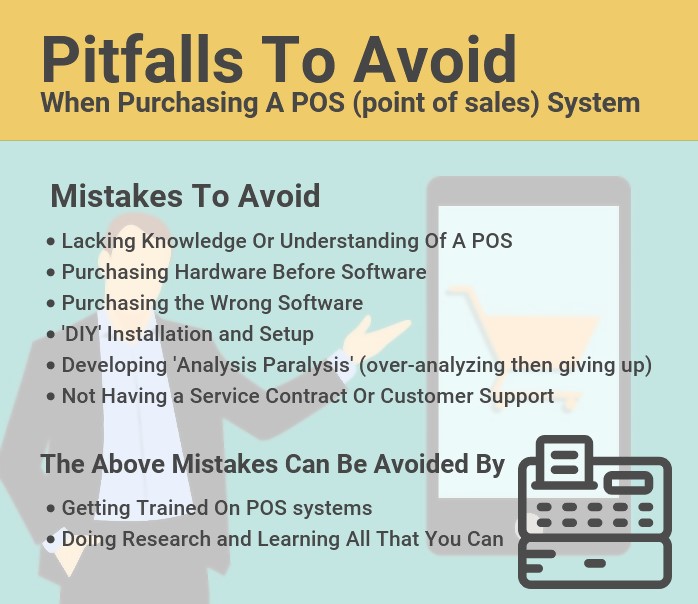 Mistake #1: Lack Of Knowledge With POS'
This is the biggest mistake that causes many business owners a lot of headache and frustration. You need to know what you are dealing with before buying.
Cheap Is Not Best
One of the biggest investments a business owner will make is integrating a POS. With that comes software, training, customer support, securing data, and installation.
This is where doing your homework will pay off. Dig up as much information on dealers and brands of POS' as you can. Never make a blind purchase because it can be a costly mistake. Don't buy a POS just because a dealer has an irresistible deal going on or because in your mind, cheaper is better.
Hardware Before Software
Some business owners fail to learn about POS' and end up not getting the right equipment or software. It's common for those that do not fully understand a POS to purchase hardware before the software.
The software can be thought of as the brain that runs the hardware. Without the brain, the hardware is useless. Software specifically dictates what type of hardware will operate with it. Different software programs will require different hardware.
Do your research and learn about the features that the various POS software programs offer. Find the software platform that is best for your business. Once you have selected your software, THEN you acquire your hardware. This will be done based on the requirements of the software.
Wrong Software
The first thing a business owner should do before purchasing POS software is to determine if that software will perform as needed. Is the software precisely tailored to meet the needs of your business?
Many business owners make the mistake of purchasing software that does not automate every aspect of a sales operation. The whole concept behind a POS is to make your transactional processes easier.
If your business has a designated person to select the POS software, make sure they have the expertise to choose wisely. Decisions in purchasing the wrong thing can be very costly to your business.
DIY Installation And Setup
A big mistake business owners encounter with a new POS is trying to set it up themselves. Unless you have the skill and expertise in installing and setting up a POS, don't attempt to do it on your own.
A POS is an investment that should be protected from the 'get-go.' Going the 'DIY' route can be a very expensive mistake to correct.
Mistake #2: Analysis Paralysis
The journey to learn about POS solutions should not be a struggle. Some business owners will become so frustrated trying to find a system that they will give up. If you are one of those people, the easiest method of purchasing a POS is to have a plan and stick by it.
Be Strategic In Your Plan To Choose
Will the system maximize automation for your business?
What are the ten features you need in a POS?
Is the system going to be easy to use for your employees?
Are you prepared to handle the long-term cost to operate a POS?
Mistake #3: Getting A POS Without Service Contract And A Backup
We expect the products that we purchase to function correctly, right? If something doesn't work, we want customer support and service to back the product.
When you purchase a POS, you want to ensure that you have a service contract to back your system. If you don't have a service contract in place and your POS goes down, you will be required to pay someone to come in to fix it. This can be quite expensive.
Backup System
A backup system is a safeguard to protect the data on your POS. If your business should experience a disaster, you can have peace of mind knowing that the data is backed up. Losing that valuable data can be catastrophic for a business.
Types of Disasters
Fire
Flood
Vandalism
Computer Crash
Where can I go to learn about POS'?
There are numerous resources offered online that you can tap into to learn all about a POS. If you are new to transaction automation and want to invest your time to become acquainted with it, get some formal training.
Training videos are convenient, informative, and give you the visual element to see, hear and understand. Once you have become confident in the various aspects of a POS, you should then provide training for your employees.
Things That Are Generally Covered In POS Training
There are different types of POS systems. However, training that goes into covering and educating people on a POS follows a structured model.
Installation and setup of software and hardware
Launching the system
Checkout Process

Adding items to POS
Applying discounts
Accepting payment

Gift cards
Credit card
Debit card
Buy now pay later
Loyalty
Mobile

Managing inventory

Multi-store
Multi-channel

Stock

Reordering

Customer Database
Analytics

Inventory
Product sales
Customer group sales

Add-ons
Employee training

Front of house
Back of house

Customer Support
Loss prevention
Staff scheduling/clocking in
Marketing
Backup
Upgrades
Avoid The Common Mistakes Others Make
Have all of your 'ducks in a row' before purchasing a POS system. This sets you up for success, and in the end, it will prevent you from experiencing costly mistakes.
Learn by the mistakes that other business owners make in order to avoid them.