If you want to create an ideal sound clip for your presentation or special radio ads or you have to extract audio from video files for airplay, then a good audio editing software is needed, which is going to save your precious time and effort. A good audio editing software allows users to edit and generate audio data. Here is the list of top 10 best audio editing software that is available for free:
10 Best Audio Editing Software for PC
Audacity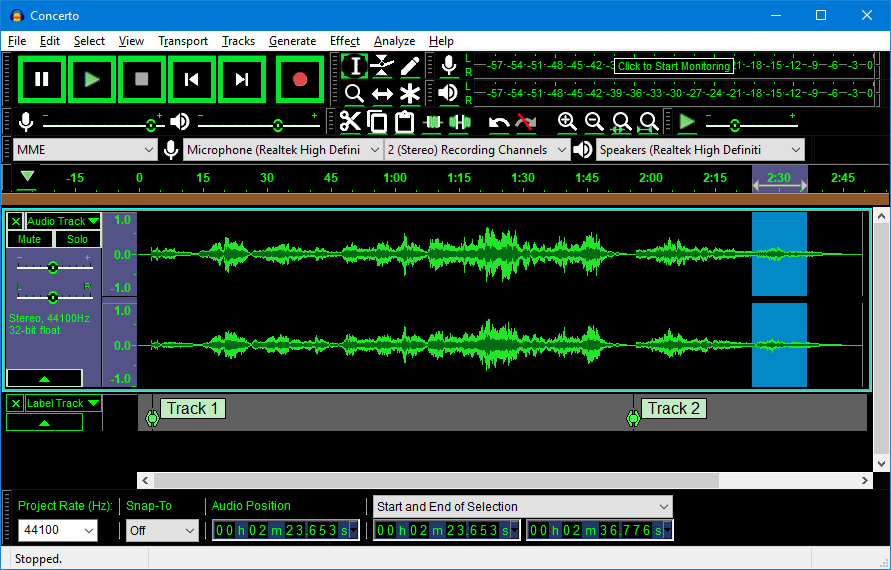 It is one of the most flexible, free and open source audio editing software, which is available for any desktop platforms like Windows, Mac OS X, Linux and other operating systems. It provides a large-scale of built-in tools which allows one to edit pre-recorded files, seize sound via an attached microphone, or even stream music and podcasts. This software also allows you to import and export a wide range of audio formats. The built-in effect of this software is magnificent, and it is an easy-to-use editor and recorder. Check it Your Self, Visit Website.
Wave pad
This audio editing software is free to use and is a full-fledged audio editor, which is compatible with both Windows and Mac OS. It allows users to record and edit music or videos by providing features like cut, copy and paste. You can use these features for different parts of recording and later you can add effects like echo, amplification, normalization, reverse and noise reduction. Apart from wav, Wave pad also supports file formats like Vox, gsm, WMA and many more. Check it Your Self, Visit Website.
Ocean audio
This software is for those people who do not need a lot of complications while editing audio. Oceanaudio is an editing software, which is easy to use and is compatible with Windows, Mac OS X and Linux. It is a fast and functional audio editing software which is based on Ocean framework, which allows multi-tasking. The tasks that require a lot of time run in background hence providing you with the space to work on other files. Check it Your Self, Visit Website.
FL Studio
It is one of the most popular and powerful music editing apps that is being used by creative artists worldwide and consists of tons of features and stacks of tools. The interface of this software is easy to use but first-time users may find it a little complex to understand. The main key features of this software are–multiple midi-ins support, a lot of plugins, multiple editing possibilities and the mixer is filled with pre-sets. The smart search option allows you to quickly find music track or effects. Check it Your Self, Visit Website.
Ardour
Ardour is one of the most used music editing software, which can help you record, edit and mix audios. This editing software is compatible with Linux, OS X and Windows. Ardour allows you to import your audio and MIDI from your hard-drive and database. It supports new tabbed interface, Lua scripting, VCAs, plugin pin management and many more features. Check it Your Self, Visit Website.
Soundation
This software allows you to record and produce sounds in an online studio. The online studio provides an easy to use and user-friendly interface which is suitable for both first-time users and professionals. Soundation offers filters, equalizers and synthesizers by which you can create special and professional music. You can not only edit the music, but you can also share music with millions of people where it is valued and means something more than a sound. Check it Your Self, Visit Website.
TwistedWave
It is easy to use, fast and powerful audio editor which can run smoothly on Mac, iPhone/iPad + online. The major feature of this audio editing software is that it can import and convert a multitude of audio formats. You can extract the audio content from a video file via TwistedWave software. It comes with a user-friendly interface and is considered as a decent audio editing software when it comes to beginners as one can record and edit audios quickly and easily. Check it Your Self, Visit Website.
Adobe Audition
This audio editing software has the multitrack recording and editing capabilities that are associated with digital audio workstations hence making it an incredibly powerful software. You must pay for the services which are being offered by this software on a monthly or annual payment basis. Adobe Audition provides you with the flexibility to switch between different interface layouts and allows you to record more than one audio source at once. One of the major things to remember is that you can change the layout of this audio editing software, but you cannot add or remove tools from your toolbar. Check it Your Self, Visit Website.
Sound forge audio studio
This is a primary audio editing software which offers a small number of audio restoration tools and includes the ability to digitize vinyl recordings straight into the program. This audio editing software also offers effects and 90 audio pre-sets within the allotted effects which you can apply to your audio recordings. This software offers a fully customizable user-interface where you can change the arrangement and layout of the audio editing windows. Check it Your Self, Visit Website.
LMMS
LMMS stands for Linux Multimedia Studio. This is a free, open source music editing and music production software, where you can easily make music by creating melodies and beats with your computer. This software is compatible with Windows, Linux and Mac OS. Its core functionality includes — Full user-defined track-based automation and computer-controlled automation sources, fine-tune patterns, notes, chords and melodies using Piano Roll Editor etcetera. The software has bundled graphic and parametric equalizers and has a built-in visualization/spectrum analyser. Check it Your Self, Visit Website.
Verdict
In the above-mentioned audio editing software, the best audio editing software that I personally recommend is FL Studio. The reason for choosing FL studio is because the browser view and multiple editing windows, such as playlist, piano roll allow you to work in different creative ways. Apart from FL studio, TwistedWave is also a good option if you are looking for a simple audio editor. For users, who are looking for a software that has multi-track recording capabilities, great file compatibility and conversion capabilities then they must go for Adobe Audition.