They say a picture is worth a thousand words and a photograph reveals how rich veracity truly is. Here's a list of the top 10 Best Camera Apps which will provide you with a stage for displaying your photography skills and instincts.
Here are Top 10 Best Best Camera Apps
1.Camera FV-5 Lite
Camera FV-5 Lite is one of the top camera apps that helps your device take professional photographs. Using its DSLR like manual control one can always adjust exposure, ISO, light metering mode and white balance easily. It also features a DSLR like a viewfinder display which shows you the exposure time and aperture and with the built-in intervalometer, it provides amazing timelapse. Along with its EXIF and XMP sidecar metadata support and various modes which include Autofocus, macro, touch-to-focus and the infinity focus, the user interface is available in more than 30 languages. You can Download this App from HERE.
2.Cameringo Lite. Filters Camera
Providing a very superior user interface this app includes more than 300 customizable live filters and more than 20 frames. The HDR mode gives out the images with the help of FAUX HDR tone mapping filters. It provides you with features that can be compared to as that of a DSLR camera. This app avails you various filters of 16 mm and super-8 styles along with the feature of video recording (slo-mo, fast motion) as well as GIF recorder. You can Download this App from HERE.
3.Hypocam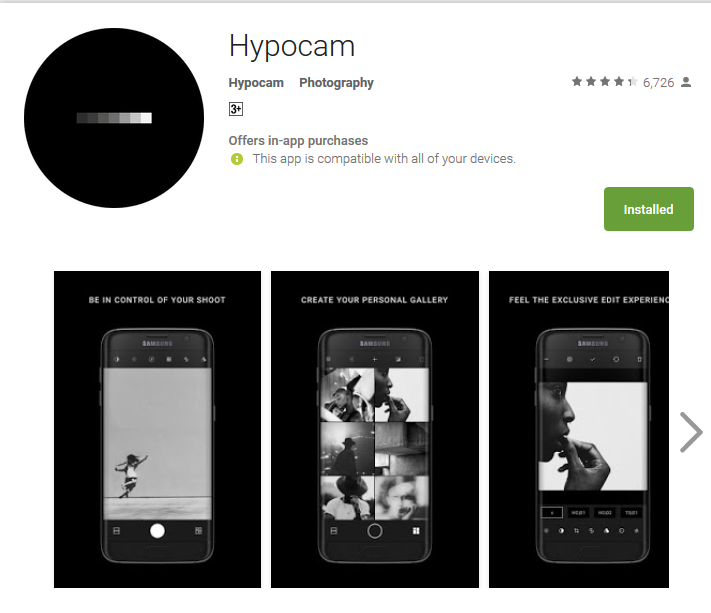 Hypocam is the best available app for taking black and white photographs and sharing it out with the world. With the help of its live view controls, one can control the image's nature by using the various creative tools provided by this application. This app also consists of an inbuilt news feed which keeps you updated regarding the latest news and helps select the best photos for B&W photography. You can Download this App from HERE.

4.Snap Camera HDR – Trial
Featuring all functionality of the paid app, this trial version will start immediately if there isn't an internet connection. It provides a simple user interface which has the touch to focus, pinch to zoom and swipe to review. The photo controller provided by this app includes the settings for Color, contrast, silent shutter, burst mode, self-timer, stable shot, panorama mode, flash mode, HDR and more. The menu for additional settings contains the picture and video size, JPEG quality, Anti-banding, Scene Detection and various other options. You can Download this App from HERE.
5.AfterFocus
With the help of AfterFocus, you can take DSLR style picture by selecting focus area and using the blur effect. The selection can be done precisely for obtaining a more natural image. There are many filters available to form a decent professional photograph. The smart focus area selection includes the automatic recognition of the focus area and can also be selected using the traditional finger painting. Motion blur effect creates the perfect blur which is similar to a picture taken by a DSLR. You can Download this App from HERE.
6.Camu – Camera for perfect pics
To complete the need for taking ideal and flawless photographs, Camu is the app which provides unique live filters. You can change the filters before or after taking the pictures and the clarity as well. One can take live photos for collages or can choose from the pre-existing albums. Texts and various effects can be added by this app and it has a super focus to get the highest quality pictures. You can Download this App from HERE.
7.Google Camera – By Google Inc.
This app with its latest updates and great speed features takes extraordinarily good photographs. Google Camera includes fast switching between the photo and video mode just by a swipe. Along with providing easy access to various photo modes like Lens Blur, Wide Angle, Panorama and Photo Sphere from the top menu, it also detects photos in low light and during night scenes because of its Auto-HDR+ feature. Slow motion video is available only on the Nexus 5X and 6P whereas the SmartBurst is available only for the Nexus 6P. You can Download this App from HERE.
8.Footej Camera
Newly launched and easy to use Footej camera app provides decent photo and video quality. It uses focus and exposure according to the device. Along with an integrated gallery and slider, it features burst mode, animated GIFs and Slow Motion Video Recording. Easy management of ISO, focus and shutter speed is also available. It also provides taking a snapshot during a video recording. You can Download this App from HERE.
9.Lumio Cam
Made by some keen photographers, the Lumio cam is just the perfect app for taking professional photographs. It consists of a real camera interface, retro leather skins and supports front and back facing cameras along with the dual cameras (LG, Galaxy S8, Huawei P9, HTC One). It provides total manual control and RAW photo with the noise reduction setting. It takes high-resolution images or videos (HD, Full HD, 4K) and features exposure compensation with focus and drive modes.  You can Download this App from HERE.
10.Camera51 – a smarter camera
Camera51 app uses the basics of the photography and all you have to do is to aim and take a picture. Features such as Auto Framing, Auto Composition automatically selects the objects and the peripheral object alert tells you about the objects which might interfere with your frame boundary. The automatic selfie mode takes your perfect selfie without even touching a button. Manual and multi object selection are some of the more functions provided by this app for selection of various objects or for the purpose of framing, focus or exposure. You can Download this App from HERE.
Verdict:
I personally like the Camera FV-5 Lite app because of the manual shooting method and more advanced features that are available in this app. Cameringo Lite. Filters Camera is also good for shooting pictures. The best thing about Hypocam is that it has some of the best black and white filters, which enables users to click mono picture beautifully. All the other in this section are amazing, they all are best in their respected sections. What will help you more in cell phone photography is a little bit of camera upgrades, such as smartphone modular lens and some tricks.
You May Also Like:
At last but not the least, if I missed your favourite camera app and you like me to check out, please mention them below. Also, feel free to share your experience with these apps in the comment section.