Typing software helps users to learn to type and improves typing speed and accuracy. They polish your typing skills with quick exercises. The software's uses an implicit technique that you have already used in your life. There is a number of typing software available online to help you become a fast typing. But we have short listed Best Typing Software for Windows that will really help you.
Also See: Top 10 Best WebCam Software for Windows
Best Typing Software for Windows
Here is the list of 10 Best Typing Software for Windows that you can download.
1. Typesy
https://www.youtube.com/watch?v=YngweTIGzfI&t=9s
Typesy is the typing software made by eReflect. It is one of the top-rated typing software that will help you to be more productive at work by increasing the speed of typing by 70%. It is created by the world's typing experts which is useful for typists of all ages. It consistently monitors your progress and adjusts your typing lessons based on your current skill level. It's like having a personal typing coach online. You can download it from here.
2. Ultrakey 6
Ultrakey holds one of the top ranks among typing software choices which is designed for Windows and MacOS. It comes with valuable reporting tools for educators. It uses different techniques to teach you to touch typing well. It teaches touch typing using voice, 3D, animation, video and virtual reality that is more effective with students as it has been sequenced in a way that promotes learning and success. You can download it from here.
3. Keyblaze
Keyblaze is a free typing software designed to speed up your typing and to assist you with learning to touch type. It is a highly interactive program which starts with basic lessons on the home keys and neighbouring keys. It also works on punctuation and numbers. It checks your progress by practice lessons and diagnostic tests until you reach mastery level. You can download it from here.
4. Typing.com
Typing.com is a great typing software for teachers with clear, extensive instructions and practice and easily trackable metrics through which teachers can make sure students are staying active or not. It comes with detailed statistics and fun encouragement. Kids can improve by systematically work through practice exercises and lessons. You can download it from here.
5. Rapid Typing Tutor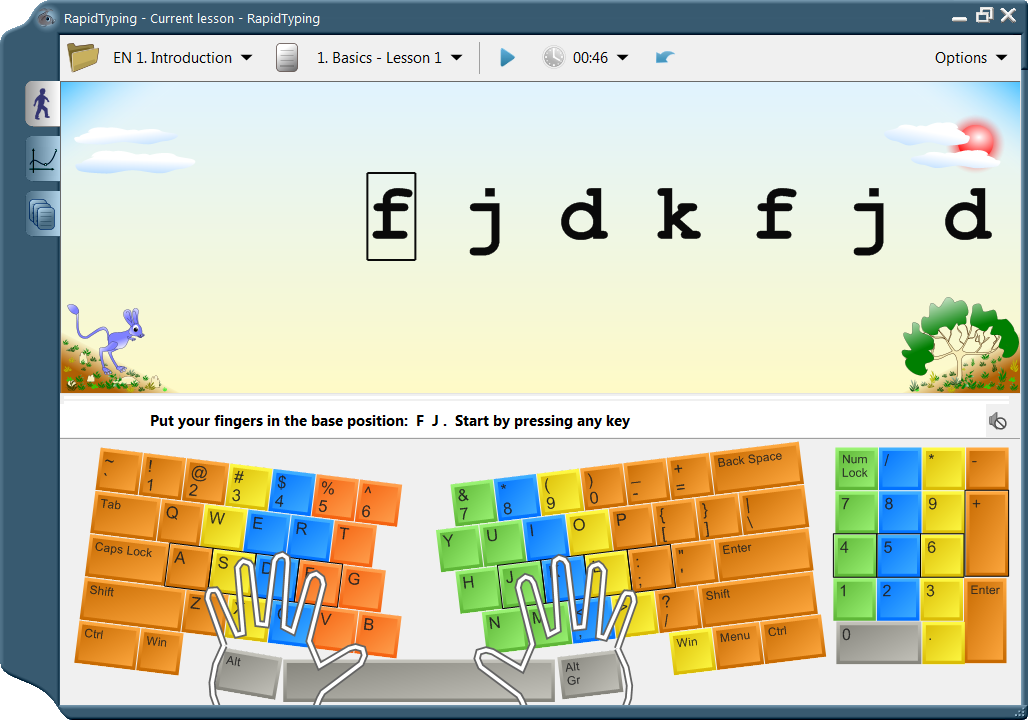 Rapid Typing Tutor is a fun way to advance your typing speed and accuracy. It can be a good software to help noobs by offering multiple visual aids to learn the computer keyboard. It provides full courses for beginners and uses simple and colourful interface for fun. It has keyboard hand display feature which will provide you moving hands. It is perfect for classroom use. You can download it from here.
6. 10fastfinger.com
10fastfinger.com is a typing software that enhances your typing skills with free typing games. You can play and compare your results with your friends. It is 100% safe and easy to use. You can see your speed and accuracy improvements in real time as you type.  It comes with an interactive map with your keyboard accuracy by letter and can also work offline. You can download it from here.
7. Typing master
Typing master is a good program to learn to type on a keyboard with real-time analysis widget. It supports a variety of keyboards statistics on speed and accuracy. It offers a great range of typing games that help you to learn and improve. It is best for those seeking to learn and have fun by having a game like an environment. You can download it from here.
8. GS Typing Tutor
GS Typing Tutor is an educational and feature-rich typing software to improve your typing skills. It has special one hand typing courses and helps you to acquire professional touch-typing skills. It comes with several comprehensive typing lessons and amusing learning processes. You can also track your progress and figure out problems. You can download it from here.
9. Max typing pro
Max typing pro is a fast and fun way to learn to type. It is a very useful program, that will help you to improve the productivity of your work. It supports multi-user interface and each user can protect their account through passwords and can customize his own settings. You can practice more as it has multiple practice modes to improve your typing. You can download it from here.
10. Goodtpying.com
Good Typing.com is the fastest t way to learn to type. The typing course will guide you step by step from the beginning. It comes with 27 guided lessons and 20 different keyboard layouts. It supports many languages and keyboard formats. It requires registration so that you can keep track of your progress. You can download it from here.
Verdict
The above-mentioned typing software are the Best Typing Software for Windows to fulfill your needs. It is difficult to choose anyone but if you have some cash to invest, I would suggest you go for Types, as it is an all-in-one tutor and offers more advanced features. Each lesson is accompanied by training video to provide you better learning. You can also opt for Keyblaze or Typing tutor, they are free to use.