There are so many media streaming applications in the market, and now we have another one added in the list, Disney+ Hotstar Review, that has been launched in India on April 3,2020. Is it worth buying Premium membership? If Yes, then which Disney Plus Hotstar plan should you buy VIP or Premium? Is Disney+ Hotstar a worthy competitor to the other Over-the-Top platforms in India? All these questions will be answered in this Disney+ Review, So Let's get started.
Also See: Best Coronavirus Face Mask for Sale 2023 – Where to Buy Masks Online?
When we hear about OTT platforms, the very first platforms that come to our mind are Netflix, Amazon Prime, and Apple TV+. But now Indians will be glad to know that Disney+ platform can now be accessed via Hotstar. Disney Plus was meant to be launched to coincide with IPL, but despite the Coronavirus pandemic and chaos, the Disney plus services went live for a day before being withdrawn on March 11. According to the Hotstar, Disney+ services was being tested by a small number of users on the platform secretly.
Disney+ Hotstar is one of India's's largest premium video streaming platform of 2023. Disney+ platform offers access to unique/original content like the Star Wars franchise, Avengers franchise, all Disney and Pixar movies, and TV shows from Disney, Pixar, Marvel, Star Wars, and National Geographic. It also offers additional licensed content like Game of Thrones and Big Little Lies.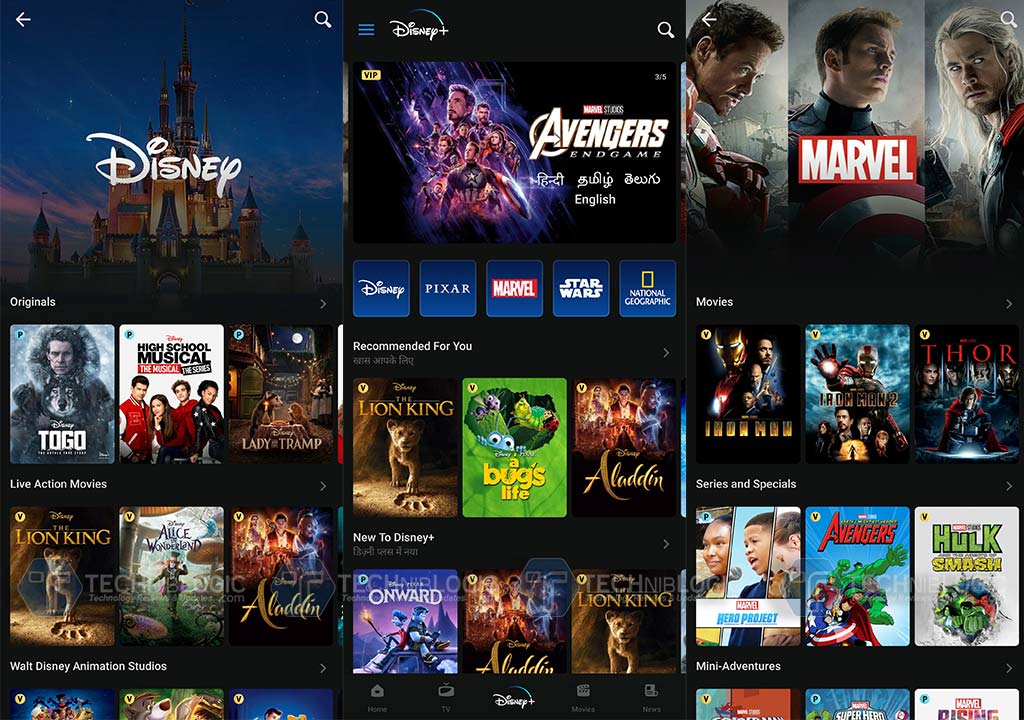 Disney+ app operates on BAMTech (the gold standard of white-label streaming), which Disney purchased in 2017 and comes with a kid-safe mode feature to ensure age-appropriate content. The app comes with a separate section for Disney+ content that segregates the Disney+ content from rest other contents available on the application.
However, according to a report by Business Today, Star India will remain in charge of all its business in India. In fact, the merged entity will be led by Star India Head Uday Shankar.
""This is an extraordinary and historic moment for us — one that will create significant long-term value for our company and our shareholders. Combining Disney's and 21st Century Fox's wealth of creative content and proven talent creates the pre-eminent global entertainment company, well-positioned to lead in an incredibly dynamic and transformative era,"" said Chairman-CEO of Disney, Bob Iger to IANS in a statement.
Disney+ Hotstar Price & Subscription Plans in India:
Users need to pay an extra amount of Rs. 399/year for Disney+ content, which is entirely separate from the Rs.999/year Hotstar Premium Subscription. The package includes mobile application access.
Users need to pay Rs. 1499/year for Disney+ Hotstar Premium to get access to content like – The Mandalorian and The World According to Jeff Goldblum.
For more information about the full Disney_ Hotstar Price, you can check out the official Hotstar website.
Disney+ Hotstar Competitors in the Market

With a lot of options available, it might be difficult for the users to choose one, here is some competitor that is already available in the market. I will let you know about the have's and have not's of each OTT platform, in detail. So let's check it out.
So first start from the most popular OTT platform in India by nonother than Amazon. Yes, I am talking about Amazon Prime Video.
Amazon Prime Video
This platform offers access to fantastic content like Fleabag, Made in Heaven, and Hunters. It also provides additional licensed content from NBC (Blindspot, The Office US) from ITV (Downton Abbey) and CBS (Blue Bloods, 2 Broke Girls). A bonus? Oscar-winning film Parasite.
Amazon Prime Video  Features:
The platform provides Indian regional content.
Users with prime subscription get access to priority delivery of purchases made on Amazon and access to Prime Music streaming.
Most of the content on Amazon prime features closed  Captioning and Audio Description
Amazon Prime Video India Price & Subscription Plans:
You can get access to Amazon Prime content by paying Rs. 129/month, including mobile app-access and Rs.999/year, including mobile app-access.
The content can be accessed via Amazon Prime Video website across significant browsers, through Amazon Fire TV and Amazon Fire Stick, and through Amazon Prime Video app.
You can check Amazon Official Website for deals and offers on its Prime Membership.
After Amazon Prime, another giant OTT platform is "Netflix".
Netflix
Netflix doesn't need any introduction, but for the people who are living under a rock, Netflix is the world's leading internet entertainment service, with 158 million paid memberships in over 190 countries enjoying TV series, documentaries, and films. This platform offers access to unique/original content like: Money Heist, She, Unorthodox, Tiger King, You, Sex Education. It also provides additional licensed content like friends, The Good Place, Blacklist, How To Get Away With Murder, Designated Survivor.
Netflix Features:
This OTT uses adaptive streaming, which uses machine learning to recognize network conditions, and hence then it accordingly adjusts the video quality up or down to minimize buffering.
Netflix can be helpful at this time of lockdown, where Internet connectivity issues arise regularly.
Most of the content on Netflix features Dubbing, Closed Captioning, Audio Description
Netflix India Price & Subscription Plans:
199/month – One mobile phone/tablet at a time in standard definition. Users can download videos on 1 phone or tablet.
499/month- 1 screen at a time in Standard Definition and download videos on 1 phone or tablet
649/month- 2 screens at a time. HD available. Users can download videos either on 2 phones or tablets.
799/month- watch on 4 screens at a time. HD and Ultra HD available. Users can download videos either on 4 phones or tablets
Netflix has collaborated with ACT Fibernet and Airtel for discounted plans for customers.
You can check Netflix India official website for more Live offers and deals.
NOT LIKE ME! if you are an Apple fanboy and you want entertainment on your Apple Products? Then this OTT platform is for YOU!
Apple TV+
Apple TV+ offers access to exclusive/original content like he Morning Show, Servant, The Banker, See, and Defending Jacob. Moreover, users can purchase new movies and shows through the app store.
Apple TV+ Features:
There is no information disclosed by Apple regarding the technology but Apple TV+ features – Closed Captioning and Audio Description for most of its content.
Apple TV+ Price & Subscription Plans:
The platform offers family plan at Rs.99/month
You can access the content through Apple devices through Amazon Fire TV devices, Chrome, and Firefox browsers.
You can check more about this Apple TV+ on their official website.
Disney+ Hotstar vs Prime Video vs Netflix vs Apple TV+
| | | |
| --- | --- | --- |
| Premium Plans | Monthly Plan | Yearly Plan |
| Disney+ Hotstar | ₹299 | ₹1499 |
| Amazon Prime | ₹129 | ₹999 |
| Netflix | ₹799 | – |
| Apple TV+ | ₹99 | – |
Among all the above mentioned OTT platforms, you can choose any of the platforms that you need to. All the platforms mentioned above come with unique content. And this exclusive content decides which you will buy. If you want to brush push your childhood memories while watching old cartoons, their Disney+ is for you. Here you can see Disney+ is the most expensive OTT platform as compare to others.
Disney+ Hotstar Review in HINDI
Conclusion
I hope this Disney+ Hotstar Review will help you to understand about its Price, Plans, and Features. If I conclude in short, if you are a Marvel or Disney Fan like me, this is what you want. And I will highly recommend Disney+ Hotstar Premium plan because it's including Disney+ Originals, Shows, Movies & Kids content, Exclusive Hotstar Specials, Live Sports as well as New Indian Movie Premieres. You can buy in the group for cheaper rates, that is what I did!
Also, See: Best Coronavirus Hand Sanitizer 2023: Buy Online on Amazon!
Hope you like this Disney+ Hotstar Review, if you have any suggestions for New Content, feel free to contact us at [email protected], we always welcome new ideas. Thank you, and stay subscribed for more content.