Smart gadgets are taking over the world like a trance. I mean there are plenty of gadget out there from home assistant to autopilot AI to a cooking companion, you name it, it's there.  And in that humongous list, a new gadget has also stolen a spot.
Ghost is a smart backpack which is based on advanced technology. It's easy to use and comfortable having various functionalities. The backpack not only consists of different kinds of pockets for laptops, water bottles but also is made up of strong material which enables the 7 layer construction. It also includes an Anti-Theft feature which protects the backpack from pickpockets.
How does it work?
https://www.youtube.com/watch?v=w7ps7NnPXgA
Ghost uses a 7-layer material, which makes the backpack waterproof, cut-proof and shock resistant. The material is so strong and durable that it allows you to carry 50 lbs with ease. The inner layer is just as strong as the outer one and it has padding which prevents the formation of big sweat spots.
The backpack has a built-in tracker which effectively tells you the last known location. RFID pockets help in blocking hackers while the 360 zipper comes handy to prevent pickpocketing as it's only accessible when the backpack is off your shoulders.
Features:
Hidden 360 zipper and RFID blocking pockets.
Built-in tracker for phone and the backpack is available.
Cut-proof, Waterproof, Anti Shock and Anti Sweat.
Built-in charger for convenient charging purposes.
Unisex design
Includes 2 primary storage areas, 3 secondary small pockets, laptop sleeve and quick access shoulder pockets.
Why should you buy it?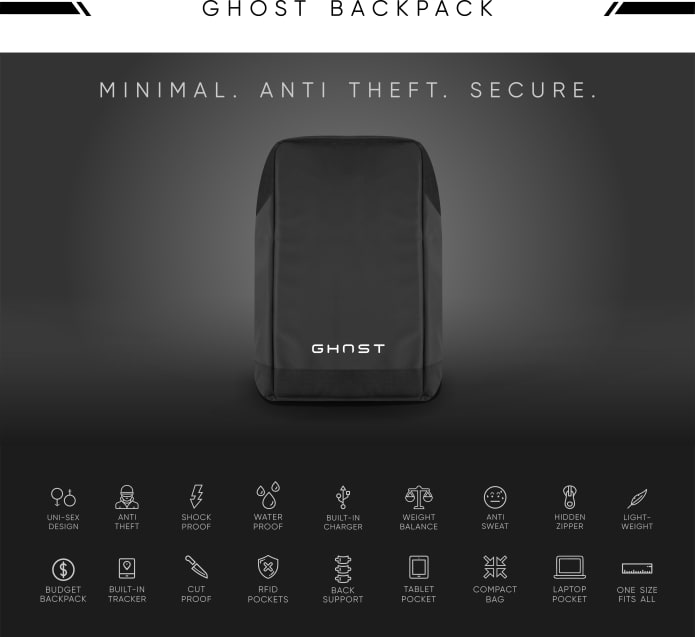 GHOST can be called as one of the most advanced smart backpacks. It comes with all the amenities including various pockets with different size and purposes. It keeps your stuff safe from pickpockets as well as the electronic hackers with the help of 360 zipper and RFID pockets respectively. So go ahead and book your Ghost backpack and stay safe.
Availability
As for now, the smart backpack is currently available on pre-order basis. The price of the early bird is 85 USD. So, hurry up because they are offering discounts.
Thanks for hanging out with us guys. Please do drop your suggestion and ideas in the comment section below. If you want to keep tabs on a more innovative product like this, subscribe to our website and don't forget to give your reaction.