Today, we are going to fix the error code DNS PROBE FINISHED BAD CONFIG, which we recently encountered with the chrome browser. The error state 'This webpage is not available' with the error code ' DNS_PROBE_FINISHED_BAD_CONFIG '. The error basically states that there is some issue regarding the primary DNS or a misconfigured network setting. So, here are some solutions that you can try to rectify the error in your browser.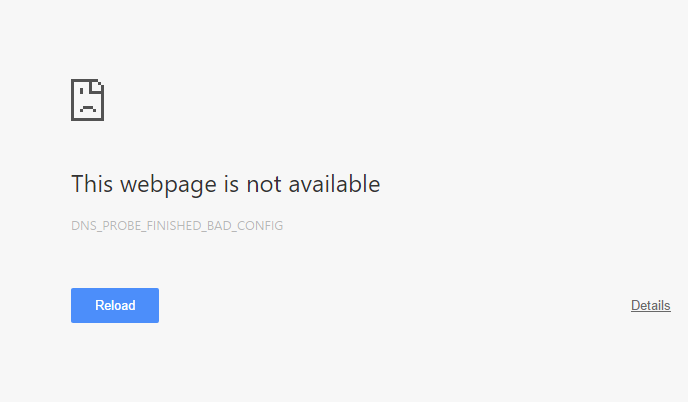 Solution 1: Restart the router
Sometimes, the network connection is misconfigured due to interference in the network. So the first thing you need to do is shut down the Home Router for 1-5 minute and restart it again. Most probably, the device will automatically reconfigure to its default setting.
Also See: Fix DNS_PROBE_FINISHED_NO_INTERNET in Chrome [Solved]
Solution 2: Via Command Prompt
Step 1: Open CMD (Command Prompt). It is mandatory that you run the CMD application in the Administrator mode.
Step 2: Execute these commands one by one.
ipconfig/release
ipconfig/all
ipconfig/flushdns
ipconfig/renew
netsh int ip set DNS
netsh winsock reset
Step 3: Restart your computer.
Step 4: Now your DNS_PROBE_FINISHED_BAD_CONFIG will be solved
Solution 3: Change TCP/IP4 Proxy
Step 1: Open Network Connection.
Step 2: Right click on your preferred using connection.
Step 3: Select properties.
Step 4: Select Internet protocol version 4 (TCP/IPv4).
Step 5: Change the DS address into following.
Preferred DNS server: 8.8.8.8
Alternate DNS server: 8.8.4.4
Step 6: Save the setting.
Step 7: Restart.
Step 4: DNS_PROBE_FINISHED_BAD_CONFIG Error will be Fixed Now
In our research, we found out that these solutions are working very fine on mostly every Windows operating system out there. DNS_PROBE_FINISHED_BAD_CONFIG is the most common issue in Chrome. If in any case, these above solution doesn't work, then you need to contact your service provider and instruct them to resolve the issue.
Also See: Fix DNS_PROBE_FINISHED_NXDOMAIN in Chrome
Well, we hope you liked hanging out with us and if you have any query feel free to drop your suggestions and views in the comment section below. If you want to explore and learn more about this DNS_PROBE_FINISHED_NO_INTERNET error, you can check answers.microsoft.com for more discussion and answers.  So, that's all for this guys and stay tuned for the next update.