The number of insurance companies has grown significantly in response to the growing scale and scope of risk in the last two decades, with more than half a million private insurance companies operating in the US economy in 2021.
Insurance comparison sites have emerged to meet consumers' need for assistance in comparing and making sense of the multiplicity of insurance offerings on the market.
Also See: Secret Investigative Journalism Tools
Some of the most useful insurance comparison sites for individuals and businesses include thezebra.com, policygenius.com, netquote.com, and insureon.com.
The importance of insurance in the contemporary era cannot be overstated. The scale and scope of risk continues to increase, and even the nature of risk itself is changing in novel and unpredictable ways. This trend has accelerated exponentially since 2020 and the start of the COVID pandemic. It is therefore of fundamental importance that individuals and businesses are adequately insured against conventional, and well as systemic and potentially catastrophic forms of risk.
As the potential forms and sources of risk have increased over the last two decades, there has been a parallel rise in the number of insurance companies offering to protect individuals and businesses against these risks. Indeed, the latest government statistics for 2021 indicate that there are over 520 000 private insurance companies currently operating in the US.
The dramatic growth in insurance providers has made the process of finding strategically advantageous and secure insurance increasingly more complicated. In response to this fact, online sites have begun to emerge with the aim of helping consumers find and purchase insurance.
The Really Useful Information Company (TRUiC) suggests that these sites can potentially save consumers significant time, energy, and frustration, while also helping them to identify the types of insurance policies and providers that meet their unique risk protection needs most effectively.
Like insurance providers, there are many different insurance comparison sites. In this article, we will briefly highlight five insurance comparison sites that might help individuals and small businesses searching for sound risk protection.
These Are The Top Insurance Comparison Sites In The US
1) Thezebra.com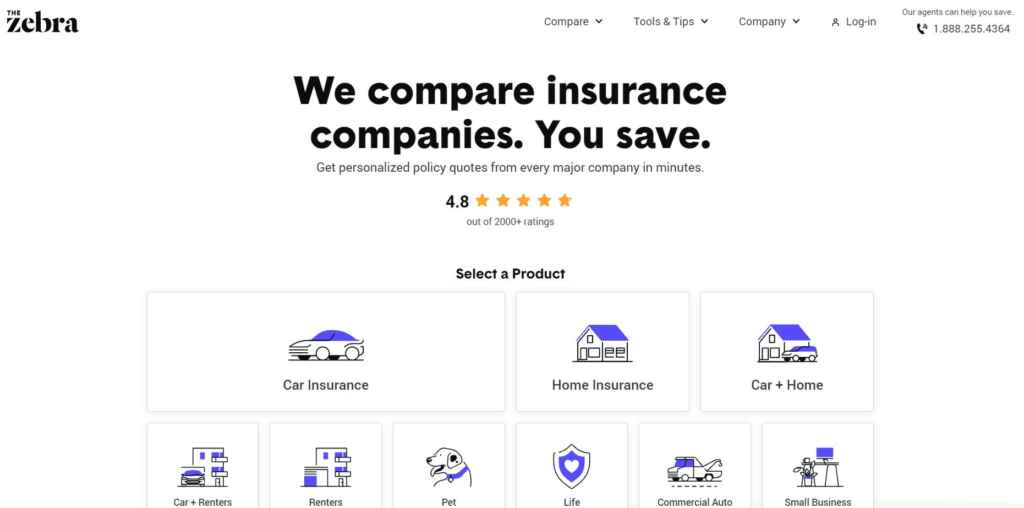 The Zebra is a highly rated insurance comparison site for individuals and businesses. It covers a highly diverse and tailored line of insurance when compared with the majority of insurance comparison sites. The Zebra also has a variety of useful tools and resources, including an auto insurance calculator, and library of insurance-related reports and articles.
The Zebra helps consumers compare the following types of insurance:
Life
Home
Renters
Car
Car and Home
Car and Renters
Pet
Commercial Auto
Small Business
2) Policygenius.com
Policy Genius is a user-friendly site for comparing personal insurance across a wide range of lines. In addition to enabling individuals to compare different insurance companies, policy offerings and prices easily and quickly. Policy Genius also has a team of experts to assist consumers if needed.
Policy Genius compares the following lines of insurance:
Life
Home
Car
Disability
Renters
3) Netquote.com
Net Quote is another insurance comparison site that aims to assist both individuals and small businesses to find secure, cost-effective risk protection. The site is easy to use, and enables users to rapidly investigate a wide range of lines.
Net Quote offers a wider variety of tools and resources than most other insurance comparison websites. These include: comparison tools, line-specific calculator tools, interactive maps.
Net Quote focuses on the following lines of insurance:
Life
Home
Renters
Car
Health
Small business
4) Insureon.com
Insureon is focused on helping consumers to compare and purchase small business insurance. The site covers many different types of small business insurance for 15 different industries, and offers useful comparison tools and information for specific insurance lines. Small business owners who are searching for insurance are likely to benefit by utilizing Insureon (see this resource for more detailed and comprehensive information on finding the best small business insurance).
Insureon helps consumers to compare a multitude of specialised types of small business insurance, including (but not limited to):
General and professional liability
Errors and omissions
Business owners
Workers compensation
Cyber liability
Commercial property
Commercial auto
Directors and officers
Conclusion
The value of insurance comparison sites has increased dramatically as the scale and scope of risk continues to grow. These sites are becoming an essential tool for consumers who need to find secure, tailored, and cost-effective insurance with minimal time and effort. The sites described above can potentially provide a useful starting point for consumers to begin their search for robust risk protection.