LAER is a perfect replacement for charger, battery, power bank and adapters. It is a Bluetooth enabled laptop sleeve that charges your laptop, smartphone and tablet concurrently wherever you are. LAER was created to simplify your life and save your time. It's designed for travel and working on the go. LAER basically works with all major laptop brands like TOSHIBA, APPLE, DELL, HP, ACER and SAMSUNG.
How does Laer Works?
The LAER Sleeve comes with a quick charge USB 3.0, USB Type-C, DC charging for PC/Mac/Surface, and it even offers wireless Qi charging. Also, there is a swappable battery pack design and adapters for all countries so that you can charge anywhere in the world. LAER sleeves come with LAER app. With the help of LAER app, you can keep an eye on your devices and monitor the battery level at any instant.
Features:
LAER Sleeve offers precise location tracking with TrackR
Easily switch battery capacities to suit your day using our proprietary cartridge system.
Easily switch between wireless and magnetic cabled charging with our proprietary iPhone case.
In order to provide durability and aesthetic LAER sleeve, the outermost body is made from nylon fibre.
In order to protect your device from scratches, the innermost body is made from soft material.
Even the latest iPhone i.e. iPhone 8, 8 Plus and X can be wirelessly charged with LAER sleeves.
Why should one go for Laer?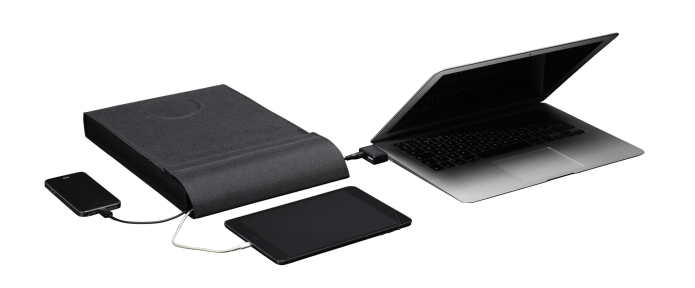 All your devices can be charged via LAER from one socket. You don't need to worry about plugging in multiple devices and power banks separately. Instead of having to pack chargers, adapters and power banks you just take LAER with you wherever you go. You don't need an adapter for different countries as LAER comes with all of them.
Availability:
The product is available on the Indiegogo.com. The price of Laer is just 150 USD. Grab it now to avail the special discount.
Thanks for hanging out with us guys. Please do drop your suggestion and ideas in the comment section below. If you want to keep tabs on a more innovative product like this, subscribe to our website and don't forget to give your reaction.