Magicians are known for levitating small objects such as playing cards and people. In the field of technology there are many levitating products like turntables, Bluetooth speakers but now we have a mind-blowing product from Kickstarter called Levizen. Levizen is a levitating device which suspends a droplet in a mid-air giving the feel of zero gravity.
Not only Levizen is capable of levitating water or liquid but also makes the water or liquid light up in the air. The device has 2 LED placed in the base of the levitator that targets right at the levitating drop and makes the drop glow and gives the illusion that light itself is levitating. A perfect décor for your smart home.
How do Levizen works?
Basically, the device has a toggle switch on the top of the box, with the help of this switch multiple droplets of water is being levitated by moving the levitating drop up and down.
The science behind Levizen is that it levitates water by using two similar sound waves that travel against each other which together creates a standing wave.
Key features:
Levizen not only levitates water but also light.
The box is the control centre for levitating.
The box is made up of using walnut wood with CNC machined and hand finished aluminium to give it an evocative look.
Aluminium knobs are used for controlling power level.
Why Should one go for Levizen?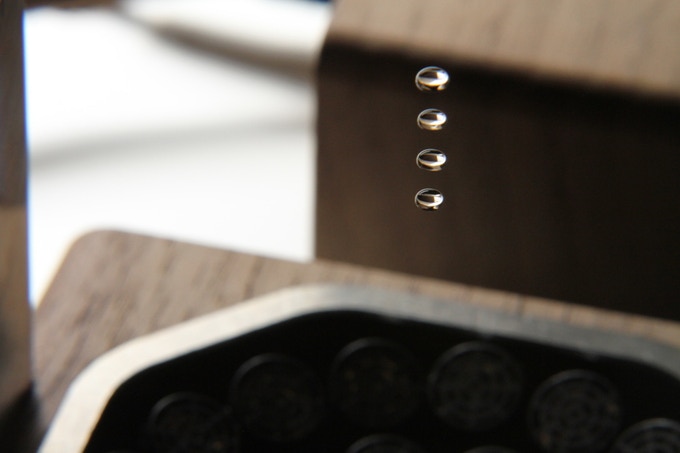 In spite of gravity on earth, it is quite spellbinding to see water floating on earth. This device will not only enhance the beauty of the place wherever it will be kept but also it will be the only eye-catching object in the room. Also, the design and structure of this device will make you proud showcasing it on your desk, coffee table or a bookshelf.
Availability:
Levizen is available on kickstarter.com, at a minimal price of 199 USD. So, grab it ASAP.
That's all for this guy. If you want to keep tabs on more stuff like this then subscribe to our website and don't forget to give your reaction down below.