Immersion, isolation, transcription and monitoring are the forte of headphones. Immersing yourself in music or an audio book offers relaxation. The first thing that comes in your mind while buying an earphone is what type of earphone is best and comfortable? Here is the list of Top 10 Best Earphones under 500 in India that offers great overall experience.
Top 10 Best Earphones under 500 Rs in India
Xiaomi Piston (525 INR)
Mi headphones are one of the best earphones to buy in the market right now. It has the perfect balance of bass and treble. It fits perfectly in ears and is comfortable even for longer use. The in-ear style tips ensure that the earphone doesn't fall off your ears. You can buy them by clicking on this Link.
Boat Bassheads 225 (549 INR)
Boat Bassheads 225 are the earphones which are not made out of plastic. It is made out of polished metal with tangle-free flat cables which make your earphone experience hassle free. It has an incredible sonic clarity with "super extra bass". The Boat Bassheads gives you an experience which no other brand can match. You can BUY them by clicking on this Link.

Philips SHE3700BK (498 INR)
Philips is one of the reputed companies in India. It has an oval sound tube, which provides a comfort fit.  The earphone comes with a compact design and sleek looks with vacuum metallised protection. It gives big bass and clear sound. It has sturdy built quality. It is one of the best earphones that comes under Rs. 500. You can BUY them by clicking on this Link.

Amazon Basics (499 INR)
The Amazon Basic is an in-ear headphone with universal mic. It has soft silicone buds, which deliver dynamic, crystal clear sound. The Amazon Basics has ergonomic earbuds that block outside notice. It properly fit in your ears, it will not fall off from your ears again and again. The earphone has long-lasting wearable comfort, whether working, working out or at home. You can BUY them by clicking on this Link.
Envent Beatz 302 (499 INR)
Envent Beats 302 is a flat cabled earphone with mic. It has unique acoustic properties. The earphone brings out the top-quality sound with the help of neodymium magnets. It is perfect for Androids, iPhones and Windows smartphones. It is one of the best earphones that will provide you with the listening pleasure. The budget conscious people will find it appropriate to buy. You can BUY them by clicking on this Link.
Evidson Audio R3 (449 INR)
Evidson Audio R3 is a lightly weighted metal alloy earphone. It has silicone buds, which provide a comfortable fit for all ear types and the cushioned tip covers that add more comfort. It is an Indian-engineered budget headset that sounds pretty decent. The earphone's key feature is the enhanced bass, which is awesome. If we look at the sound and the overall build quality, then it is really good. You can BUY them by clicking on this Link.

Flipkart Smart Buy (429 INR)
Flipkart earphone is an exclusive range of everyday product at a price you will love. Sound quality is the best of all and the coating in cables makes it tangle free and durable. One can buy it without any hesitation. The bass quality is perfect, which will give you a great audio output. It is designed to make crystal clear sound and give a great output. You can BUY them by clicking on this Link.
Asus Zenfone earphone (349 INR)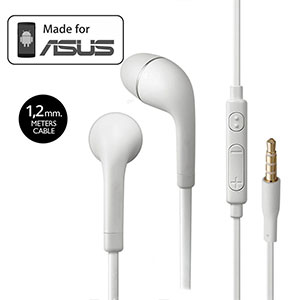 Asus is the brand you can trust. The earphone is compatible with all type of mobile phones. You can use it for hours without any irritation. Perfect bass and treble for low price headphones. Shaped like eardrums which give a very comfortable fit. Very good for calling and music. You can BUY them by clicking on this Link.

STK ZIP (499 INR)
These are stylish designed stereo earphone that has zip design, a perfect solution for tangle free cables. It is a budget friendly earphone with awesome looks. The earphone delivers you a great sound quality. It is easy to handle earphone as it is very durable. You can BUY them by clicking on this Link.
Awei ES700M (499)
Awei is powered by noise isolating HD technology that blocks the outside noise. It has flat cables that are tangle free. It comes with the anti-slip design. It is comfortable to wear and offers ear buds in three sizes which will completely fit your ear. It comes with various adjustable caps so that you can choose the one which fits your ear best. You can BUY them by clicking on this Link.
Verdict
So, that was all for this guys. My personal favourite is the Xiaomi Piston and Boat Basshead at a budget price, they are the best earphones one could buy, although they are bit expensive for this series, they are worth buying. The Philips and Amazon basics are amazing earphone, which gives a premium quality and still comes in the budget section. Envent beats and Evidison audio are very competitive in-ear earphones, so I can't pick one. You can also check out Flipkart smart buy earphone for more budget friends and premium earphone.
You may Also Like:
At last but not the least, if we missed the Earphone you're using and you like us to check out, please mention them below. Also, feel free to share your experience with these earphones.