The use of videos is an essential part of any successful business on the Internet today. Beautiful video content can help you increase your website visitors or increase your followers on YouTube and Instagram. Learn with us in this article about the 10 best free video editing software for computers.
Also See: RecordCast – How to Record Your PC Screen Like Pro YouTubers
Top 10 Video Editors
Blender
Blender, one of the best free video editing software, works on Windows, Mac, and Linux. Blender  is an open-source, free to use the tool. It is designed to design and create 3D graphics, but it comes with a handy video editor. Blender's video editor will suffice for most of your video editing needs. The editor allows you to perform basic actions such as trimming and joining video clips. It also allows you to perform more complex tasks such as masking video or video masking. This makes it a very flexible video editor that caters to both novices and advanced users.
Blender Video Editor includes the following features:
Live preview, luma waveform, chroma vectorscope, histogram displays, audio mixing, syncing, scrubbing, waveform visualization.
It allows editing 32 videos simultaneously with the ability to add images, audio and visual effects. It also allows speed control, adjustment and editing layers, transitions, keyframes, filters, and more.
Pros:
Perfect for professional users with great program capabilities.
Cons:
The program's many features make it a little difficult for novice users—most of the program's educational videos focus on the aspect of 3D animation and modelling. Either the educational resources available to help you with video editing are minimal.
Lightworks
Lightworks is one of the best free video editing software out there. It is available on Windows, Mac, and Linux.
Lightworks  is one of the most powerful video editing software on this list as it is packed with great and useful features. The free version is more than enough for most users. The pro version costs $ 25 a month.
This video editor includes the following in the free version:
Trim video in HD. Supports multiple cameras at the same time. 720p video export for Youtube. Wide range of video formats supported.
While the free version includes most of the features, 4K video support for Youtube and Vimeo is only available in the program's paid version. Compared to Blender, for example, Lightworks has many great video tutorials that can be learned much faster.
Pros:
Very powerful video editor with many advanced features.
Cons:
4K video support only in the paid version.
FlexClip
FlexClip could have a spot on the top list because it's online, and it can make and edit a video as easy as 1,2,3. FlexClip offers a new solution to all marketing beginners who want to create their own business content. It is one of the best tools available for those who want to edit videos for their business from scratch. With FlexClip video maker, you can crop, compress, convert videos for social networks and record with a webcam. Its key element is a video creation and editing. Version 2.0 reveals a modern interactive interface in which video creation is fast, easy to manage without knowledge.
Neat user interface
Get access to millions of photos, videos and music for video production.
1,000+ stickers to make your designs more fun.
Change the speed of any video clip.
Adjust brightness, temperature, vignette, contrast and more
Choose from twelve video filters.
Save time for uploading multiple videos at once with the ability to upload videos in bulk.
Copy and paste styles with the click of a button.
Undoing and repeating work in case you make a mistake or change your mind.
Built-in screen or webcam recorder.
Apply text animations, overlays and watermarks in a new way.
Video resolution support square (1: 1), vertical (4: 5), landscape (16: 9), portrait (9:16), and widescreen (21: 9);
Optimize video output speed and performance.
Share videos directly on Dropbox or YouTube.
Pros:
Easy to use with a large number of templates
Cons:
lacking some professional video editing features
ShortCut
Shotcut  is considered to be the best free video editing software on Windows, Mac, and Linux.
Shotcut, like Blender, is completely open-source. This means that you can access all the features that the program has to offer without having to purchase it after downloading it.
This video editor supports a wide range of video formats and features an impressive collection of educational videos.
.lthough this software has great video editing features, some users might find the interface a little difficult. This program was originally designed for Linux but remains a high-quality video editor.
Two of the most important features that Shotcut has support for 4K HD resolution and its timeline editing for video. Many free video editing software does not support 4K resolution. Shotcut does not need to import the video into the editor, which saves a lot of time editing large video files.
Pros: 
Great original Timeline Editing editor. 4K resolution support.
Cons:
The interface can be difficult for some users.
Machete Video Editor Lite – Windows
Machete Lite is  one of the most simple video editing software among the 20 best video editing program, which is great for quick and simple tasks.
But in the free version, you cannot edit audio, you can only obliterate audio files. And the free version only supports AVI and WMV files. The full version costs $ 19.95, and it allows you to edit audio and supports more file types.
Pros:
Very easy to learn.
Cons:
Windows only do not support as many file types as other programs, does not support audio editing.
Avidemux program – Available on Windows, Mac and Linux systems.
Avidemux a great video editing program for beginners as the interface is straightforward to use.
This program can help you with basic tasks, including cutting video, encoding and adding filters. If you are completely new to video editing, then the program may be good to start.
Pros:
Very simple program. No need to read the instructions.
Cons:
Not as many features as other video editing software.
HitFilm Express – Available on Windows and Mac.
HitFilm Express is one of the most professional video editors among the 20 best video editing software on this list. It contains all the features you would expect from a professional video editor (splicing, cutting, and audio editing) and many other features.
While some users might find HitFilm a little difficult, it is definitely one of the best programs out there.
Free video editing. The free package includes over 180 special visual effects.
The program's tutorials are mainly based on well-known Hollywood movies like Star Wars, but they are very interactive and engaging.
Before you can download this program, Hitfilm asks you to share the program on social networks. However, this is a simple request compared to the features that you will get from the program.
Hitfilm has a store where you can buy add-ons for the program, but most of the time, the free features are more than enough.
Features Included:
Advanced Cutting Tools. Green screen effects, audio and video filters, layers and layer masking, and 3D video support.
Pros: 
Free professional video editor.
Cons:
It may take a while to learn the interface.
DaVinci Resolve –Available on Windows, Mac and Linux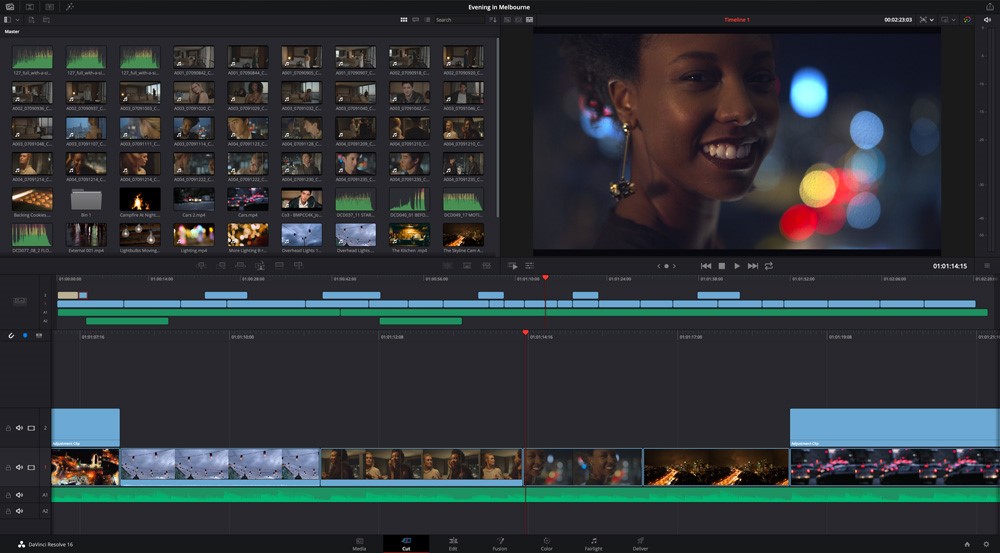 It can be said that the DaVinci Resolve is the most advanced video editor on the list. While it has many professional features and at the same time, the program's interface remains great and easy to use.
Besides video slicing and trimming, you can master audio and image processing, and you can also use it to add 2D and 3D clips to your video. If you just want to trim and upload videos, the rich feature set in DaVinci Resolve is quite extensive. However, if your video project is professional, you may need the paid version of the program.
Included Features: Advanced trimming and trimming features, multiple camera editing simultaneously, colour correction, and audio correction and adjustment
Pros: 
Intuitive interfaces and incredible colour correction.
Cons: 
The wide range of features makes it a little overwhelming, and not all tutorials are free.
Openshot – Available on Windows, Mac and Linux
Program  Openshot  open-source fully. The program may remind Mac users a bit of iMovie with its easy-to-use drag-and-drop interface. But Openshot has more features than iMovie, including unlimited layers, mixing and modifying audio.
This free editor strikes a nice balance between advanced features and a simple interface. It also allows real-time previews when creating transitions between clips.
Features Included: Unlimited Paths and Layers, Crop Scaling, Grading, Trimming, Snapping, Rotation, and Cutting Video Transitions with Real-time Previews Texturing, Image Overlay, Watermarks, Title Templates, Title Creation, 3D Animation Subtitles (and Effects) Sequence Advanced timeline (including drag-and-drop, scroll, pan, zoom in and out)
Pros: 
Open source, unlimited layers.
Cons: 
Doesn't have many tutorials.
iMovie – Available on Mac OS only
The good old-fashioned iMovie  program for Mac OS is easy to use and features a drag and drop interface, and Mac users can use iMovie as a place to learn the basics of video editing.
When you get to an advanced level, you may find that the alternative video editing software on this list may suit your needs better.
Included Features: Library of ready-made transitions, video trim and trim, audio editing, split-screen and 4K resolution support
Pros: 
Easy to learn.
Cons:
Advanced users may find the program's features a bit limited, and import and edit times are slow.