What is unattended remote access?
Unattended remote access means remote access to a computer when there is no end-user located at the computer to accept the remote access. Then, your employees can access all necessary content saved on office computers from anywhere and at any time without going to the office.
Also Read: 10 Best Casual Game for Android
And IT assistants can offer remote support without requiring customers fixed in front of the computers. All in all, unattended remote access bring great conveniences to our life and work.
AnyViewer: The most recommended free unattended remote access software
Actually, there are various options for unattended remote access software and many of them are famous and popular like TeamViewer. However, many free license users reported that their connections are detected as commercial.
Thus, AnyViewer, a free unattended remote access software windows 10 with rich features and without time limit is highly recommended. Now, let's have a comprehensive understanding of the most-recommended free unattended remote access app.
How does AnyViewer protect data safety during the remote connection?
During the remote access, AnyViewer employs powerful algorithm – Elliptic Curve Cryptography for end-to-end encryption to ensure safety.
How to use AnyViewer for unattended remote access?
AnyViewer offers two ways for unattended remote access: One-click control and security code access. After set up, the first way enables you to access each other with one click, which suitable for your own PCs. The second way requires to input device ID and security code of the PC that you want to access; it is more suitable for offering remote assistance when your customers isn't on the other end. 
What can you do during the remote session over AnyViewer?
Once remote connection is established, you can use the remote PC as you want. And AnyViewer offers various useful features in the remote session.
On the Controller Toolbar
Adaptive: You can use this feature to adjust the screen to fit the current window size. 
Resolution: You can change the resolution to the one that you want and the offered resolution varies from  800 x 600 to 3840 x 2400.
Image Quality: Three options are provided: High Quality, Balanced and High Speed, to fit different network conditions. The first one is available in Professional or Enterprise plan and Free plan doesn't support it.  
Chat: Click the Chat button and you can enter chat window to communicate with the one on the other end conveniently if you need. 
Files: To transfer files between the remote PC and the local PC, click the Files button to enter File Transfer window.  
Shortcuts to essential operations: It offers shortcuts to Ctrl+Alt+Del, Lock, Logout, Restart and so on. It also offer auto-lock function when you close the remote session. 
Full screen mode: You can enter the full screen mode to maximize the remote desktop window.
On the Recipient Toolbar
Once the remote session built, there'll be Recipient Toolbar on the controlled computer. In the Recipient Toolbar window, you can chat with the one on the other end, disable/enable mouse & keyboard control from the controller, and disable/enable sending /receiving files, and end the remote session.
Step-by-Step Guide: Unattended remote access with AnyViewer
Can't wait to try the free unattended remote access software, AnyViewer? Keep reading to realize detailed steps.
Step 1. Download, install and run AnyViewer on both computers.
Note: It's available to access unattended computer from Android or iOS over AnyViewer, you can download the mobile app from Google Play on Android devices or App Store on iPhone/iPad.
Also Read: 10 Top Web Series on Netflix in Hindi Dubbed
Step 2. On the client PC, click Log in > Sign up to create an AnyViewer account and make sure that both computers (the client PC and the host PC) have logged into the same AnyViewer account.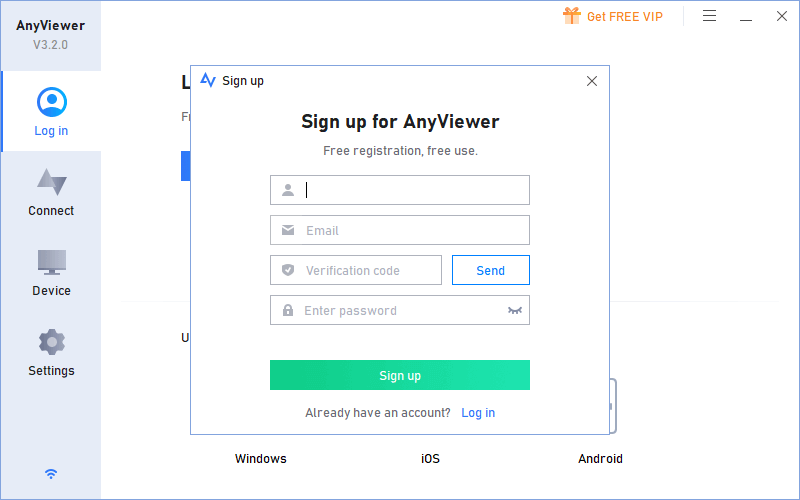 Step 3. On the client PC, go to Device, and locate the host PC. Click it and click One-click control. Immediately, you can achieve unattended remote access.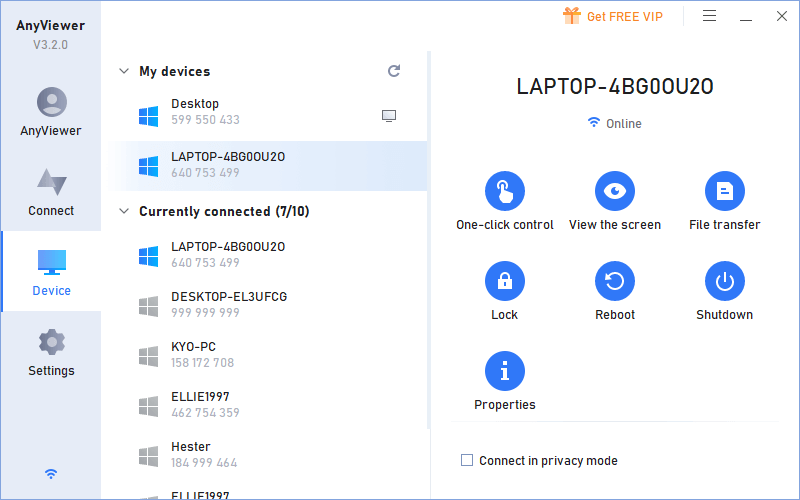 Conclusion
AnyViewer won't let you down, if you are looking for an easy and reliable unattended remote access freeware for remote work or remote assistance. AnyViewer can be used for attended remote access. If there is one on the other end to accept your remote access, you can use AnyViewer to send remote control request after AnyViewer installation and launch on both PCs.