Aa per the current pandemic situation of the world, we can already see lockdown everywhere in the whole world. All citizens are practicing social distancing by being in self-quarantine. Companies, schools, and colleges are shut. Employees are working from home and even students are having their online classes by use of different applications. But to make public safe some countries in the world are using different applications to track people from the coronavirus. So as per our research, there are 12 Best Coronavirus App that will update you with the latest information regarding COVID-19 and will help you to get through healthy, both physically and mentally, during this Lockdown period.
Also Check: Best Coronavirus Face Mask for Sale 2023 – Where to Buy Masks Online?
There is a wide range of COVID-19 symptoms, which differ from people to people. With your help, the health care workers can understand better how the disease presents itself depending upon individual factors such as health and age. Along with this, there is plenty of information available on the internet with respect to COVID-19, but not all that information is authentic. To get information about the disease, its symptoms, it is essential that we get verified data right from the source. This disease has already caused a lot of panic in the world, and even after being in LOCKDOWN, people are suffering from anxiety and stress. This article will be describing you about 12 Verified Best Coronavirus App which is available for both  Android and iOS users. These applications will help you to get the latest updates on COVID-19.
Best Coronavirus App (2023) That you Must Have
Ask NHS App
Ask NHS App is only specific to the UK as of now. The application is compatible with all the devices, which only includes Android and iOS and not feature phones. Ask NHS App to offer users with improved access to NHS (National Health Service) services. You can just talk about your symptoms, if any, with complete confidence with the help of a virtual health assistant. This app also provides health care advice approved by National Health Services. By using this application, you can find locations and opening hours of local health care services in your area. One must be aged 13 and above and must be registered with a GP surgery in England to use this application.
You can use the NHS App in the following ways:
book appointments
order repeat prescriptions
check your symptoms
view your medical
register your organ donation decision
find out how the NHS uses your data
HEALTHLYNKED COVID-19 Tracker 
COVID-19 Tracker is one of the Best Coronavirus Tracker app that is only available on the Apple App Store, which means you can only use this application on the iPhone and iPad. This application is being developed by HealthLynked in order to allow the users to self-report their symptoms if they are positive for the coronavirus. This app will also alert your contacts so that they can also seek medical care to prevent the spread of the coronavirus. COVID-19 Tracker is as of now available and workable in the United States. The application classifies the users into three different groups.
There categories:
Users that have not tested positive and are asymptomatic are shown as dark green
Users that have not tested virus but have symptoms are shown as yellow
Users who self report that they have tested positive are shown in pink.
Users who are Infections are shown in RED
Users deaths are shown in BLACK.
The application also helps you to keep up-to-date with the latest news about the virus around the world.
Download: iOS
COVID Symptom Tracker
COVID Symptom Tracker app is only available on the Apple App Store, which means you can only use this application on the iPhone and iPad. This application helps you in contributing to the advanced research on COVID-19 in partnership with leading scientific institutions like King's College London and TwinsUK. The app doesn't provide any health-related advice, but it allows you to help others. You can help the health services by identifying:
How fast the virus is spreading in your area
High-risk areas in the UK
Who is most at risk
COVID Symptom Tracker app is another UK based application which will be working in the UK only. You can download this application and share daily about your health status, even if you are well. With this information, the health care workers can easily understand the situation up and down across the country.  The application is divided into two parts:
Part 1: HEALTH INFORMATION
Part 2; SYMPTOM TRACKING
Download: iOS
Youper App
During this time of Lockdown, most of us go through stress, fear, and anxiety, which at the end converts our behavior, and we start to have mood swings, sleep disorders, and many more things. We can say Emotional Health is equally important as physical health, and we all know about this fact. To manage anxiety levels, mood swings, and sleep disorders, we have Youper. This application uses artificial intelligence to help people.  The app features a wide range of strategies from Cognitive Behavioral Therapy (CBT), Acceptance and Commitment Therapy, and Mindfulness. The app aims to help users understand their emotions and improve their relationships. The users can have conversations that can change their day. If you are not in the mood to talk, you can listen to the app guiding you go through mindfulness practices. It helps you to understand your emotion with a beautiful mood tracker and allows you to gain insight on anxiety, depressions, and other symptoms. Youper app features a personality test that will enable users to understand themselves better.
Aarogya Setu for INDIA
Aarogya Setu app was recently launched by the Indian Government to help people to identify the risk against COVID-19. This app actually uses a smartphone's Bluetooth and location services to track users' movement and informs them if they may have come in contact with someone tested positive for the disease.
To track the location it uses – GPS
To communicate with other devices, it uses- Bluetooth connectivity.
The user data collected by the application is sent to government servers via phone's internet connectivity.
Trace Together App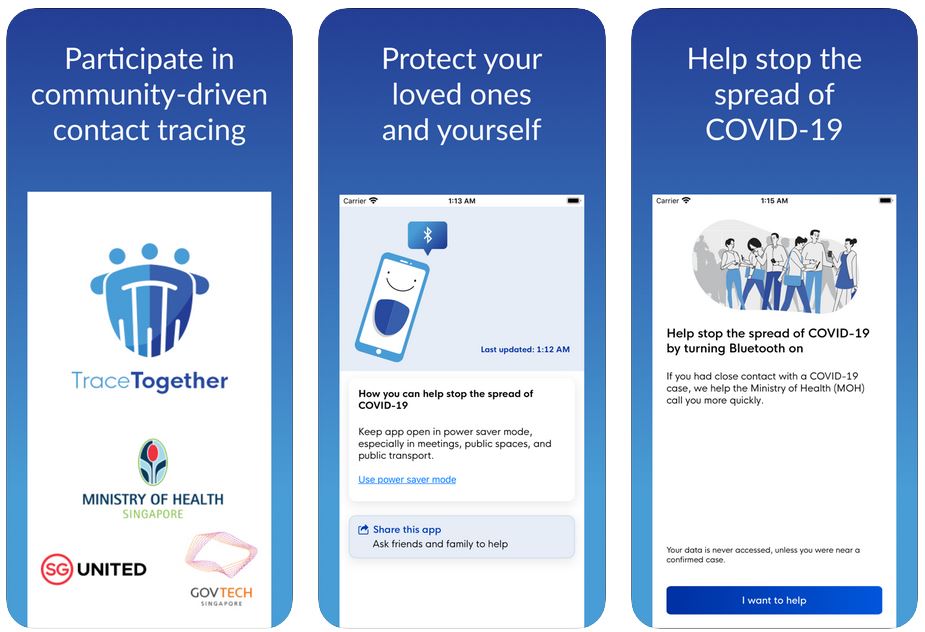 TraceTogether app is available only on the Apple App Store, which means you can only use this application on the iPhone and iPad. This app is created by a group in Singapore, especially for COVID-19, or I would say Coronavirus. The app works via Bluetooth and aims to help users stop the spread of the pandemic through community-driven contact tracing. Even if you have been in close contact with someone with the virus, the application allows the ministry of Health to contact you provides you a piece of advice on what to do. The app helps us to protect our loved ones and families so that we do not spread the virus to them unknowingly.
Download: iOS
OpenWHO App
OpenWHO is an official World Health Organisation application that aims to offer health information with advice, updates, and the latest news on the virus. Using this application, users can live stream daily press conferences. Moreover, WHO is also working on a specific stand-alone COVID-19 application that is expected to be launched in the week commencing March 30th.
It features 6 channels:
The Outbreak channel
The Ready for Response channel
The Get Social channel
The Preparing for Pandemics channel
The COVID-19 channel
The COVID-19 National Languages channel
UN News Reader App
UN App provides complete information from around the world. The information ranges from sustainability to climate change. The app includes daily global COVID-19 virus information. The data is available in audio and video format depicting how the pandemic is affecting the daily lives of every individual on this entire Planet.  The app allows you to watch the Security Council and General Assembly meetings live. Un News Reader App is available in Arabic, Chinese, English, French, Hindi, Kiswahili, Português, Russian, or Spanish.
HSE COVID-19
HSE COVID-19 app is available only on the Apple App Store, which means you can only use this application on the iPhone and iPad. This application is developed by Ireland's Department of Health (HSE) that helps the users to monitor COVID-19 symptoms during self-quarantine. The data collected is then shared with monitoring centers that assess the information and offer additional support to improve the user. This application is a new way for you to see your own clinician. The app is available everywhere in the Republic of Ireland. The user data is safe and 100% protected. As of now, this application is available in the Republic of Ireland only.
HOW HSE COVID-19 App Works?
1. Contact your local clinic to arrange a video appointment
2. Receive an email/SMS or access code over the phone
3. See your own clinician by entering the code
Download: iOS
Headspace App
Headspace: Meditation & Sleep app is one of the best mindfulness apps that offer around 100's of guided meditation in order to manage stress, anxiety, and sleep. The app also comes with SOS sessions to deal with sudden panic attacks and stress. The app features animation to teach new skills, a move mode to facilitate mindful cardio activity and workouts along with a sleep feature to help users to have a sound sleep. All this training is led by mindfulness experts and former monks. Users can also track their progress and time taken by them during meditation. Download this application to meditate anywhere, anytime, and get rid of mental health-related issues.
How this meditation and sleep app work?
The Headspace meditation app teaches us how to breathe, meditate, and live mindfully. There are many exercises on everything from managing anxiety to stress relief. Even if you've never meditated before, this Basics course will teach you the essentials of meditation and mindfulness that too absolutely free.
CDC App
CDC App is an official app by the Centers for Disease Control and Prevention. The app offers the latest health-related information from the United States. They provide advice, news, and updates in COVID-19. This application comes with filtering options that allow you to organize your homepage so that the vital message appears first. The app offers content in a variety of formats such as stories, videos, podcasts, and features to give you the most current health information from CDC.
Daylio Journal
Daylio – Diary, Journal, Mood Tracker app allows you to keep a private journal. This is the practice that will help you to monitor your daily mood and activities in order to understand how they affect each other. The app offers a variety of features that will help you to add notes to each of your entries. You can use emoji to communicate with your moods. The reminder option will help you to prompt your entries, select colors that reflect your feelings. You can PIN protect your private data and keep your listings safe. This is a kind of tech journaling to help you to improve your mood and emotions.
The Best Coronavirus App That Keeps You Update during Pandemic
During self-quarantine and lockdown everywhere in the world, the one thing which you are close with is technology and your family. You have your laptops, smartphones, and a good internet connection. You can have access to a lot of rumor, but if you choose to download an application from the Best Coronavirus App list mentioned above, you get exposed to facts and authenticity. Physical Health is essential, and so is your mental health. I intentionally included a few of the applications that can help you get rid of your stress and anxiety. Apart from this, you can always have a good time with your family after so much pressure of work. Right now, most of you are free at home. So you can still enjoy this quality time with your family. I sincerely hope that you all survive this pandemic in a healthy condition. Stay Safe! Stay Home!
Even after using these Best Coronavirus Apps, it is mandatory to use the coronavirus mask. Using mask, we can add additional security to our body from any virus which might infect us. You can also use coronavirus hand sanitizer which must have more than 60% alcohol content to disinfect the virus.