In this fast-moving era, each and everything is being documented or formatted. It may be your annual report or a mail sent by you to your manager, everything needs to be written in a proper form without any sort of grammatical mistakes. The grammar part has become one of the most essential parts which most of us are not too good at or tend to ignore, but the thing is, a well formatted and grammatically correct document says a lot about our personality. It makes you look much more professional and who knows you may even crack that deal with your efficient, error less grammar.
What is a Grammar Checker?
A grammar checker is one of those tools which help you to correct all sorts of grammatical errors in your documents. Suppose of it in a way that you draft a mail and you're not sure that whether your mail is completely correct or not. Then here grammar checker tools help you out. It tries to remove all the possible grammatical inconsistencies and thus helping you to produce an error-free effective outcome. Before going further, let us know a few things before using any of these tools;
1. Accuracy
Accuracy refers to the property of a grammar checker specifying how correctly the grammar checker can point out your mistakes. It should not correct the sentences or words which are already having the correct usage. It should only point out and correct inconsistencies present.
2. Ease of Use
By ease of use, we mean that whatever checker you're using should not be too complicated. It should be easy to run and understanding. Moreover, it should be compatible to whatever editor you're using.
3. Efficiency
The grammar checker should be efficient enough means that it should point out our mistakes and help us correct them as soon as possible. Different users have a different pace of typing, therefore, it should adjust with the writers' typing speed and display the errors to him as he writes.
So these were some of the points, one must remember while using a grammar checker. Now let us talk about the top 5 best grammar checker available in the market.
Top 5 Best Grammar Checker Online Tools :
Grammarly is one of the most popular grammar checker website used worldwide. It has got a wide variety of tools to help you out with your report. It supports almost all browsers to which it can be easily added. There are many more tools in its premium plan which are available at decent rates. The only con is that its MS Office Add-on is not compatible with Mac OS.
Ginger Software is another grammar checking tool which is not only lightweight but also supports translation to over more than 40 languages. The good thing about Ginger is that it not only corrects your mistakes but also makes you learn from them. The application provides user access to its learning centre where users can not only get their skills upgraded but also keep records of their progress.
This website is a user-friendly grammar checker website. The website has got various tools where the grammar checker is one of them. The interface is quite easy to understand and work with. You can either enter the text directly or upload your text file to get it checked.
Prowriting aid is an amazingly great online editor which identifies all your grammatical mistakes, spelling mistakes, plagiarized content, and contextual errors. The thing that makes this website great is that it not only corrects you but also suggests you about thousands of improvements while making your writing a much more effective and errorless.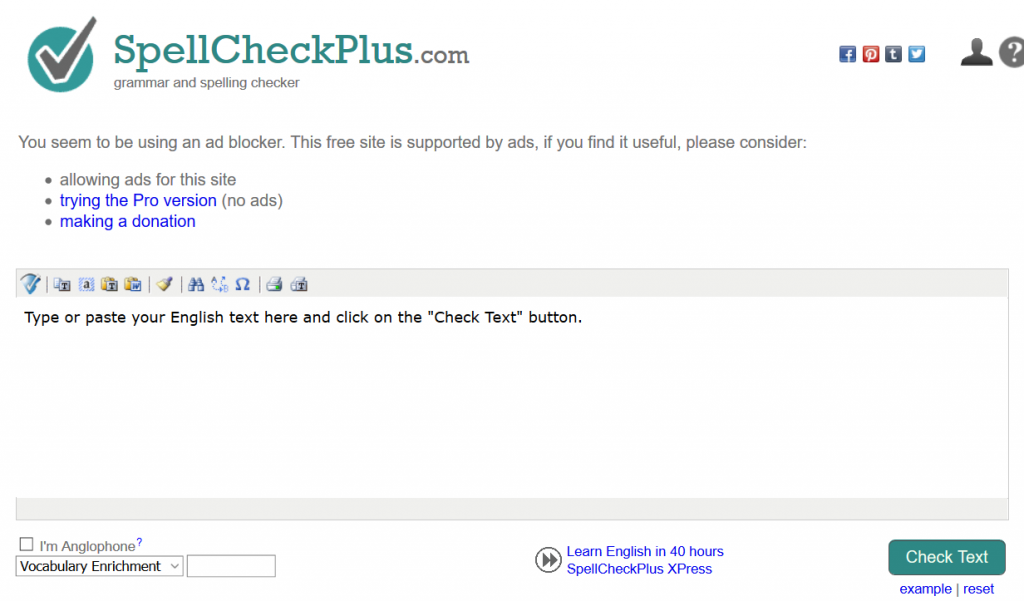 Spellcheck plus pro is a sort of an online teaching tool for students. Now, these tools come in two version; one the basic one and the pro one. The basic version allows you to only submit 2000 characters at a time, however, the pro version offers no restrictions and provides many more features such as a detailed summary of errors. The pro version also gives some grammar exercises which will surely help you out in increasing your efficiency while writing.
Conclusion
All the Grammar Checker Online tool mentioned here serve their purpose and are good in their own ways. However, if you're looking for some amazing features and fast processing techniques, you should go for Grammarly or Prowriting Aid. If you want a lightweight grammar checker along with a translator feature, try Ginger software. Other than that, Grammar Checker by Nimtools.com and Spellcheck plus pro do serve their purpose quite decently. If you know any other such grammar checker tool, do let us know. Don't forget to share and subscribe. Keep writing!