Looking for best iOS Emulator For PC? Users all over the world have technically been divided into two categories; Android users and Apple users. Some of us like both or prefer only one of them. Imagine you're an Android user but you also want to explore iOS apps. You don't need to buy an iPhone for that. You can easily download any iOS emulator on your Windows PC and done. Now you can easily run all those iOS apps or even latest Apple iOS 15 which you dreamt about using.
You May Also Like to Read:
Also, iOS devices have issues while transferring data to Windows PC. So these emulators also help you in this reference. By now you must have got the gist of this article, here we are going to introduce you with the Best iOS Emulator For PC.
Best iOS Emulator For PC
1. Smartface
Smartface is one of the Best iOS Emulator For PC used. The main function of Smartface is to develop apps but it also serves as a decent emulator. It's a very easy tool to use. Developers also use this emulator to test run their iOS apps. So with Smartface, you can not only run your iOS apps but also develop and test your own apps. This application is mainly used by professional App developers to easily develop applications for iOS and Android on Windows with a new perspective for developing applications on Cross-Platform technologies. Thus you don't need to necessarily have an Apple device to these tasks and that is what makes Smartface a great iOS emulator.
2. iPadian
Now this one is even more amazing than the previous one. iPadian is quite a famous iOS emulator and is used by many people worldwide. The amazing thing about iPadian is that it gives the same screen on your desktop as an iPhone. This makes the user experience quite real as if the user is using the original device. However, you can not get the same app store as your Apple device. So to overcome this, iPadian has got an app store of its own which contains only those apps which can run on your windows environment. Thus a real-time apple device experience is guaranteed to you anywhere anytime.
3. Appetize.io
Appetize.io is capable of providing you with a real-time iPhone experience on your browser. You can use it for free for the first 100 minutes, after that you'll have to pay $0.05 per minutes. However, if you wish to just test a few apps, you can do that for free. Visit appetize.io to access this great iOS emulator.
4. AIR iPhone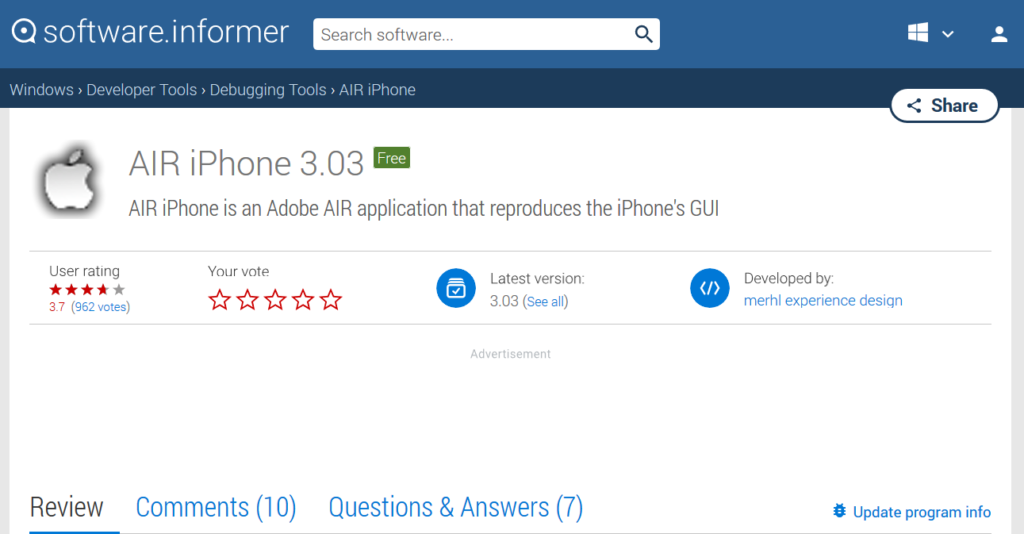 AIR iPhone is another emulator which you'll surely love using. In its earlier phase, it was made to receive free calls from Ribbit, but later it was acquired by BT and the feature was excluded. It has now become one of most used iPhone emulator for Windows. One of its advantages is that you can use it to check your apps to determine how they are doing before actually publishing them. You can also create realistic emulation effects with this software.
5. iPhone simulator
iPhone simulator is easy to use, simplistic emulator available in the market. It has got various tools like notepad, clock, calculator, etc. Although if you're an Android developer, you may not find this very helpful. But still, it does perform all the normal functions which you expect from an emulator. This can be used as a decent tool to explore iOS before actually using it.
6. Xamarin TestFlight
It is an official emulator owned by Apple that is used to test the applications on Windows. In other words, we can say that Xamarin TestFlight is an iOS App testing platform owned by Apple that is mainly used by developers and testers. The product is not available for free, but if you are seriously looking to test your iOS App on Mac, then this product is worth the price. However, for beginners, the application is not easy to use, but with practice, one can learn it. The Xamarin will only run the Apps compatible with iOS 8.0 and above.
7. TestFlight
TestFlight emulator is used by developers to beta test their iOS apps coded using Xamarin. It is now officially owned by Apple. The major highlight of this emulator is its extensive documentation feature. It is a free application and supports applications for iOS, watchOS, tvOS, and iMessage. The app comes with an additional option for external beta testing of the apps before the final review. However, the set up of this emulation service is quite technical, and one needs to create an App Store distribution profile.
8. Electric Mobile Studio
Electric Mobile Studio is powerful and easy to use all in one emulator for app testing. Moreover, it is a paid way to test and run iOS apps on Windows computers. The full free trial of the application is available for 7 days, so you can use this emulator for 7 days, and then you can decide whether to go for the paid version or not. The major features of this emulator include full-fledged emulation of iPhones, iPads, and responsive apps, and the ability to use the same product on two machines for common work setups at the office and home.
The integrated WebKit and Chrome Debugging tools offered by this emulator are the main reason why developers prefer this iPhone emulator for Windows 10. The best thing is that Windows users can also easily integrate this tool for iOS app with Visual Studio.
9. Remoted iOS Simulator
Remoted iOS Simulator for Windows is a developer-focused tool that comes pre-loaded as a part of Xamarin in Visual Studio. The emulator's window shows a useful toolbar at the top that is loaded with some useful features like Home, Lock, Settings, and Screenshot. You can go to the Settings, and from there you can easily enable Touch ID-like functionality, simulate static and moving conditions, shake gestures, rotation, etc. it is available in both free and paid versions.
FAQ: Best iOS Emulator For PC
Is there a iOS emulator for PC?
Yes, there are some iOS emulator for PC like Smartface, iPadian and many more listed in this article.
Can I run iOS apps on my PC?
Yes you can by using iOS emulators to emulate iOS apps on Windows or MAC computers.
Can I use iOS emulator on Windows?
Yes, you can use iOS emulator on Windows.
Can BlueStacks emulate iOS?
No, there are no BlueStacks emulator for iOS.
Conclusion: Best iOS Emulator For PC?
All these Best iOS Emulator For PC discussed here can be easily accessed online or downloaded from the internet. If you want to test run your apps or use emulator for debugging purposes, you should try Smartface and Air iPhone. Appetize.io is the best emulator for this purpose but it is not completely free. On the other hand, if you want to explore the iOS environment iPhone simulator and iPadian are the ones you should prefer.
You May Also Like to Read:
No matter whichever user you're, be it Apple or Android, if you ever need an emulator, try any one of these Best iOS Emulator For PC and let us know which one do you like. Do not forget to comment, share and subscribe.