The higher-end televisions or computer systems do not come with a capable sound speaker system. So, sometimes you have to shell out a couple of thousand extra to get a decent inbuilt speaker system pair. But, there is a way to save some of that money.
Purchasing a home theatre system with a pair of good speakers and a woofer always seems to have the edge over the default speakers provided by the company to make PVR-like sound in your home. On the other hand, Obage, and F&D appear to have many options available at the best Home Theatre under 5000 Rs range.
Best Home Theatre under 5000 Rs in India
1. Panasonic SC-HT150GW-K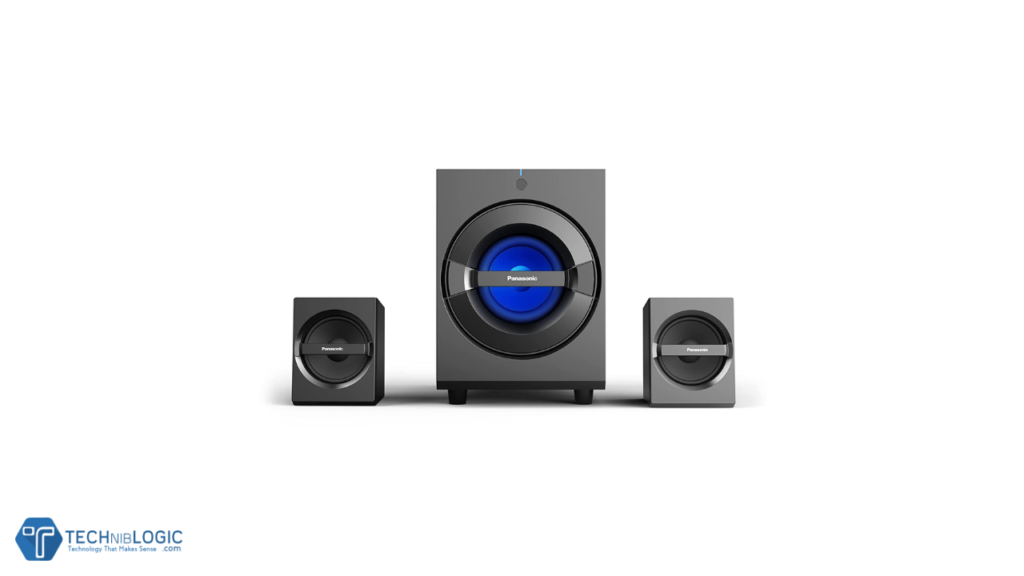 This Bluetooth Home theatre system is available on Amazon India at a price of Rs. 3949. It is one of the best Home Theatre under 5000 Rs in India right now!
It features a 2.1 channel bass and has a power output of 30 W. You can connect this easily with your computer or television. It comes with a remote for easy control over the gadget. With in-built FM Radio and wireless Bluetooth connectivity, it sounds great.
Also Read: 10 Top Best 5G Phone under 20000 Rs in India
You will also access USB and AUX play in this particular product. These can be easily mounted on the wall if needed. It comes with a one-year warranty.
2. Zebronics ZEB-BT6590RUCF
This multimedia home theatre system is available on Amazon India at a price of Rs. 3699.
It is a 5.1 channel multimedia speaker set with an LED Display and inbuilt FM Radio. It supports a memory card slot. You will get a remote control with this gadget to have seamless control over its functionalities.
Also Read: Best Laptops under 50000 Rs in India
It comes with one year of warranty from the date of purchase. It allows Bluetooth function and USB input and has a sleek and stylish design. The audio experience is primarily great per user reviews and experience.
3. F&D A140X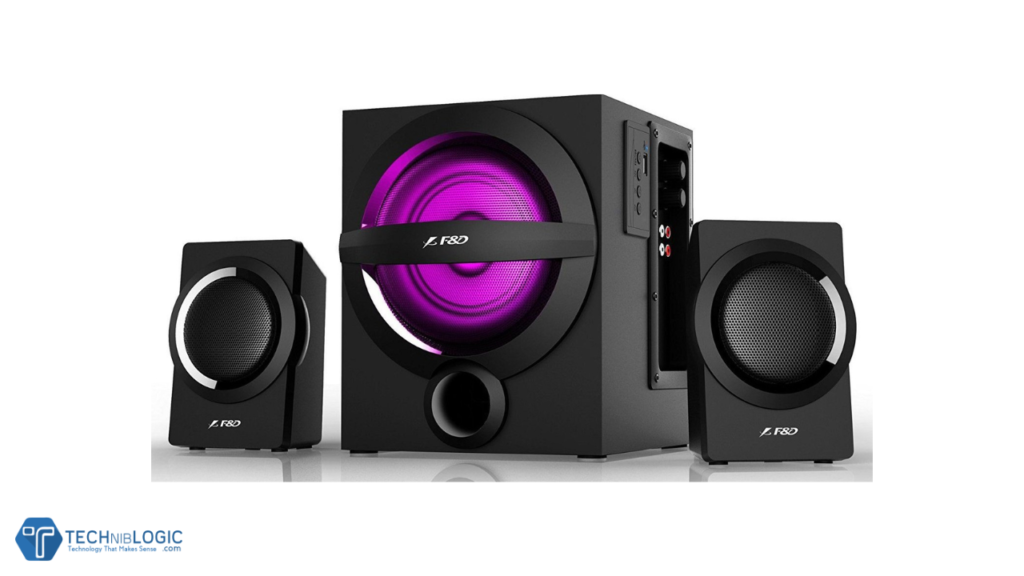 This multimedia speaker by F&D is priced at Rs. 2,999 on Amazon India.
It sports a 2.5 inches full-range driver and a 4-inch bass driver for the subwoofer. It supports Bluetooth 4.0 and can be mounted easily to a wall. It features a set of cool LEDs on the surface and allows you to use a plug-and-play USB card reader. The FM storage capacity is up to 100 stations.
Also Read: 8 Best Oneplus Phones under 20000 Rs in India
For added connectivity, it supports AUX as well. And, It comes with remote control and weighs close to 3 kg. It's a sleek-looking device that can provide great sound at affordable pricing.
4. boAt Aavante Bar 1160
This soundbar by boAt is priced at Rs. 4299 on Amazon India.
It has one of the finest quality audio experiences and could be a bang for your buck under Rs. 5000.
Also Read: 8 Best Website to Download Movies for Free
It has four 2.25 inches dynamic drivers and the remote control comes with preset EQs – Music, Movies, News, etc. It barely weighs 2 kilos and has a premium black colour for the finish. All devices can be connected to this soundbar using Bluetooth 4.0, AUX or USB. It has a 2.0 Channel Surround Sound and all of it adds to a great listening experience.
5. Zebronics Zeb-JUKEBAR 3900
With over 1000+ 5-star ratings on Amazon, the Zebronics Zeb-JUKEBAR 3900 is priced at Rs. 4999 and has a lot to offer at this price tag.
The soundbar comes with dual 5.7 cm drivers and a 13.3 cm subwoofer driver. The whole multi-driver sync brings a memorable and exciting experience for you when it comes to quality audio hearing. The other modes of connectivity include – AUX, Bluetooth, HDMI, etc.
Also Read: 10 Top Web Series on Netflix in Hindi Dubbed
It has an LED display with all the required controls. The remote control allows you to perform the same. The output power is 80 watts.
6. Zebronics ZEB-BT701RUCF
Another product by Zebronics that is quite popular is the Zebronics ZEB-BT701RUCF. It is priced at Rs. 3999 on Amazon India.
It is a 7.1 channel wireless Bluetooth media speaker. It supports AC3 audio, SD Card, USB, AUX, and FM and comes along with remote control for easy access over controls. It has an LED display and can be easily mounted to the wall. It has a 1-year warranty from the date of purchase. You can choose to extend it by adding the 2-year extended warranty at the time of purchase.
Also Read: Top 10 Best Anime Series of All Time
The total power output is 70 watts.
7. Obage HT-303
This is hands down one of the finest speakers to be ever made at a decent price. It has been an underdog for quite some time. It is priced at Rs. 4299 on Amazon India.
The controls in this speaker are easy to use and it is a 2.1 home theatre system. It comes along with Bluetooth 5.1 for seamless connectivity and has support for AUX, FM and a USB Port. With deep bass and premium wooden panels, it provides just the right kind of audio experience you can ask for.
Also Read: 80 Best Hindi Dubbed Web Series on Netflix India
The clarity is top-notch and the audiophiles out there are going to love it.
8. GOVO GOSURROUND 410
GOVO GOSURROUND 410 is available for purchase on Amazon India at a cost of Rs. 4499.
It provides you with a powerful audio experience with the help of its 2.0 channel 3D sound transport. It has a very sleek premium finish on the outer and holds a LED display for basic details. With the help of its remote, you can easily switch between movies, news, music & 3D with ease.
Also Read: Top 15 Best Live TV App For Android in India
It has multiple connectivity options that vary from USB, HDMI, Aux, etc. It has support for Bluetooth 5.0 which makes it a suitable choice for quick connectivity. It uses quadruple 2-inch drivers to provide a surround sound experience.
9. Philips Audio Spa8140B/94
These home theatre speakers by Philips are currently available on Amazon at a price of Rs. 4460
They are 4.1 channel wireless speakers with a stylish sporty design. The audio quality is just okay and does a fine job. At this price point, you do get a durable pair of long-lasting speakers but the audio quality could have been slightly better, especially in terms of bass.
Also Read: 10 Free Instagram Reels Video Download Online
All in all, it is a complete package that supports multi-connectivity through USB, Bluetooth, AUX, etc. Although they claim it has a dedicated 18W subwoofer, the audio quality could have been better. It has a LED display and a 38 W sound output.
10. F&D F550X
Priced at Rs. 4,499, these 2.1 channel speakers by F&D are pleasant-sounding and have been catering to the interests of the audiophiles out there. You can find these easily on Amazon India's website.
With over 1000 positive ratings and good user reviews, this brand has made its name in the budget section of the home theatre systems. It has an elegant exterior design and uses a pure wood bass cabinet for the subwoofer. With a multi-decorative LED design, you will never run out of style with this purchase. It has a rust-proof metal grill and supports Bluetooth A2DP profile along with NFC support.
Also Read: 14 Best Website to Watch Cartoon Online
The side panel has multiple control options and you get a remote control to access the same at a distance.
Final Thoughts
Out of all the Best Home Theatre under 5000 Rs in India list mentioned above, our top 2 selections would be Obage and F&D. You can consider buying these products as they have a lot of offers at a good price tag. Bluetooth 5.0 is a catch and the sound quality has never been better.