Stock footage and media assets can be expensive. It is not possible for everyone to afford some of the high prices, that some agencies demand, and it is difficult to Google a good quality video every time you need, that too without any copyright. There are several free tools which have a lot to offer. If you want a high-quality public domain videos or use videos, which are released under creative commons license, here is the list of best websites, where you can download free stock footage. In this article, you will get an in-depth view of Free Stock Footage websites and where to download them.
Best Websites to Download Free Stock Footage
1.The public domain review
As the name suggests "public domain" refers to creative materials that are not protected by copyright trademark. Everyone can enjoy, share and download the videos for free. There is a wide range of videos on almost anything presents on this public portal for public usage.  You can also browse the most viewed and popular videos and illustrations.
2.Videezy
Videezy is a royalty-free platform, where you can find all copyright free videos, which you can re-upload as your choice. It is one of the largest online resources for graphic designers and professionals. Well, there is an advantage here, you can explore and even discuss the footage. It also has a great collection of videos from around the world. You can check it by yourself by clicking Here.
3.Videvo
Videvo is a platform of completely free stock video footage and motion graphics for any project. With Videvo, you'll always have some stock videos in hand to use. There are several royalty free videos, which Videvo can provide as you desire. You'll get millions of stock videos available in 4K, HD and SD quality. You'll also get fresh themes on any topic. You can check it by yourself by clicking Here.
4.Pixabay
Pixabay is an app with which you will get over one million royalty Free Copyright Images, illustrations, stock videos and vector graphics. It is the free alternative to commercial stock photo and video sites. It has a user-friendly interface and you can even manage your uploads. You can check it by yourself by clicking Here.
5.Archive.org's Stock footage
It is a free online repository of digitalized media assets. The terms and policies are quite friendly and amazing. You'll get new stock of video clips here, as they update their library very often. It contains a higher resolution, either downloaded as 4K or HD. You'll get multiple videos on one topic, you get to choose from thousands of high-quality videos. You can check it by yourself by clicking Here.
BONUS: Pond5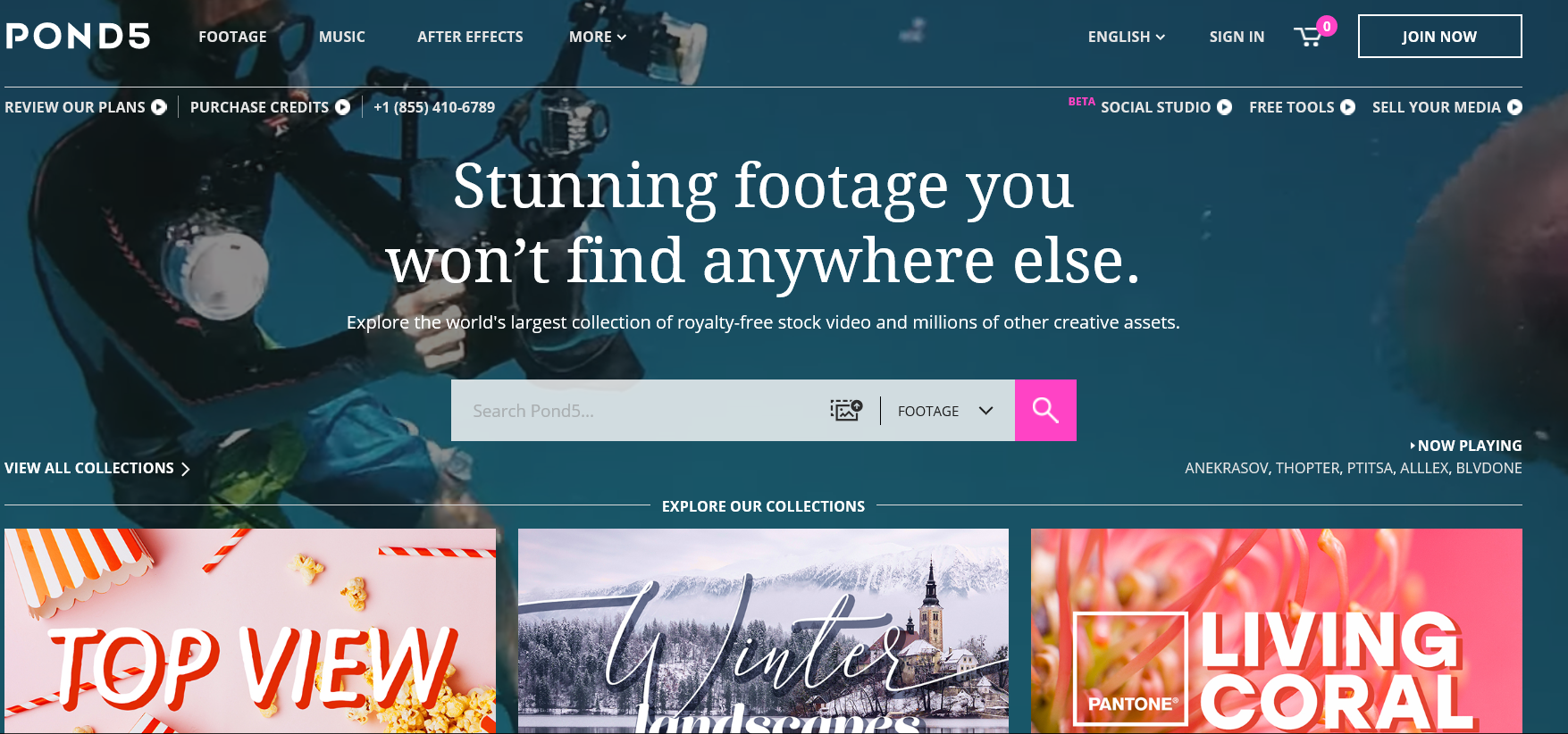 Pond5 is a New-York based paid stock video library with high-resolution video collection, which you can use. It is one of the largest resources of quality video content on the Web. Pond5, is claimed to have more than 10.5 million clips. Pond5 consist of some high-quality shots taken with professional cameras. You can check it by yourself by clicking Here.
Conclusion
There are some best websites mentioned above for free stock videos. According to me, you can go for Videezy, with Videezy, you can discuss the footage with other videographers, which makes it more efficient while making selections. Other than that, you can also go for Pond5, as it has the inspiring and largest collection of videos. which will help in your project but you need to spend some amount of money to use Pond5 Footage. You can find free high-resolution video collection from Pixabay or other websites from this list.