No doubt that Google Playstore is the best place to download Android Applications and games but for few people play store might be a bit restrictive.  And moreover, the fact that a single order from the US government can render an entire OEM useless, it's no longer feasible to depend on just a single source to download applications.
You May Also Like to Read:
To ease this issue, we have come up with Best Google Play Store Alternatives. Using this app stores, you can not only download the applications that are available of Google Playstore but, you can even download premium and unavailable applications for free. All these alternatives are secure and safe.
Best Google Play Store Alternatives
1. Apk Mirror
APKMirror is one of the most known and preferred choices among the Android community for downloading apps without using the Google Play Store. All the apps available on Apk Mirror are available on Playstore too. However, people prefer to use APKMirror for downloading geo-restricted apps. So, for anyone who is looking for an alternative to Google play store that can evade the restriction then APKMirror is the best choice. Apart from that, you can download APK Mirror from the Play Store, and you can manage APKs downloaded from APKMirror.
2. Amazon App Store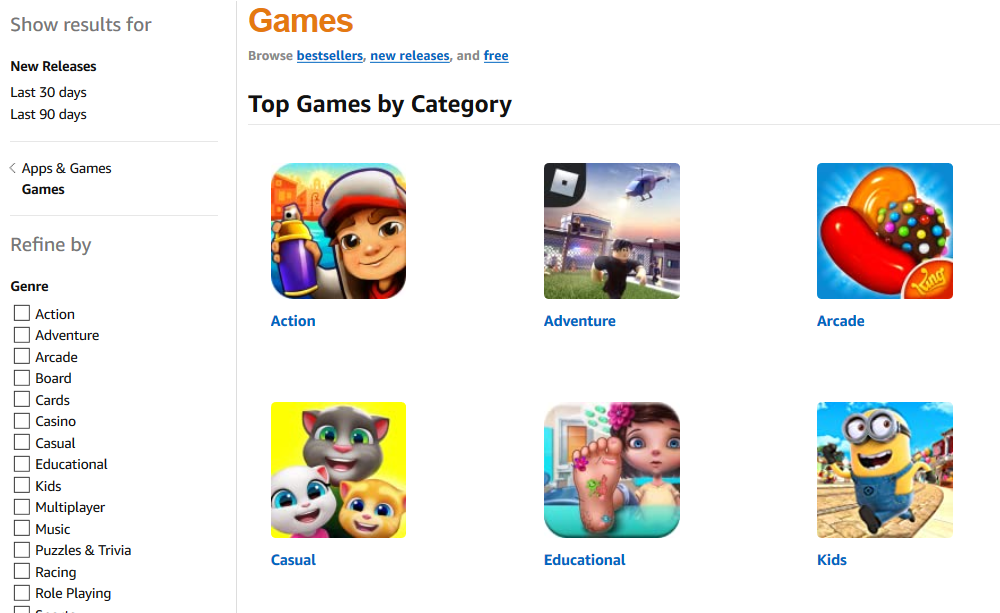 From Amazon App store, you can get paid applications for free. Apart from applications, Amazon App store features a vast collection of books, movies, and songs, often at lower prices than on Google Play.  Amazon App store is not as old as Google Play store, but still, Amazon is a tough competitor for Google. You can easily publish HTML5 and web apps on the Amazon Appstore. Currently, Amazon App Store is a growing marketplace with hundreds of thousands of apps and a large customer base.
3. Aptoide
Aptoide, a Google Playstore alternative that is known for offering apps that are generally not found on the Play Store. So, in case you want to install apps that are unavailable on the play store, you can for sure use Aptoide to download the unavailable apps that are not present on Google Play store due to geo-restriction or Play Store policy violation.  Apart from that, Aptoide is home for all the popular apps from publishers like Facebook, Roblox, Supercell, and more.
Also, APKs on Aptoide are directly uploaded by the developers and are verified by Aptoide through many security checks. So, there is no involvement of the third party, and hence, Aptoide is a safe and secure store from where you can easily download APKs. With a library of more than 1 million Android apps, Aptoide is capable enough to replace the Play Store.
4. Samsung Galaxy Store
Samsung is a brand that manufactures most Android phones, and now with its own App store, the brand is trying to compete with other companies.  Apparently, when compared to other app stores, the Samsung Galaxy store does have a relatively fewer number of applications.  Moreover, each and every Samsung device, including Android smartphones, smartwatches, smart TVs, and more comes with pre-loaded Samsung Galaxy store applications. Hence, the customer base for this app store application is pretty much good.
5. F-Droid
F-Droid is another alternative for Google Play Store that comes with free and open-source applications developed primarily for the Android platform. F-Droid is a clean and safe app store that allows you to find and download safe-to-install apps on your Android device. Moreover, the F-Droid store does not showcase all the popular apps from the play store, but, users will get open-source and well-liked apps on F-Droid. However, if you want access to all the apps available on Google Play Store, and you don't want Google tracking your activity, then you can install the Aurora Store from F-Droid.
6. Huawei AppGallery
Huawei AppGallery features 1.3 million Android apps and around 400m users. This app store is a dedicated app store for Huawei and Honor devices. However, after the recent US sanction and subsequent Google ban, the company has made its Android app store open to everyone. In simple terms, anyone with an Android device can install and use the Huawei AppGallery. The developers can directly upload the APKs on the Huawei platform. Considering all this data, Huawei AppGallery has naturally become a good alternative to the Google Play Store. 
7. APK Pure
APK Pure application store comes with a clean, user-friendly, and features a sorted list of tools and applications that are similar to Play Store. This alternative of Google Play store consists of most of the free and popular apps, and using this app store you can even download and install region-locked apps and pre-registered games with multi-language support through the app store.
8. GetJar
GetJar app store has around 30 million users and offers excellent services in terms of quick discovery of new applications. Considering the current stats, GetJar is the oldest website available that is designed to provide thousands of android apps and games for free. Moreover, the app store is safe, secure, reliable, and offers fast downloads.
9. Black Mart
It is an independent market place for Android applications that allows you to download premium applications for free. All the apps that are available on Google Playstore are present on the Blackmart store too. You don't have to undergo any formalities, and no registration is required to download apps from Blackmart. From Android applications to Android games to other tweak versions, you can get everything from this app store.
10. AppBrain
AppBrain is an Android application store that allows you to download premium apps for free. The developers upload the application on the website, and then they offer paid apps for free for a limited time on the AppBrain website. AppBrain allows you to access to extensive details of apps that you will not find in any other place. You can find all google Playstore applications on the AppBrain store too. You can either download Android applications from AppBrain, or you can directly download the apps from AppBrain's website.
Conclusion
This sum up the list of the best Google play store alternatives. It might be quite tough to choose one as each store comes with its own speciality. Moreover, it will be better to use the above applications as an additional channel to drive more downloads.
If you have any suggestions for best Google play store alternatives that we should add in this List, feel free to contact us at [email protected], we always welcome new ideas. Thank you and stay subscribed for more content.