Honeywell which is one of the Fortune 100 companies with approximately $40 billion in sales in 2015. The company has released Honeywell Air Touch-S 52-Watt Smart and App-Based Air Purifier. Its release shows that Honeywell is dedicated to making the world a better and sustainable place to live in. It aims to provide a cleaner today and a healthier tomorrow. This Air Purifier provides its customers with the best quality air which one can breathe indoors.
Honeywell Air Purifier is India's 1st Wi-Fi enabled Smart air purifier which uses the 'Honeywell Plus' app for both iOS and Android. It also provides Real time filter health indication on the apps which are used on the mobiles. This smart purifier can be controlled remotely with the help of a mobile phone.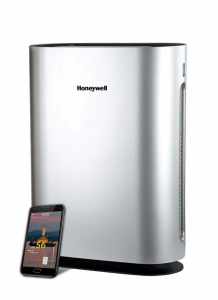 Some distinguishing features of this air purifier are:
Lowest Power Consumption: 52W at highest fan speed and 7.5W at lowest fan speed.
Ozone Free.
Approximately 3000 hours of filter life.
3 stage advanced filtration which removes more than 99% pollutants.
Low Noise of operation.
It includes a Replaceable High-efficiency HEPA grade H11 filter that eliminates PM2.5
The Honeywell Air Purifier works best in the rooms which are up to 450 square feet in size. The replacing and cleaning of the filters are also very easy and quick. Overall, this purifier is easy to use and is a very big step towards a healthier lifestyle. This product is available at a price of INR 39,900. You can check all Details of this Smart Air Purifier from here.