Nokia launched a pair of earbuds that goes by Nokia Lite Earbuds BH-205 on 11th January this year. The product wasn't able to grab as much attention as it was expected to around its launch. It could have been due to multiple reasons such as pricing, quality, or if it was actually value for money. In this post, we will break down all the relevant details when it comes to these TWS earphones by Nokia.
Also Read: This is the world's smallest phone that everyone need!
Right off the bat, the pricing is set at approximately Rs. 2,799 on Amazon.in which isn't that cheap considering that it's meant to target the budget-friendly category. It competes with the mid-range price segment category of earphones or earbuds so it needs to have certain characteristics or traits to justify its existence.
Quick Unboxing Video
Packaging and Initial Expressions
The Nokia Lite Earbuds BH 205 fits nicely in a small box that is well packed. Once you open the box you will find your earbuds resting inside the charging case. Apart from this audio gadget, you will find a charging USB type-C cable along with additional ear tips of different sizes.
The charging case feels just fine with Nokia's branding all over. It has 4 LED lights that indicate your battery level. The lid of the charging case appears to be slightly on the flimsy edge but overall it seems to hold the case together.
Also Read: 78 Secret Tools used in Investigative Journalism
Once you lay your eyes on the BH 205 earphones you may observe that their stems are slightly longer than what you will expect from any earphones these days. It does add some flavour to its style when you are wearing them.
Design & Build Quality
The charging case for the Nokia BH 205 isn't up to mark and could have been made a little sturdier. The lid of the case doesn't feel strong at all. Let's call these earphones to be made of the bare minimum quality to ensure that it doesn't feel cheap.
Also Read: Hidden Google Games That you Must Play
It doesn't feel high-end at any point in time. The design on the other hand is definitely something that looks unique and classy. The design compensates for the lack of quality material used to build these earphones. At this price point, a consumer will probably expect something better.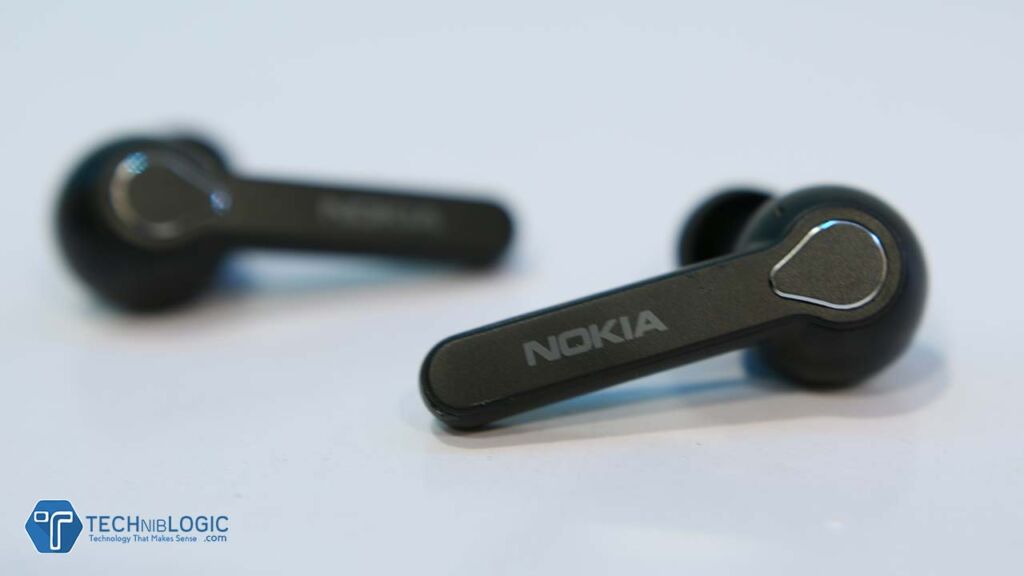 Each of those earphones is labelled as "left" and "right" respectively for ease of use and access. They set perfectly back into their charging case with the help of magnets. The magnet isn't too strong so you won't have any kind of trouble taking these earphones out.
Battery
The company claims that these earphones will last approximately 5-6 hours and a total of 36 hours with the case on a single full charge. The battery capacity for the earpieces is 40 mAh and the battery capacity of the case is 400 mAh. The battery life on this product seems to be one of the best things it can offer a consumer.
Audio Quality & Comfort
The sound quality is average and some people might call it not good enough at this price point. Nokia could have done a better job given that they are charging close to Rs. 3,000 for this particular product.
It doesn't provide you with automatic noise cancellation or any other such feature which is a bummer, to be honest. The company claims that it provides you with a premium listening experience but the audio quality is mostly average and it does the job.
Also Read: Best Free Online Video Editor No Download Required
The microphone present on these earphones is mostly okay sounding and gets your day-to-day job done without any hassle.
Talking about the comfort level of wearing, you won't have any kind of struggle while wearing these earphones. They can fit snugly inside your ear and you won't feel any heaviness. If the default ear tips are not of your size then you should consider switching it to a different one provided in the box.
The BH-205 features Bluetooth 5.0 for seamless connectivity and quick pairing. The expected range in which this device can work is approximately 10 meters.
Final Thoughts
These earphones by Nokia are something that a user can choose for someone who needs to go on long hours of travel and a journey where battery life is something of utmost importance, this pair of earbuds might be the right choice for you else not.
Also Read: What is a TF card and SD card? What's the difference?
It's available in Charcoal colour (which is mostly black with a matte finish) and Polar Sea (which is mostly blue in colour).
A good number of reviewers and tech enthusiasts did talk about this product but it was not the whole package or bang for your buck at this price point. A lot could have been done better or improved. Let's hope that Nokia listens to all of the feedback and turns around with a brilliant gadget next time