Ecomo is more than just an ordinary water bottle. This bottle is the first water bottle that tests and purifies water. Surprising, isn't it?  So now get purified water on the go. If you're travelling and have some doubts about the purity of water, then use this bottle to check the purity level and purify it to make it safe for drinking. This stylish water bottle is capable of testing and providing feedback on your water quality in real time.
How to use it:
Fill your bottle anywhere, anytime.
Check the contaminants in the water simply with a shake.
Twist to filter the water and enjoy.
Features:
The bottle's 3-in-1 filtration system can remove most major contaminants, such as pesticides, petrochemical products, bacteria, and most heavy metals.
It weighs just 13 ounces and its volume is 20 oz.
The filter lifespan is 2-3 months and it's replacement costs only 10$.
It has quick charging and battery life is 1 week.
You can also track daily hydration goals with the removable tracker.
It has Bluetooth 4.0 BLE and it is compatible with iOS and Android. Thus, providing you with necessary details via the app.
Why should you buy it?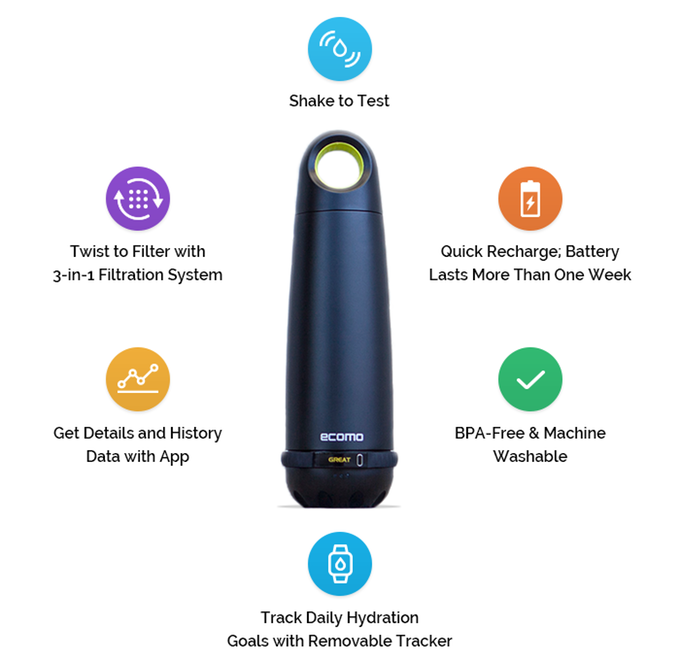 Ecomo water bottle is the first smart water bottle which can test and filter the water and make it safe for drinking. Hence you don't have to worry about the contamination level of your water. This water bottle has a very stylish look and is very sturdy. You can easily place in the car holder too. It can even check the TDS level, TOC level, turbidity and temperature of the water. It keeps the water warm for 12 hours and cold for 24 hours. You can also customise the daily hydration goals with the removable tracker.  So Ecomo is the best bottle which you can use to replace with your ordinary plastic water bottle at homes.
Availability and pricing:
Ecomo's shipment has started from March 2017. You can buy Ecomo from site kickstarter.com at an initial price of 139$. It is available in many cool colors like white, black, red, blue, yellow, orange, grey, pink and purple. So, what are you waiting for? Order now.
Thanks for hanging out with us guys. Please do drop your suggestion and ideas in the comment section below. If you want to keep tabs on a more innovative product like this, subscribe to our website and don't forget to give your reaction