Wireless Bluetooth Speakers, Portable Speakers; another brilliant gift of technology to us. We have been using the conventional cable attached speakers since the invention of speakers. But now there is no need to worry about the socket or if the cable is long enough to make a connection. The major advantage of Bluetooth speakers is that they are portable. The speakers are capable of working with iOS, Android and any Bluetooth enabled device.
Also See: Best Power Bank In India with 10,000 mAh Battery 🔋
Thankfully, the market is loaded with a variety of Wireless Portable Speakers ranging from some low price models to super high-quality models. But before buying, there are few things one should keep in mind. Which include design, performance, durability, range and the price. Don't worry, we are here to help you. So, check out our list of top 10 Portable Bluetooth Speakers along with their specifications.
Philips BT50B (1,344 INR)
This is a mini portable speaker that can easily fit in one's hand. The speaker is compatible with any device that has Bluetooth 4.0 or below. The device weighs only 91 grammes and has a dimension of 6.1 × 6.1 × 7.6 cm. The battery backup is up to 6 hours.
Coming to design, the speaker has a rubbery material which allows a firm grip to users. On the top, it has a plastic cage with holes to let out the sound. At bottom, the speaker has a reset button. There is a charging port at the back of the speaker along with 3.5 mm audio input. Sound quality is good but it still lacks the bass part.
JBL GO (2,423 INR)
In terms of Mini Bluetooth Speakers, JBL go is a bit large but its sound quality is quite impressive. The material used for design is solid. Again there is a rubbery coating on the outside with a metal grill on the front. It weighs 132 grammes and has dimensions of 8.3 × 6.8 × 3.1 cm. JBL GO has a 2.1 channel output which offers best sound quality in its range.
The device takes up to one and a half hour to charge and is capable of running up to 5 hours. The right side of the device contains an Aux-in jack, micro USB port for charging and a mic for the Bluetooth Speakerphone function. If you're looking for a mini Bluetooth speaker, it is definitely a decent one.
Sony SRS-XB10 Extra Bass (3,790 INR)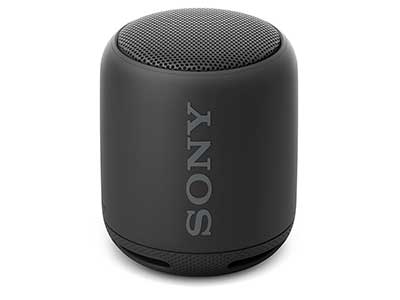 One major problem that many portable mini-speaker come up with; is the bass. They are not able to provide a decent bass quality due to their small form factor. Sony recently launched SRS- XB10 Extra Bass. As the name suggests, the speaker comes with an extra bass feature.
Sony XB10 comes with a splash proof feature which makes it safe to use outside. Like the previous models in Sony series, this model also comes up with NFC one-touch listening feature. Its maximum range is given as 10 meters. A strap is attached to the speaker which gives dual placement feature which makes it easy to place anywhere. The various colour options available for users are Black, Blue, Red and Green.
Philips BT-4200/94 (2,979 INR)
The design of Philips BT-4200/94 is quite attractive. It is in an oval shape with plastic covering. The plastic used is durable but may not be shock proof. Since the device weighs less than 200 grammes, it is quite handy. On top, three buttons are provided to control volume and to accept or reject calls. At the back, it has an audio jack and a USB port for charging. The Bluetooth speaker has a range of 10 meters.
The battery takes up to 3 hours to charge completely and runs approximately up to 4 hours at high volumes. The 10 Watt speaker is pretty loud and provides a clear and crisp sound. If you're looking for a portable wireless speaker under budget, look no further. With this price range, Philips BT-4200/94 is worth the price.
AmazonBasics Mini (1,299 INR)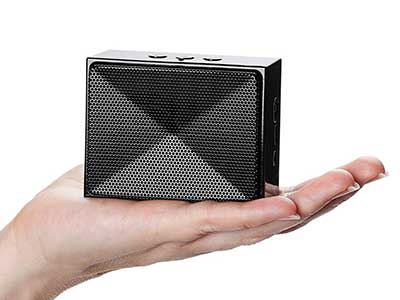 AmazonBasics Mini Bluetooth Speaker is a new product in the AmazonBasics' lineup. It is very handy and portable. The device contains buttons for different controls and a single LED light which turns to different colour while performing different functions. The battery backup is up to 5 hours which is pretty decent for a speaker of this size.
It comes with a USB cable for charging purpose and a carrying pouch. It has 3 Watt internal speaker and has a range of approximately 10 meters. The device is priced at Rs. 1,299 which is quite reasonable.
boAt Stone 600 (2,999 INR)
boAt Stone 600 is quite similar to boAt 200 which was launched a year before. The device is covered in rubber material and has a cap covering the on/off switch. It has a single Bluetooth button on its surface which is a multipurpose button i.e. it is used for pairing, play/pause and accepting/rejecting the calls.
boAt Stone 600 has been internationally rated as IPX6 which means that it is 100% water resistant. It is also shock proof. The battery backup is quite good and takes up to 4 hours to fully charge. It comes with micro USB charging cable, Aux-in cable compatible with 3.5 mm devices. The speaker comes only in two colours, namely – silver and black. It would be a decent option to consider if you're looking for a waterproof speaker within budget.
HMDX JAM Classic P230 (699 INR)
JAM Classic P230 is a Bluetooth wireless speaker produced by HMDX. It has an attractive design, somewhat spherical in shape. It is less than 300 grammes in weight and has a range of 10 meters.
The battery backup is up to 12 hours when aux cable is used and up to 4 hours when connected via Bluetooth. The device looks glossy but it's not metals. The plastic coating is used on the surface. On its bottom, there is an on/off button whereas, on the backside, there are ports for Aux-in and USB.
Zoook ZB-Rocker-2 (2,249 INR)
ZB-Rocker-2 is the real party rocker, not only because of its sound effect but also because of its dynamic LED lights. The lights beautify the listening atmosphere. Although the users can turn off the light effects if they wish. This will enable the speaker to play for the longer duration.
Devices can be easily connected through TF card, USB, AUX and Bluetooth. The range is up to 10 meters. Users can also attend incoming calls (hands-free).
Portronics Sublime III (2,399 INR)
Portronics Sublime 3 is a successor to Sublime 2. It has some amazing features which make it unique among all the mentioned speakers. It has an inbuilt time display and an alarm clock. The speaker allows the user to connect through various means like Bluetooth, Aux-in, SD Card and USB with OTG cable.
It has an inbuilt antenna which provides wireless FM on the go. The battery backup is impressive and sound does not get distorted even at high volumes.
AmazonBasics Ultra-Portable Nano (999 INR)
AmazonBasics Nano is the smallest speaker of the AmazonBasics series. It weighs only 73 grammes and comes with a silicon handle which allows easy hanging. The speaker has an effective splash resistant design which means that it is safe to use anywhere a bit of splashing may occur.
The battery takes up to 3 hours to completely charge and is capable of running up to 6 hours straight.
Verdict:
So these were the top 10 mid-range Wireless Bluetooth Speakers along with their pros and cons. I personally prefer the Sony extra bass Bluetooth speaker and the Philips BT-4200, they sound really good. You can also choose Philips BT50B, which is a very portable speaker in a budget section. Amazon Basics and Amazon Basics Mini are also pretty decent Speaker with a good sound quality and a budget-friendly tag. So before buying, do consider the facts mentioned and remember that sometimes music speaks louder than words.
Also See: Best Power Bank In India with 20,000 mAh Battery 🔋
At last but not the least, if we missed the power bank you're using right now and you like us to check out, please mention them below. Also, feel free to share your experience with these devices in the comment section below.