The necessity of smartphones and tablets in our daily lives has arisen the commotion for power bank. Power Bank keeps you connected all the time. They are a simple and easy alternative for chargers. You will not find sockets anywhere in order to plug your charger and at that time the best thing you can use is a power bank. We know there are plenty of Power banks out there, most of them are good but most of them are worse. So, to help you out with your power need, we have compiled a list of best power bank that you can buy right now. Check out the top Best Power Bank with 10,000mAh Battery under 1,000 INR.
Also See: Best Power Bank In India with 20,000 mAh Battery 🔋
Top 5 Best Power Bank In India with 10,000mAh Battery

Lenovo PA 10400mAh (939 INR)
This power bank is one of the best power banks under 1k with a powerful lithium ion battery. PA 10,400 can supply power to your smartphone, tablet, laptop and more for repeated charging rounds. This power bank is compatible with all brands of smartphones and tablets and can be considered as one of the best budget friendly power banks that can be used to charge portable devices extensively when on the move.
The plus point of this device is that it has a dual charging port with rapid charging abilities to fill up the empty batteries of your devices quickly. The built in protection feature of PA 10400 allows you to avoid over charging, discharging, short circuiting and more.
Syska X110 11000 mAh (999 INR)
Syska X110 is yet another power bank with in 1k range and is also compatible with all devices. The micro controller used in this power bank is the main reason behind its compatibility. This power bank has lithium ion battery that has the capacity of 11000 mAh.
The intelligent power management system integrated into this device ensures steady and maximum charging efficiency. This power bank is designed with dual USB charging capability, soft power button and light indicator.
Ambrane P-1111 10000 mAh (799 INR)
With the feature of dual output charging port so that one can charge two of their devices at the same time, we have another power bank under 1k named Ambrane p-1111. The elongated octagonal shape of p-1111 allows you to boast it in social gatherings. The charging capacity of this power bank is 10,000mAh that will power up your device in seconds and keep you connected.
Intex IT-PB11K 11000 mAh (999 INR)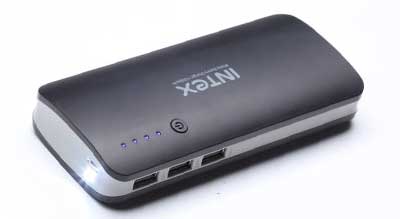 Intex IT-PB11k has a very sturdy construction, the power bank withstand bumps and drops. Premium charge management chip ensures reliability. The size of the Intex IT PB 11k is small enough to fit in your pocket. It is compatible with devices like Mobile phones, Bluetooth handsets, MP3 players, portable gaming devices, digital camera, GPS devices and more. This power bank has the capacity of 11000 mAh.
PNY AK10K 10000 mAh (749 INR)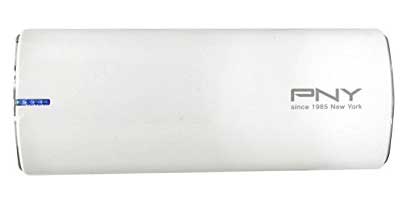 This power bank is trendy and refined in design with ergonomics shape and eases to use. The power bank PNY AK 10k has quality battery cells with protection board and smart power management controller with high power discharging efficiency. When it comes to compatibility, the device is compatible with smartphone, tablets, iPad, iPhone etc. Also, there is a built in LED torch to ensure that there is light when it is needed.
Verdict:
So, that was all for this guys. Our personal recommendation the Lenovo PA 10400mAh at a budget price, this is the best power bank one could buy. The Syska power bank is also good but it's quite expensive in comparison to other power bank featured in this series. You can also buy Ambrane and PNY power bank if you're looking for a more budget friendly power bank.
ALSO READ: Best Smartphones with Longest Battery Life 🔋 in India
At last but not the least, if we missed the power bank you're using right now and you like us to check out, please mention them below. Also, feel free to share your experience with these devices in the comment section below.