Power Banks are becoming much popular amongst everyone these days. They are portable and provide instant power to our devices when we are low on battery. And in this technologically advanced world there plenty of power bank on the shelf. Most of the time user tend to pick up the wrong one; worry not because we have come up with a list of best possible power bank that you can buy on a budget. Check out the list of some of the power banks which are cost effective and easy to carry around. Check out the top Best Power Bank with 20,000mAh Battery under 2,000 INR.
Also See: Best Power Bank In India with 10,000 mAh Battery 🔋
Best Power Bank In India with 20,000 mAh Battery
1.Mi 20000mAH Power Bank 2 (2,199 INR)
This Mi power bank consists of a Lithium polymer battery which provides durability and better charging efficiency, it features a 20000 mAh battery. With the help of its dual USB output, you can charge USB-c laptops as well as devices from Apple, Samsung, Sony and the Quick Charge 3.0 provides fast charging when your device is connected. It provides 5.1V/3.6A power when charging two devices at the same time. This product is built with environment-friendly PC + ABS and comes with a 6 months warranty.
2.Ambrane P-2000 20800 mAh (1,899 INR)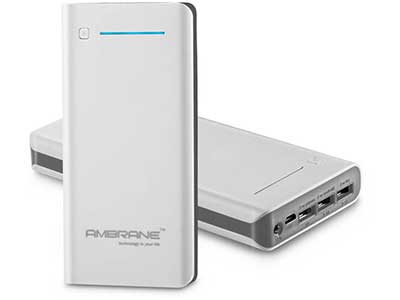 This power bank features a Lithium-ion Battery with the capacity of 20800 mAh. The charge capacity of this device provides, charging of a 2000 mAh phone or a tablet up to 8 times without any heating issues. It supports all USB devices and has a triple output for every type of gadget. It has a power supply of 5V/2.1A. Weighing 440 g its dimensions are 79 mm x 23 mm x 165 mm it comes in white and grey colour along with a 1-year warranty.
3. Intex IT-PB 20K Poly 20000 mAh (1,849 INR)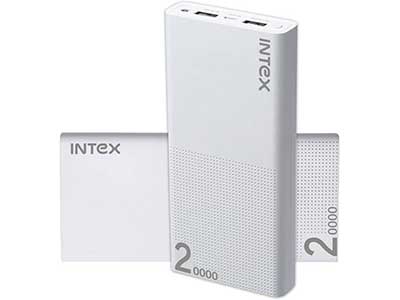 This Intex Power bank in white colour features a Lithium Polymer Battery with a capacity of 20000 mAh. This power bank charges devices very quickly and lets you charge two devices at the same time with the help of its two USB ports. It is slim and has a weight of 395 g which has a dimension of 75 mm x 160 mm x 22 mm. It has a power supply of 5V/2A and an output power of 5V/1A-2.1A. It comes with a one-year warranty. With all that feature the device is a pretty good option to go for, if you're looking for a trustworthy power bank then go for it, the Intex battery beast will not disappoint you.
4. Flipkart SmartBuy 20000 mAh (1,199 INR)
This Flipkart SmartBuy power bank consists of a Grade A, high-density Lithium Polymer Battery which provides better charge retaining capacity and delivers a reliable and better performance. It has a lighter and a slimmer Li-ion battery (certified by BIS) than other batteries and the whole device weighs 425 g. The device is available at a very competitive price comes with a 3-month warranty. The Flipkart power bank is an essential gadget to have. The device has a brand trust and can deliver a pretty good performance.
5. Lapguard LG803 20800 mAh Power Bank (1,699 INR)
This Made in India Lapguard power bank features a Lithium- ion battery with a capacity of 20800 mAh and has a micro connector. It is one of the leading Indian Power Bank Manufacturing brands which provides a good quality product at an affordable price along with a 12-month warranty. This product having an output power of 5V, 2.1A weighs 450 g. So far, the power bank is the best cheapest 20,000 mAh power bank in the market. Totally value for money gadget.
Verdict
We know that the MI power bank doesn't come under the price bracket, but still, the device is worth featuring since it has some of the best performance ratings compared to another conventional power bank. The Intex power bank is also a good choice, if you're looking for a trust worthy power bank then the Intex beast will not disappoint you. The Ambrane and Lapgard power bank are also good with some the best performance in a compact budget section. So, if your budget is low then go for it.
Also See: Best Power Bank In India with 10,000 mAh Battery 🔋
That's all for this guys. We hope you had fun checking out this buying guide. If we missed the power bank you are using right now, then please let us know in the comment section. Also feel free to share your experience with these power bank.