TOPVISION is an upgraded portable mini projector comes with a mirror display that offers a top home cinema experience. It is relatively smaller in size compared to other LED projectors and is easy to carry anywhere. This TOPVISION projector provides a superior quality image and is convenient to use with iPhones or Android phones. It is one of the low price and Best Mini Projector For Mobile.
The mini portable projector adopts a contrast ratio of 2000:1 and 16:10 aspect ratio. In the projector, the user can choose the distance between 1.5 to 5.2 meters but the recommended viewing distance is about 3m. The projection size can be applied to 50-176 inches. This mini projector has a built-in HI-FI powerful Speakers that provide a surround sound style experience and gives a full-spectrum sound even watching movies, sports outdoors or playing mobile casino games. It's a top choice for parties, football nights and movies with family where you can enjoy your home cinema time happily. TOPVISION projector is also equipped with an innovative cooling system that provides very efficient heat dissipation. It also has a powerful noise-reducing capacity that makes the noise lower than the other comparable LED projectors.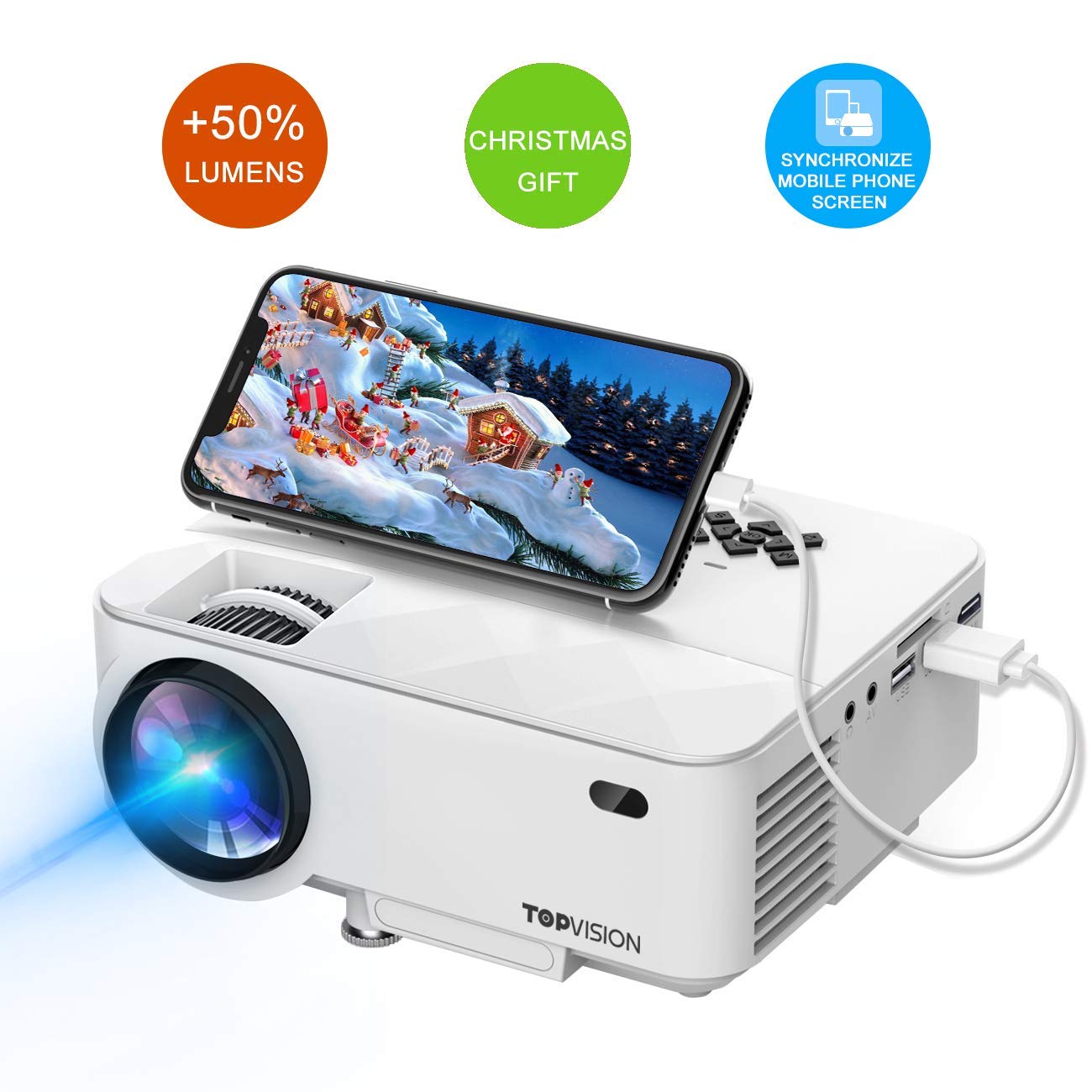 This projector has upgraded to 2200lumens, brighter than another 1800lumens projector. With the environmental lamp, the lamp life is more than 50000hour, which means you can enjoy the home theatre last for 30years without changing the lamp.
Coupon Code: 94LKFAO6 for $59.99  (40%off)
You can connect TOPVISION projector to smartphone or laptop by USB cable directly, without HDMI adapter or Wi-Fi environment. You can use the original USB cable to connect your iPhone/iPad to this projector USB Port directly. For Andriod Phones, you have to download an APP called "EZCast" in google market, then open the APP and connect your smartphone to this projector. This projector is compatible with Amazon Fire TV Stick/smartphones/tablets/TV/laptop/USB sticks/TF cards (max 32GB)/DVD players.
You can buy this TOPVISION portable mini projector at a price of $99.99 on www.amazon.com but you can use 94LKFAO6 Amazon Coupon and Buy this product at  $59.99   (40%off). You will also get an extended 24 months warranty if you register your product after receiving.